Blog > Christmas Marketing Tips for Small Business Websites
Posted By Create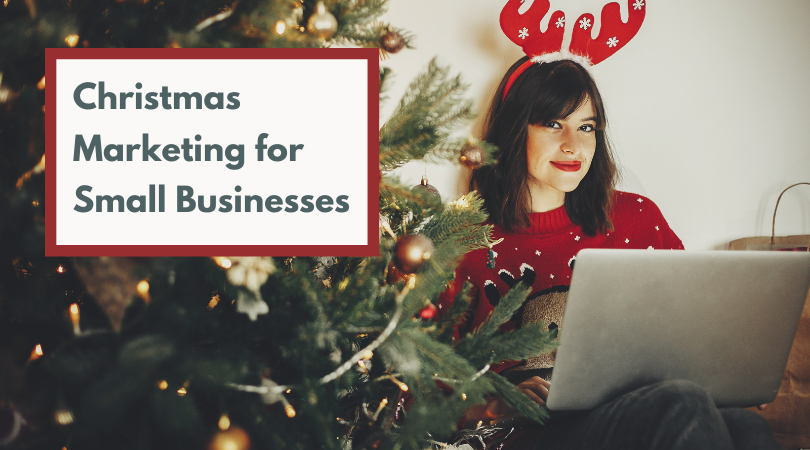 Christmas is one of the most wonderful times of the year. Not only for time spent with family, good food and presents, but also for being one of the most profitable times of year for many of our small businesses.
Now is the time to start preparing how you're going to reach your customers, planning what changes you'll need to make to your website and knowing how you are going to fulfill orders. To make the most of all the festive season has to offer, the sooner you start planning, the better.
Here are some things you should consider in your strategy in the build up to the 25th:
Setting Goals & Benchmarking
You may or may not have done this in previous years, but if you haven't then now is a really good time to get started.
Before you go ahead and begin planning and running your Christmas promotions, you need to set yourself a goal for the festive season so you can measure your performance against your expectations.
If you have last year's data, this should be relatively straightforward for you. You can look back, see how you performed and set a realistic target based on this that moves your business forward this year.
If not, you'll have to assess your current performance and take a best guess at what you think you can realistically achieve this year that would move you forwards. It's better to have any number to strive for and measure against (even if it's just doing the same as last year) than to not have any at all.

When setting out your goals, try to make them S.M.A.R.T goals in order to properly measure your performance and grow from your learnings:


Specific - Leave no room for ambiguity in your goals. You should have concrete numbers and figures that you can use to categorically say whether or not the goal has been met.
Measurable - Any goal you set should be measurable and you need to pre-determine exactly how you can measure your success against that goal.
Attainable - Your goal should be challenging but realistic. Setting a goal too low won't move you forwards but setting it too high can be demotivating and unactionable especially in these challenging times.
Relevant - Upon achieving your goal, it should move your business forwards in some way. What is the overall business benefit of achieving your goal?
Time-Constrained - You should aim to complete your goal within a given time-frame so you're working to schedule and have a completion point. Your Christmas SMART goals should end with the festive season.


So for example, your goal could be something like:


To generate £xxxxx in revenue as a result of my campaign by December 31st


This goal gives you a specific monetary figure to hit, can be easily measured through your receipts, should be attainable based on your current revenue figures, relevant as revenue can be reinvested to move your company forwards, and constrained to the 31st December.
With this goal set, your marketing efforts now have a direction and you can optimise your campaign to better meet this target throughout the duration. What's more is that whether you hit this target or not, you can assess your performance and use it as a future benchmark for your other campaigns so you are continually improving your methods.
Selecting Your Channels
Being that you're a small business owner, it's likely you've already discovered that there are usually a hundred things on the go at once. Throughout the year, you've most likely explored and experimented with different marketing avenues but with Christmas being one of the most profitable times of year, now is the time to double down your efforts on what you know is working for you.
Using your data from the past year, what channels have brought you the most traffic, the most engagement from your website, the best conversion rates? If you're not sure already, you can check out the Acquisition section of your Google Analytics for more information on this.
Whether you have an engaged social following or mailing list, an affinity with paid advertisements or a website with high SEO ranking potential. You should dedicate your focus where you have historically seen the best results. With such a high volume of potential sales, you need to play to your strengths to really capitalise on this time of year's potential.
When you know where you're going to promote your business, you'll need to map out a plan of your communications and resources so you know exactly how you're going to execute your ideas this season. The rest of the year can then be spent experimenting and optimising your other channels in addition to what's already working for you.
Choosing Your Key Selling Points
While you've already chosen your most effective channels to promote through, one thing to bear in mind is how saturated the Christmas season is with communications. All retail stores are vying for the attention of the consumer and competing with one another by doing so.
There's a lot of noise that you, as a business, have to cut through in order to reach your customers. How do you do that?
You need to identify what makes you different and sell this value through your communications. This could be something unique about your products, exciting services you provide, maybe you have plenty of positive feedback to reinforce your messaging. You should look not to just communicate what your product is, but what makes that product or the experience of buying that product different to what's already being shouted about online.
There's so many different angles you can take with this, whether that's personalisation, a live chat gift recommendation service, bespoke gift wrapping as just a few ideas but no one knows your business like you do and what you're capable of. You need to create or identify your key selling points and promote those alongside your product or service communications.
Don't hesitate to tell your customers why there's no other shop or service like yours and why you're the obvious choice to buy from this year!
Create a Journey with Landing Pages
Up until now, this guide has focused very much on the guiding principles of your Christmas campaign. Now, we can start looking into some of the technicalities that can completely reform and fine tune your promotions this year.
One typically underutilised but exceptional method of doing so is through the use of Landing Pages.
Landing pages shape your customer's buying journey and have been shown to improve leads rather dramatically the more you create. They're designed to be specific to your communications, provide consistency with your messaging and direct your customers to exactly the right resources that they clicked your link for in the first place; as opposed to a home page where it's not clear where they need to navigate to.
Landing pages give you the opportunity to highlight and fine tune your offering. Let's take a Christmas category in your shop for example. You could just link through to your category page in your communications and let your customers browse this. However, what if instead you created a landing page that showcases your featured or best selling products from this category. You could combine this with your key selling points we mentioned previously and testimonials on this page. You could even create subcategories and showcase them here so your customers can go straight to the products they're interested in rather than having to search for themselves.
You're immediately removing a barrier to purchasing as you're making it less effort for your customers to find exactly what they want. With our notoriously limited attention spans online, this can have a significant impact on your conversions.
Here's some things you should bear in mind when creating your Landing Page:


It doesn't need to feature in your website navigation. It's recommended to exclude this page from your menu so people can only reach your Landing Page through your communications or search engines. This'll help it feel more exclusive for your audience. You can do this by unchecking the "Shown On Menu" option in your page settings


It's also recommended to hide your menu on the landing page itself. This'll help you keep the page more focused on your objective. You can do this using the "Hide Template" option in your page settings


Feature your key offering right at the top of the page. This could be a link to your category or a Collection Block featuring your popular products. Help your visitors go straight to the next most relevant resource for them


The rest of your page should include supporting information / other key value you offer relating to your objective. This could be services you offer such as gift wrapping or free delivery


Try to feature testimonials on your page to increase trust with your visitors and encourage them to check out


Feature bold and bright imagery where you can. This will help excite your visitors and encourage them to move through your site and find out more. You can use the Unsplash Free Image Library to find some excellent Christmassy images


Keep testing your page, try to identify where you can improve to continually optimise your landing page for best results


Visit our Harmony and Home website for some more examples of Landing Pages you could base your designs off of.
One last further point on Landing Pages is that you should be tracking as much data as you can. Landing pages are critical parts of the buying journey and can provide you with a ton of useful insights when tracked correctly, like where your customers are coming from, where they go and how they convert. You can get some great insights from Google Analytics but if you're looking for actionable data that you can build more conversions from, you should look to set up the Facebook Pixel on your website.
Upsell More of Your Products
So a customer has landed on one of your product pages and is interested in adding the item to their basket. If they make the purchase, that's naturally a great time to celebrate, but did they have the chance to find out about the other products and value you offer?
If you've helped a customer find what they're looking for then you should be proud, but you can also use upsells on your product pages to maximise your sales this Christmas. These are additional offerings that correlate to the product they're interested in.
One way of doing this is by using the Related Products option. This allows you to either select related products manually or by setting a keyword that will display related products automatically. These will appear at the bottom of your product page. When done properly, this can give your customers more inspiration for products to add to their basket and the power of this is tenfold if you're offering items that actually compliment each other.
Another way of upselling other products or services you offer is through the use of product options. Typically, these are used to offer variations to your products, but you can also use them to offer additional products or services. One instance we alluded to earlier was where you might offer gift wrapping as an additional service. You could add this as a product option that adds the cost onto the product when a customer selects it.
Additionally, you could also offer complimentary products as product options. For example, you could add batteries for electronic items, lighters for candles, wool for patterns and many more.
Offering these options as additional extras can all help to add additional revenue to your Christmas receipts and over time, can really make a huge impact that stacks up over time.
Collaboration
If there's one more thing to bear in mind and seek out as part of your Christmas strategy, it's community and collaboration. There have been so many challenges faced by small businesses this year but if there is one assured fact, it's that we're stronger together.
While you should absolutely focus on what you're doing independently, there's also an opportunity to raise yourself and your community up together. Whether that's your local network, your online community, or other industry professionals.
One way people are helping each other to grow is by forming partnerships where each party will expose the other to their audience through promoting them on their websites. This works really well for people with complimentary products. Let's say for example, one business that sells wax melts and another that sells candles, or a business that sells gifts and another that sells cards.
There are a number of businesses that are collaborating in this way so that they are essentially piggybacking off each other's audiences and doubling their exposure to interested customers. Simply consider what items would perfectly compliment what you offer and seek out those small business owners that can fill that gap for you in a mutually beneficial way.
One great place to find and collaborate with a number of other small business owners is through our Create Members Group (If you have a website with us) and our #WeBuySmall community. Why not come and join us there to meet other friendly website owners and see where some new connections might take you.
Planning Your Logistics
It's all very well and good to have a sound marketing strategy in place, but don't forget that you need to plan out how you're going to implement your operations and make sure everything runs smoothly over the festive season. Here's some key points you should consider in the build up to Christmas:


Extra Stock
While running out of stock may indicate you've done an excellent job of selling, it's not a problem you want to run into when you consider you could be missing out on opportunities to sell more. To gain an understanding of how much stock you should bring in for Christmas, we recommend the following:
* Look at which products brought in the most sales and from where (especially useful if you have a Facebook Shop or integration with eBay from your Create shop)
* Understand which were the most popular, which got the most views on your website, and which brought in the most revenue
* Focus your efforts on what has been popular for the rest of the year, and also include specific items that you think would work well as gifts
* Ensure that if you are going to feature a specific product in your marketing that you have more of these in your inventory: customers who see the product on the advert and click through to your website will have been interested in buying this item (or others similar to it) specifically.


Plan Additional Payment Options
When it comes to the checkout, trust is everything as customers get ready to spend their money with you. The gateways you provide and the convenient different methods of payment offered can go a long way to securing those extra customers.
You can integrate your shop to have up to three payment gateways, so consider offering other payment gateway options such as Paypal, Stripe or Worldpay if you don't already.


Plan Your Returns Policy
Buying behaviours change at this time of year and in some cases, it may be pragmatic to review your Terms & Conditions and your Returns Policy.
Some retailers offer as much as a full month after the 25th of December to allow people to return any presents given. Though we obviously do not want to encourage refunds, your customers will definitely appreciate having the option and you'll give them peace of mind when ordering a present they might be unsure of; thus helping you to secure more sales.
If this is something you are planning on doing, make sure you advertise it in your marketing and turn it into a key selling point as to why people should choose your business this Christmas.


Last Posting Dates for Christmas
Don't let the last posting dates for Christmas catch you out. You should try to make your customers aware of the point where you can no longer fulfill their orders and then take a well earned break! We've put together this useful post with official information from Royal Mail.
Conclusion
Bearing the key points above in mind, you can plan your path to success this Christmas and kick off the new year with a bang. This time of year represents a huge opportunity to small businesses across the country and it's down to you to plan how you're going to best seize the season.
In summary:


Set Your Goals - Make sure you know what you want to achieve this year so you have something to work towards with dedicated focus. This will help you stay on track and set the benchmark to your success.


Focus on the Right Channels - It's time to double down on your successes and put a pin in the marketing experiments that can't promise you the return on time investment that will help move you towards your goal.


Promote Your Key Selling Points - Figure out what sets you apart from your competition. Don't focus too much on trying to sell individual products, go all in on telling people why your business is the obvious choice.


Create Landing Pages - Landing Pages are a fantastic way to guide your customers towards the sections of your website that are most valuable to them. Build these to craft a journey that leads your customers to checkout more conveniently.


Upsell Your Products - What products compliment each other? How can you add additional value to your stock? Promote the additional value you can offer on your product pages to increase your website's average basket value.


Collaborate with Your Community - Join with others to amplify your business to their audiences as well. See what value you can offer each other in exchange for reaching a whole new audience and draw on your communities for ideas.


Don't Forget Logistics! - Make sure you have everything in place so your seasonal sales go off without a hitch. Plan your stock levels, payment options, returns and posting schedules to make sure you're covered.


What else are you including in your plan for Christmas? We want to hear your exciting plans and promotions in the comments be!
Related Posts