Blog > How to Write Website Terms and Conditions
Posted By Create
Protecting your business and establishing a legal foundation for you and your customers should be a priority, but it can be difficult to know where to begin and what to include.
To write a good set of Terms and Conditions for a Website, you will need to understand what should be included both in terms of legal necessities and specific requirements, depending on how you operate your business and the services you offer. Most importantly though, it should be understandable for your website users.
Not every policy will be the same, and the advice in this blog is presented as a guide only. We always recommend that you seek legal advice, it's worth having a professional review your drafted terms and to answer any specific queries you might have.
Often website owners will put off writing Terms and Conditions, sometimes because it's difficult to know where to start and what to cover. Other times, day-to-day business simply gets in the way. To help you get started, read on for the core points you should consider including in your website terms.


Get Started
Your Terms and Conditions should start with a brief overview outlining the general terms in which the agreement is entered into. This will often state the terms of the agreement and what notice is required to get out of it. It should note any prerequisites for accepting the agreement such as age. This 'general information' will also usually include your company details and contact information.
For more advice on this, see our guide on what you must include on your website.
Essential Points To Include
1. Products Or Services Provided
2. Prices And Payment
3. Shipping And Delivery
4. Guarantees And Warranties
5. Returns, Refunds And Complaints
6. Limitation Of Liability
7. Intellectual Property Rights
8. Future Changes
9. Governing Law
How to Write Terms and Conditions


1. Products Or Services Provided
There should be no doubt in the mind of your customer as to what services you offer or what the products you supply are - a detailed definition should be included here. For instance, if you sell electronic toys but don't include batteries, stipulate this as part of your Ts & Cs.
Where appropriate, make sure your terms and conditions include the minimum duration of any contracts that may exist for the supply of goods or services on a permanent or recurring basis.


2. Prices And Payment
You should clearly state your prices, or where to find them – such as on the applicable products. Whether the prices include applicable VAT should also be noted as part of your terms and the period for which any offer or price remains valid.
Any appropriate shipping costs should be noted here. Additionally, you should state when payment is due and what happens in the instance that payment is not received.


3. Shipping And Delivery
Shipping Policy
Where you ship products, you should include information about the expected timeframe and your responsibility. This may involve mentioning that shipping is handled by third parties and the applicable responsibility they share where this is the case. What happens in the instance that the order is not delivered should be expressed here too.
Delivery Timeframes
Related to shipping policy, you should usually disclose the delivery timeframe – how long from the order being received can your customer expect to receive their products? Where there are different timeframes for different products, such as where fabrication time is longer for bespoke items, this should be accounted for and made explicit.

You may also want to indicate what will happen in the instance that delivery is delayed for any reason, and how, if at all, this will be communicated to customers.


4. Guarantees And Warranties
Certain items you provide may include warranties, either from manufacturers or otherwise. In these instances, you should state the start date and duration of the warranty. This may be from receipt of the order in the form of an order notification, or from the point of delivery. You should also describe what would happen if a fault was noted during this period – would a replacement, repair or refund be offered.
5. Returns, Refunds And Complaints
Returns And Refunds Policy
While hopefully, it won't happen very often, you must include your returns policy on your website. This should be easily accessible, so many merchants choose to include this as part of their Ts & Cs and found either on their main menu or in the website's footer. The policy should clearly indicate the refund and return process for your customers.
Set out steps the customer should follow to return the product and any other requirements such as condition and proof of purchase necessary. Explicitly indicate who is responsible for covering any postage costs. You should also state the turnaround time for your customers to receive the refund and the form that this will take.

Certain items may not be eligible for return, and may only be refundable in the event of a fault, so be sure to mention those exceptions here – handmade items or items sold as part of a sale are examples of this. State if you are unable to provide substitute goods or services (as the case may be) of equivalent quality and price.

If you are EU based and supplying products to consumers, you should make it explicit that customers have right to cancel within fourteen days of their contract with you, or fourteen days of receipt of the goods (whichever is the longer). Those outside of the EU should comply with the applicable local department of trade.
Complaints Procedure
No one likes receiving complaints, but ensuring you have a clear agreement in place can make the process smoother for all parties. This should include how complaints should be received, what information should be included, and where they should be sent – this may be a physical or email address, or via another method. Where complaints are submitted due to defects, you should set out the timeframe in which these can be entered.


6. Limitation Of Liability
The limitation of liability clause specifies the extent to which you will be obligated to provide damages to another party for failure to perform as agreed to as part of the Terms and Conditions. In most cases, this will simply be to acknowledge that liability is limited to direct damages (those damages that could not be avoided by breaching the contract) and that you will not be liable for any indirect damages that may occur.


7. Intellectual Property Rights
You may wish to assert your ownership over intellectual property such as your photographs, graphics and so on. This can be a short line stating your ownership of these original materials, and state in which contexts they can be used, if at all.


8. Future Changes
From time to time you may change the terms of your Ts & Cs either because of changes in your business, or due to changes in governing law. Make sure to provide information on how customers will be notified of this, and the period of notice that will be given in advance of changes.


9. Governing Law
Your Terms and Conditions should end by stating under which applicable laws they are governed by – i.e. the laws of the country or state where you conduct business. In most instances for English businesses, this will be in accordance with the laws of England.


Publish Your Terms & Conditions
Once you've written the terms for your website - make sure these are accessible and published on your website. By providing this information your business is in a great position to be protected from any liability, while also letting customers know exactly what to expect. This establishes trust and encourages the shopper to purchase, which has the knock-on effect of boosting your sales.
Having Terms and Conditions which clearly state your practices, liability and agreement with customers gives them peace of mind, helping you avoid future headaches.
Want Your Own Website?
Start Building Today!
No credit card needed. By submitting this form you agree to our
T&Cs
and
Privacy Policy
.
Remember that this information is only provided as a guide and you should seek professional legal advice for specific enquiries.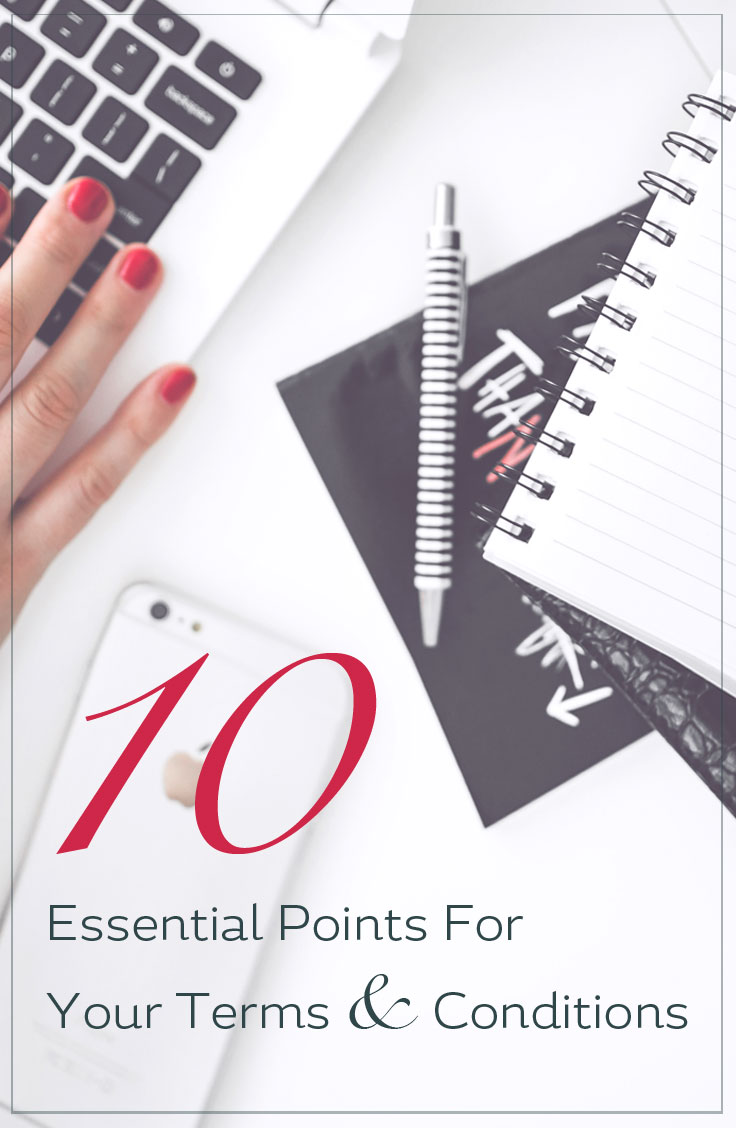 Related Posts