Blog > How To Start A Blog: Tips and Inspiration for Beginners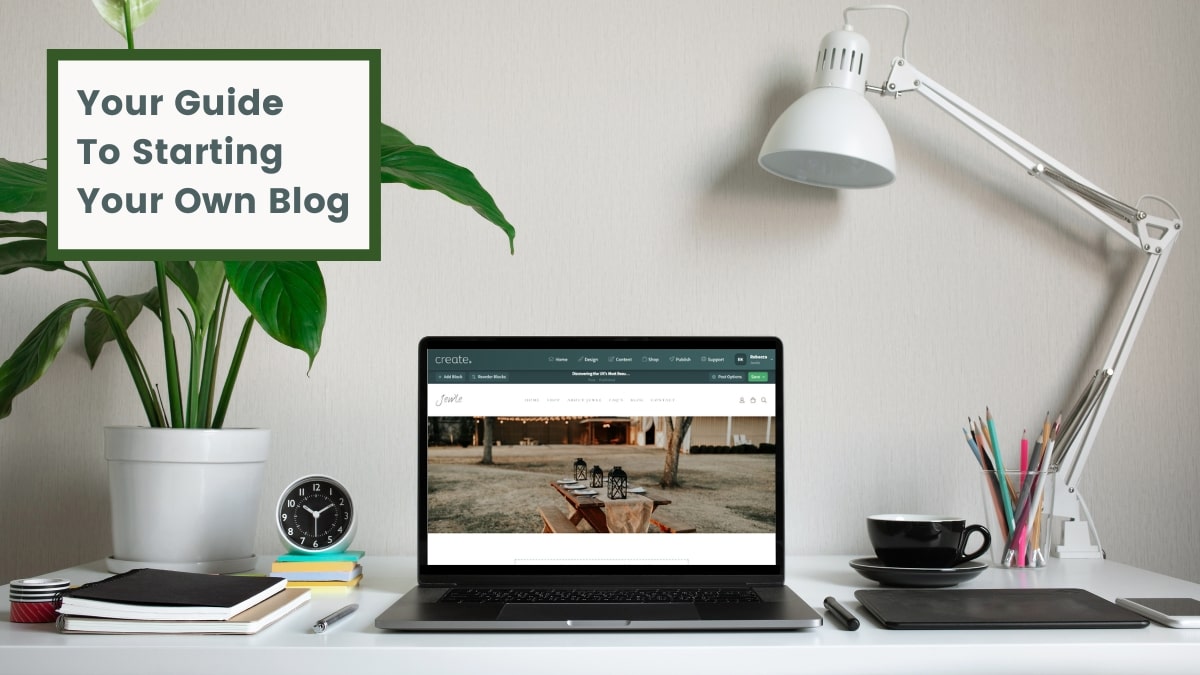 If you've built a website, I'd say it's more than likely that you would have heard about the importance of having a blog.
For good reason! Having a blog is a powerful way to attract traffic to your website.
But it's more than that. It's a platform to demonstrate your knowledge and expertise, a method of generating engaging social media content, and a place to start relationships with prospective customers and clients.
But where do you begin with such a task?
Building a blog in itself is a straightforward task, especially with Create's tools that enable you to build visually stunning articles. However, it takes dedication and consistency to maintain a blog that supports and elevates your website.
This article is intended to give you everything you need to know to make an amazing start with your blog. We'll not only show you how to use the tools for maximum effect, but also how to continually improve the success of your posts.
Build A Content Plan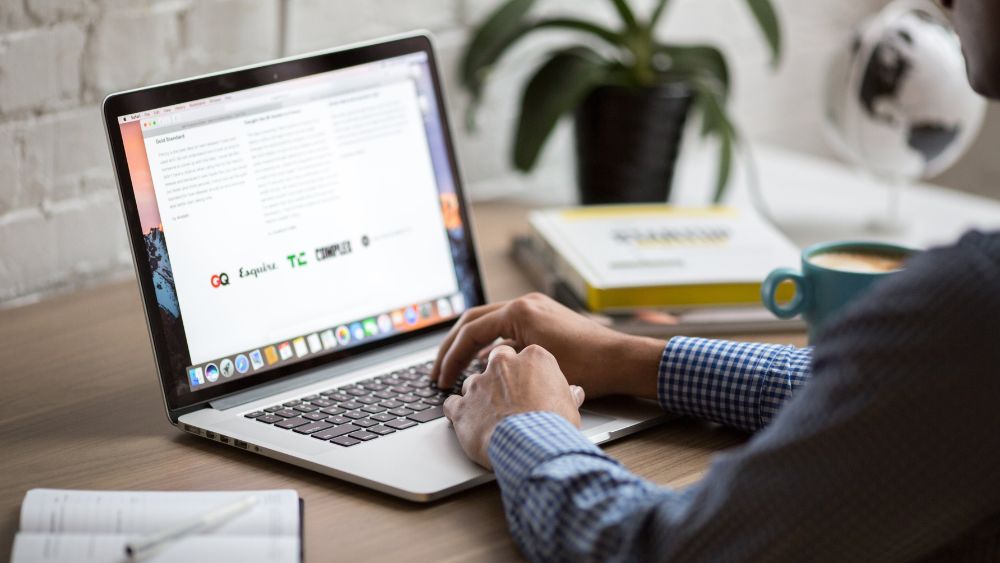 Step 1 is to think about what kind of content will be useful to, and inspire, your readers.
Many content marketers lead with the idea that "if you build it, they will come"; but a blog should never be about writing for the sake of writing.
You must consider what content your users are searching for and how the topics you will write about fit into your overall business goals.
Each blog post should speak to a specific person or work to solve a common problem amongst your audience. Further to that, you should have an idea of how you will keep these visitors on your site and lead them to the products or services that you know will help them.
It's also useful, at this point in time, to have an idea of how regularly you will be posting. It's more important to have a consistent schedule than to write epic masterpieces sporadically.
Consider what's possible for you and commit to keeping to that schedule. Having content ideas thought out in advance will help with this.
On that note, here are some ideas to get you started on building out your content plan:


Find the Forums Where Your Audience is Hanging Out
Social Media is a near-unlimited source of content inspiration. Nearly all the conversations your audience is having could become content for you in some way.
Communities on Facebook and Reddit, for example, are ideal places to find exactly the kind of target audience you're looking for and get involved in their conversations.
You'll soon find out what some of the prominent questions are and what topics really get the conversation going in your communities. You can write answers to these questions or give your take on an important topic on your blog.
These are the perfect places to find exactly what your audience wants to know and they will keep a consistent stream of content ideas flowing your way.


Carry Out Thorough Keyword Research
Keyword research isn't always the easiest of tasks, but when you find an opportunity, you'll see the work pay off significantly.
Keyword Research is an essential SEO task for your blog. It will help you pinpoint opportunities where you have the best chance to get found in search, and in front of the most people.
If you're not sure where to begin with finding valuable keywords, I'd recommend checking out my complete keyword research guide which will walk you through the process step-by-step. It's helped many people from our Facebook Community grow their websites and their sales.
When you get the hang of the process, you'll soon find what your audience is searching for and you'll be able to start writing more content that ranks well in the search engines.


See What Your Competitors Are Writing About
Some of the bigger competitors in your niche will have invested a lot of time and resources into finding what topics to write about.
Granted, you may not be able to compete in the search results with them, but it's an excellent place to start getting an idea of what topics are hot.
You can give your take on many of the subjects, and answer the same questions in your own way. Just make sure you're not copying their content!
Even if you don't compete in the search results with them, a lot of this content can still be really engaging on social media, and a valuable resource on your site.


Discover Google Trends
Google Trends makes finding the topics people are interested in easy.
Simply type the topic you're interested in writing about into the search bar. Underneath the chart, you'll find a list of related topics and queries.
You can also change the view to see which topics are rising in popularity and which are at the top.
This is perfect for getting in early on topics people aren't yet covering and making sure the content you write is gaining traction.
Create Your Categories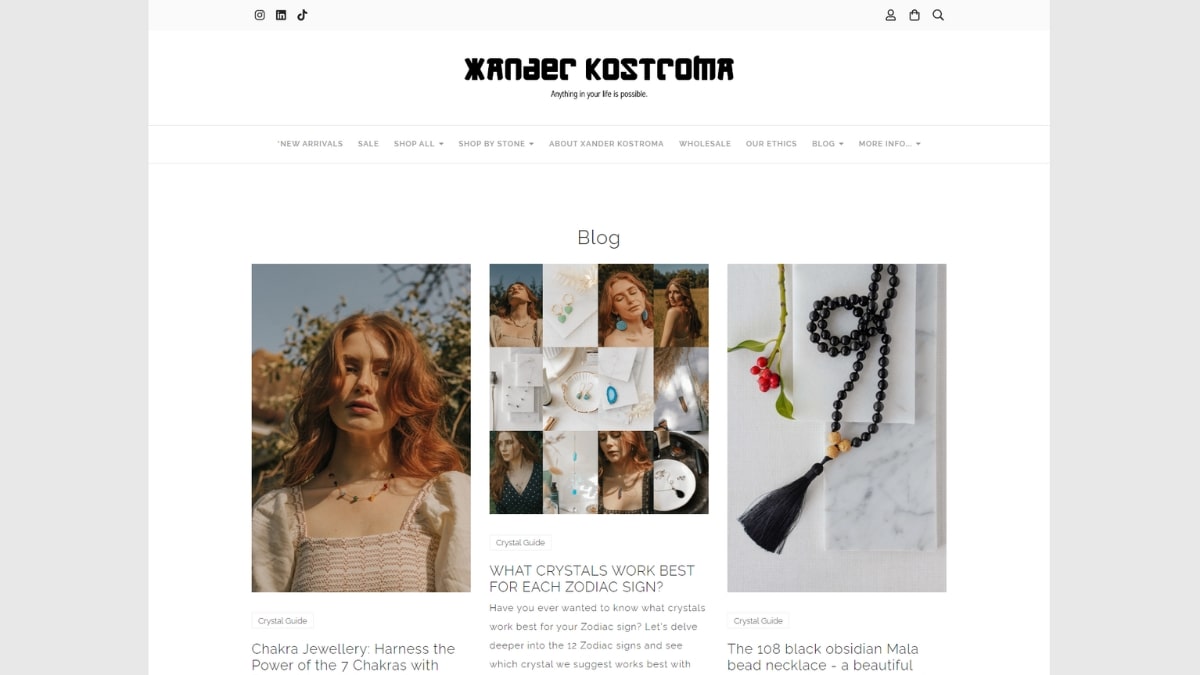 The Crystal Guide Category on the Xander Kostroma blog. Their blog is full of ideas, inspiration and the meaning behind fashion and crystals. Each category and post is presented with beautiful imagery and filled with content that informs and excites the reader, and further encourages them to explore the site.
This step isn't strictly necessary to get your blog going. It's completely understandable if you would prefer to build up a few blogs on your website before you begin to categorise them.
This will become important down the line however, and it would be helpful for you to have an idea of what your categories will be when the time comes to organise your blog.
Categories make navigating and understanding your blog easier for your users. Rather than having to sift through many posts which may not be relevant to what they're searching for, they can jump straight to the category that's most relevant to their interest.
Organising your site isn't just helpful to your users, however. A clear architecture for your blog can be incredibly helpful for your SEO. This will help search engines understand the layout of your site and the context of your content.
Here's how you can start thinking about what categories you'll need:


Group Your Content Ideas Under Themes
The first place to start is to take the content ideas you already have and connect them through related themes. This can help to give you a rough idea of what Categories you will need. Take for example if you have a food blog focussed around different dinner recipes, you could categorise your recipes under different cuisines.


Continue Your Keyword Research
For the best SEO results, you'll want to get really well acquainted with doing your keyword research. You should take the categories you've already come up with and find synonymous titles for them; filled with terms that offer the most traffic and opportunity.


Focus Your Attention
When creating Blog Categories, try not to get carried away with ideas. Too many Categories can be overwhelming for your readers, and won't be ideal for your site architecture. Try to create no more than 10 Categories to cover the breadth of your content; aiming for 5-8 ideally. As your blog gains more traffic, your analytics may help you whittle the number of categories and focus on those that are truly serving you.


Stay On Topic
Many blogs have a Category dedicated to daily life behind the scenes - There are benefits to sharing this type of content, like humanising your brand and becoming more relatable, but it's unlikely to fit into an effective blog strategy. As mentioned before, it's best to stay focused on actionable content that serves you. However, you may find this type of content resonates well on social. You could also create a separate blog or News section on your site for specifically this type of content if you did want to make this accessible through your website. This will help to distinguish your blog content from your updates.
Customise Your Blog Settings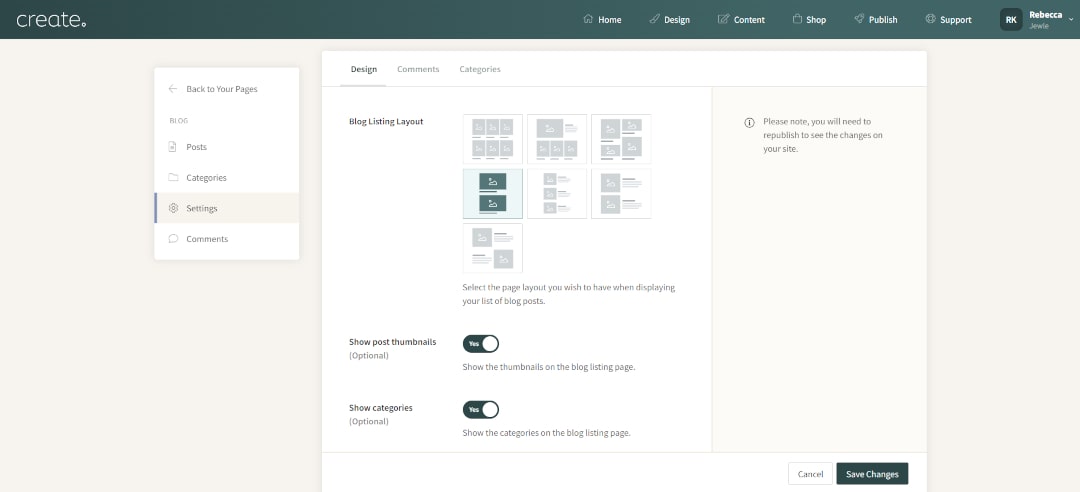 This is the final step before you can really get stuck into writing your content. Let's get your Blog customised to suit your style.
Of course, you can organise how your Blog is presented to your audience through your settings. However, it's also a good time to sort out some of the technical aspects that will make your readers' lives easier and help you get found in search.


Your Blog Title
Let's start off with your Page Options. This can be found by heading to the Content tab in Create and clicking the toggles icon next to your Blog. The first option you come across is to give your Blog a title. "Blog" is fine, but you might also consider calling your Blog section one of the following ideas:


Resources

Articles

Learning Center

Journal

Updates

The Latest

News
It doesn't matter too much what you name your blog so long as it's clear that it's a place to find articles and content of that variety. However, make sure that your URL (also found in these settings) matches what you've named your blog.


Meta Info
While you're in your Page Options, you'll see a tab titled Meta Info. This is a good opportunity to tick this job off the to-do list.
If you're not familiar with Meta Info and how to fill it out, it's really important for your SEO. This is what you tell search engines to display as your search result in their listings.
You can read my full guide on How To Set Up Meta Data to find out all you need to know to set yourself up for success here.
Make sure that your meta data is clear and concise, and that it tells the visitor exactly what to expect from your Blog. Some keyword research will also go a long way here.


Blog Design
Now, if you head into your Blog, you'll find some more Settings in the left-hand menu. When you click on this, you'll land on the Design options for your Blog.
The first three options are for how your Posts will be presented within your Categories. You'll see several options for Page Layouts, along with whether to display Thumbnails and Categories on the blog listing page.
You'll also find Design options for how you will lay out your posts. These are all down to your personal preference and can be changed at any time.


Comments & Categories
The last two tabs relate to how people are able to comment on your blog posts and how your categories are displayed in your menu.
You can change your comment settings to display, or restrict users, commenting on your blogs. Engagement on your blog posts can be great for SEO and for building a community of invested readers, however, it can take time to moderate all the comments that come through. Again, these are settings you can adjust at any time.
You can also choose whether to display your Categories as a drop-down in your site menu. There are several ways you can set up navigation through your Blog:


You could use this option to include all the items in your menu

You could have your blog main page in the menu and then users can navigate to the categories they want

You could include each Category as a separate menu item outside of a drop-down option


Ultimately, you want your Categories to be as simple to navigate as possible. The dropdown option is ideal as it compacts all your Categories in one place without cluttering your menu.
Write Your First Blog Post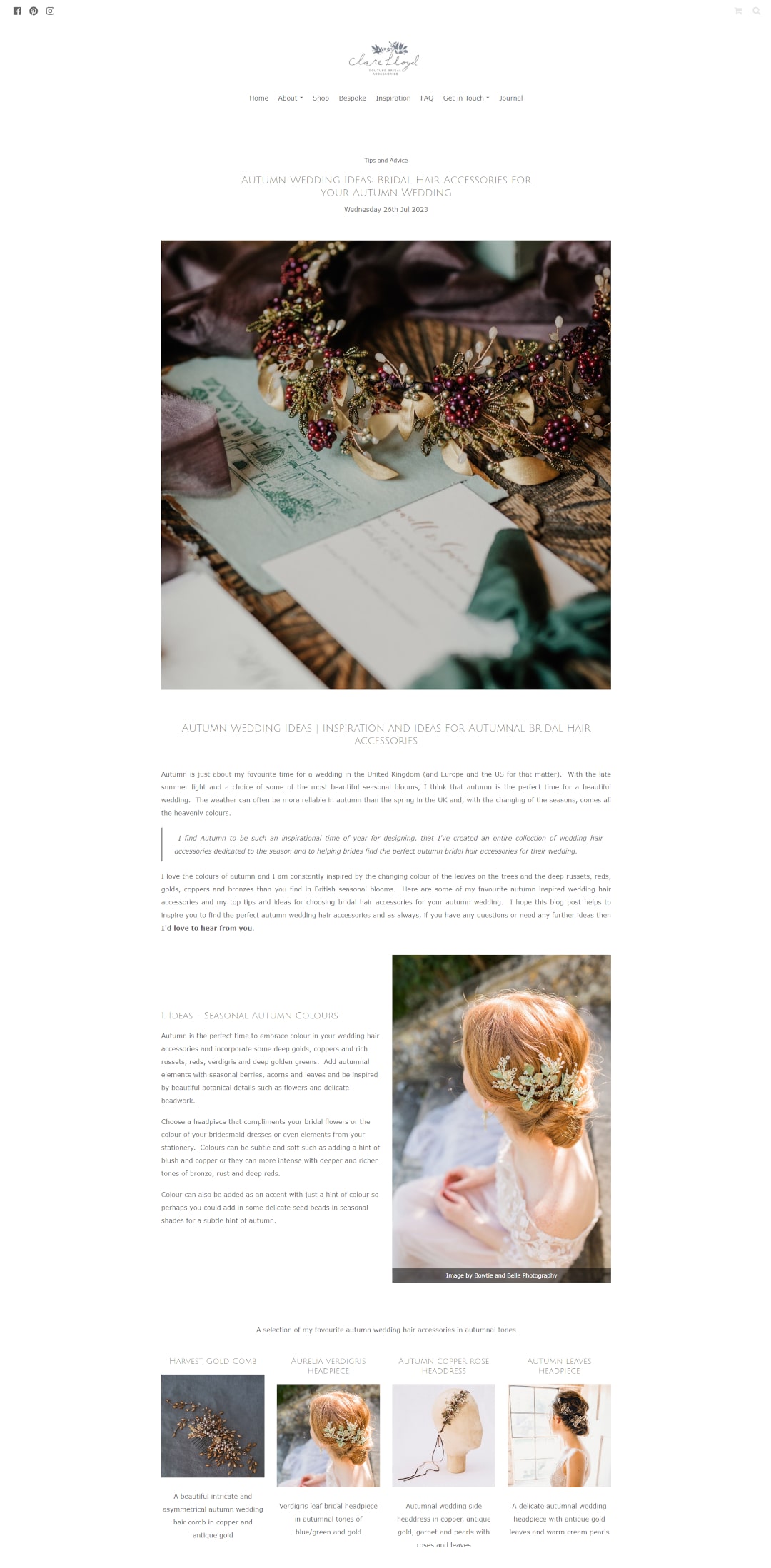 A Snippet of Clare Lloyd's blog post: Autumn Wedding Ideas: Bridal Hair Accessories for your Autumn Wedding. This blog post does an amazing job of inspiring readers with stunning autumnal pieces for their dream wedding, and then links to where the reader can purchase them on the site. Just one example of the many amazing posts in Clare Lloyd's Journal.
So by now, you should have an idea of the content you'd like to produce, your settings are all in order and you may or may not have some Categories to work with. Now you can get on and start writing your content!
Blogs are built much like pages within Create. You can choose from a selection of Content Blocks to lay out your page precisely how you want it. You can find out more about putting pages together with Content Builder in the video below:
Once you've got the hang of that, it's all about filling your Blocks with content. Here are some pointers for approaching your content.


Write In A Word Or Google Document First
Using Create's tools to build a stunning blog is easy to do. However, you may find it best to do your writing in a Word or Google document first.
You'll find writing the content first and then structuring it into Content Blocks much easier than trying to do everything all at once. It's likely you'll find your writing flows better too when you focus on structuring your Content Blocks as a separate task.


Don't Fret About Word Count
There's been a lot of debate over the perfect word count of a blog online. The truth is, there is no set amount of words that are perfect for SEO or your content. Instead, you should just aim to be as clear and concise as possible.
You have the subject you're writing about. All you should aim to do is cover the subject in detail so it is clear and answers your audience's questions.


Utilise Professional Photography
Photography is the perfect complement to your writing. It can help illustrate a point, help with visualisation, and break up long sections of text. However, if you're using fuzzy imagery, it can have the opposite effect. There's tons of free imagery at your disposal. You can import professional photography directly from Unsplash or there are other free photo sites available to browse.


Use Subheadings
Subheadings are great for making your content more digestible for the reader. Most people are unlikely to read your post from top to bottom. Most will scan your content to find the answers they're looking for. Using Subheadings will help these readers to find the information they're looking for and improve the engagement rate of your blog.
I also find it really helpful to write my title and my subheadings before doing any writing at all. This helps to keep me focused and makes sure that I've covered all the topics I set out to by following this rough outline.


Keep the Intro Short
Have you been on a recipe blog lately? Have you had to scroll the life story of the writer from the point they reminisce on the first time their gran made the meal for them? This isn't ideal for the reader. A much more impactful intro will swiftly explain the value the article offers, demonstrate your expertise and captivate your audience, giving them a reason to scroll on and feel excited to read your article.


Create Calls-To-Action
It's important to consider how to connect your writing and where you're leading your visitor next. Be sure to link between articles where it is relevant to do so. You should also consider how your product or service links into your writing and encourage your visitors to check out your offering in relation to what they've read. After all, the main goal of writing is to get more people interested in the full scope of your work.
Another good idea is to include a Collection Block at the end of your post featuring related articles. If they've read your entire post and reached the bottom of the page, this is the perfect opportunity to invite them to read something else, or take an action, and keep them engaged for longer.


Write First, Optimise Later
It's a good idea to bear some SEO principles in mind as you write, and it definitely pays to do your keyword research beforehand. However, you don't have to get everything perfect on your first publish. In fact, it most likely won't be perfect. However, by putting your post live, you'll get insights into what you're doing right and a better idea of how you can optimise later on through Search Console Data.


Don't Forget To Spell Check
It goes without saying, but those little mishaps in your writing here and there can be at least distracting for your reader; at most, off-putting. Spell checkers are easy to come by that can tidy up your writing for you, and it's always a good idea to have someone read your writing to make sure it makes sense if possible as well.
Updating Your Post Settings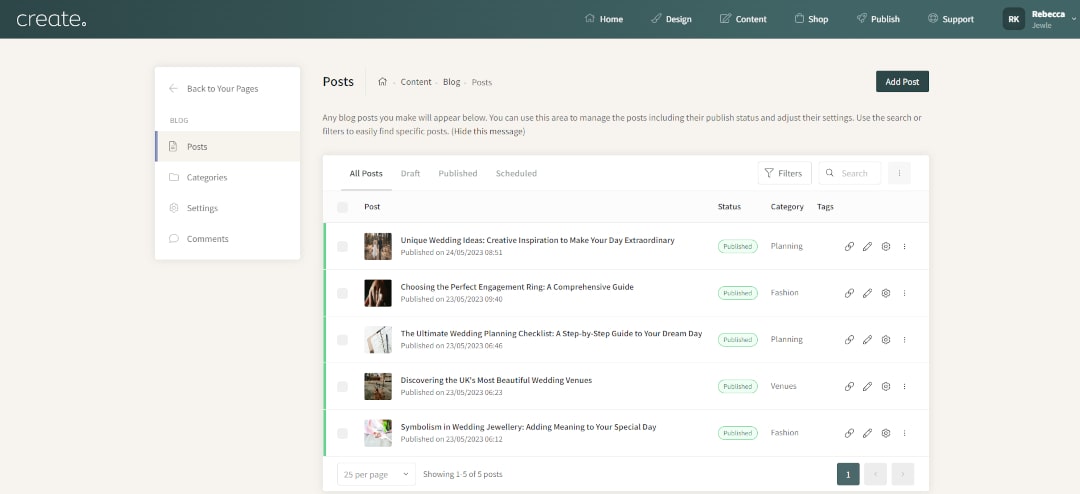 When you publish your first post (congratulations by the way!), you might want to adjust a few settings to maximise its potential.
You can adjust the title, the URL (this isn't recommended by the way, especially if you already have some traffic!), the post date, categories and more.
Here are some pointers on the other fields:


Post Summary
You can enter a short snippet of text here that will appear on the listing page. This should give an overview of the value your readers can expect the blog to offer and entice them to click through to find out more. This doesn't directly impact your SEO.


Tags
It's easy to get Blog Categories and Tags mixed up. Your Blog Categories should be overarching topics that encompass a broad range of topics. Tags are more specific and they help to group content together under different keywords.
Say for example you have a wedding planning website, you may have categories for venues or advice. Your tags may be something like specific styles (traditional or boho for example) or seasons that you can group your content under.
It is helpful to plan your tags out in advance. You don't want to create Tags that you'll only use for one post; as mentioned before, they are a means to group content together. Try to be intentional with your Tags and only use a few.


Meta Info
You'll need to set up the meta information for each of your posts, the same way you set up the meta info for your blog mentioned before.
There are three fields: The <TITLE> Tag, Metatag Keywords and Metatag Description. You don't need to worry about filling out your metatag keywords as they serve very little purpose except in very specific cases. However, your Title Tag and Description Tag will be what's displayed on search engine results pages.
Find out more about Creating Meta Data >>


Open Graph Title & Description
Open Graph is slightly different to your meta data. While meta data is mostly used for Search Engines, Open Graph will provide a title and description to compliment your social media posts every time someone shares a link to your post.
You could just copy and paste your meta info into these fields. However, this feels like a slight missed opportunity.
Meta data has to focus around keywords to an extent. With this being the case, they may be a bit more rigid in how they are put together to stand out against other results.
On social media, you don't have to worry as much about keywords. Instead, your main focus should be to attract attention and encourage clicks.
Try experimenting with different catchy or intriguing titles here that make your audience feel compelled to find out more. This is how you can maximise your results across social media and search engine result pages.
Find out more about succeeding with Open Graph Data >>
Wrapping Up
There's so much more I feel I could write on this topic. I did have three more sections lined up for this post! I realise now, however, that having published and set up your first blog post - is an amazing step for now!
Don't worry, there is plenty more content to help you maximise the potential of your blog. You can find out more about how to publicise your content, use data to grow your audience and lots more on the way.
Be sure not to miss out on any of our future updates and be the first to know by receiving our emails. We'll keep you up to date on the latest news, updates, inspiration and ideas to grow and succeed with your website.
Related Posts