You can easily add new domain names to your Create account by purchasing a new domain, or adding an existing domain (an existing domain is one you purchased in the past and own already).
If you would like to register a new domain name to use with your Create website please follow the steps below:
Click on the Account Icon in the top-right corner of your account.
Under the 'Site' drop-down, go to 'Manage Domain Names & Email"'
Click 'Purchase New Domain'
You can then entire your desired domain name in the search box
Click 'Search Domains'
When you have found the domain name(s) you wish to register, click 'Buy' and they'll be added to your basket for purchase
Click the green 'Proceed' button to be taken to enter your billing and domain registration address details
To complete the registration click 'Proceed' to be taken to a summary page and then click 'Pay Now' to make your payment on the next screen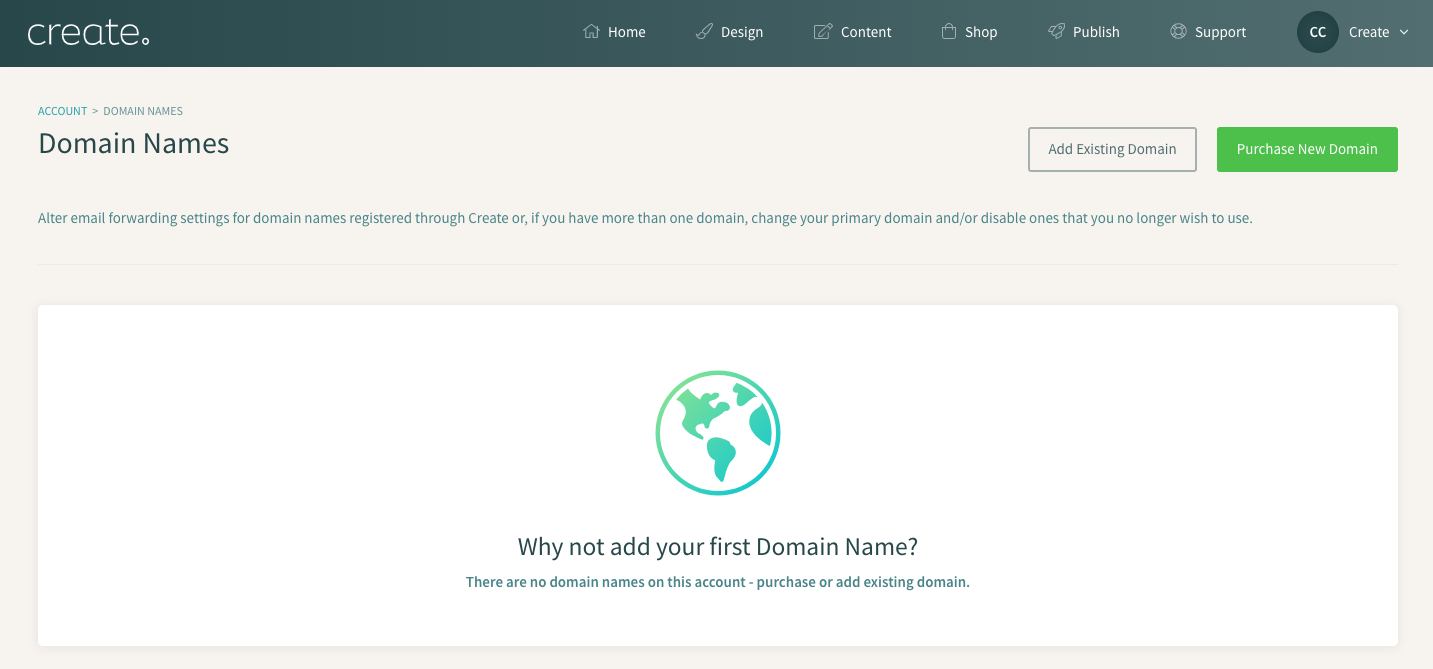 Once your domain name is registered you will be able to edit email settings and other domain name settings from the 'Manage Domain Name and Email' area.
Below are the domain names Create offers and the prices for a two year registration period. You will need to renew your domain name every two years. As it gets closer to the end of the two year registration period, we will notify you by email starting at 90 days before the expiry date, to allow you plenty of time to renew. Renewing your domain name costs the same as the registration, and applicable VAT applies to all domain prices.
Prices excluding VAT
.co.uk - £20.75
.me.uk - £20.75
.uk - £20.75
.org.uk - £20.75
.com - £31.98
.net - £31.98
.org - £31.98
.biz - £31.98
.info - £31.98
Prices inc. VAT at 20%
.co.uk - £24.90
.me.uk - £24.90
.uk - £24.90
.org.uk - £24.90
.com - £38.38
.net - £38.38
.org - £38.38
.biz - £38.38
.info - £38.38
Already have domain name? No need to buy again, you can add to your Create account right away! See our guide for more details.