Blog > 25 Creative Blog Post Ideas to Boost Your Business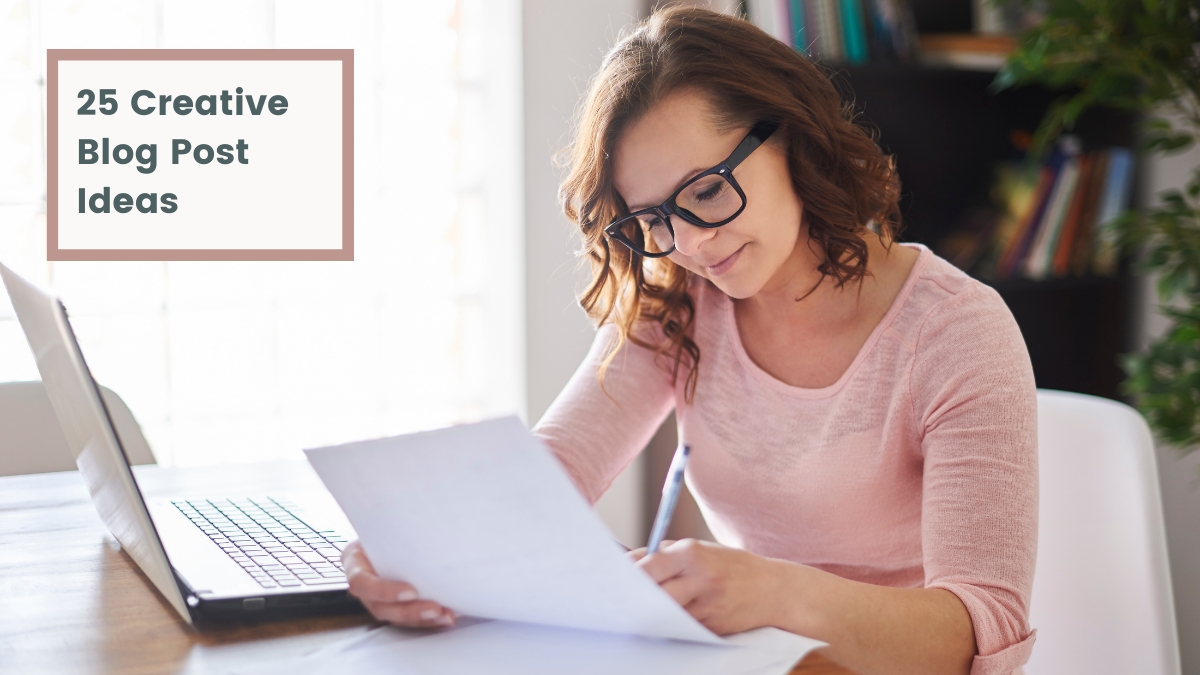 We've talked a lot about how to get started with blogging, how to promote your blog and grow your following. However, none of this really matters if the ideas aren't flowing.
We all hit that wall from time-to-time as we find ourselves waiting weeks for inspiration to strike. Often though, all we need is the right prompt to get our creativity kick-started again.
In this article, we'll explore 25 creative blog post ideas to inspire your next content piece. These ideas all have the potential to drive more traffic to your website, as well as engage your audience and establish your expertise within your niche:
1. Industry Updates
Staying current with industry news and sharing insights not only keeps your audience informed, but also positions you as an authority in your field. As this type of content is trendy, it's also more likely to pick up traffic faster as it's shared across social media or spotlighted in Google.
The tricky part is remembering who you're writing for and framing these updates so they're useful and relevant to your clients / customers.
Be sure to discuss recent developments, product launches, or industry events, and provide your unique perspective. However, for every point you write, be sure to ask "how is this relevant to my readers?" and always describe the impact these updates will have on the products or services they regularly buy, or are considering purchasing.
2. Behind-the-Scenes Stories
Readers love a personal touch. Peel back the curtain and share the journey of how and why you started your business. Personal stories resonate with your audience, fostering a deeper connection. Your readers want to know the person behind the brand.
When crafting these stories, start from the beginning – your business's inception. Reflect on the challenges you've encountered, pivotal moments, and future aspirations. Transparency is key; discuss both your successes and setbacks. By sharing these authentic narratives, you humanize your brand and build trust with your audience.
3. Weekly Features
Consistency is the cornerstone of successful blogging. Establish a regular feature to keep your readers engaged and coming back for more. For instance, "Tip Tuesdays" or "Fun Fridays" create anticipation each week.
To make these features impactful, plan your topics in advance. Choose subjects that resonate with your audience and align with your niche. Whether it's sharing tips, highlighting industry trends, or providing valuable resources, ensure your features provide tangible value to your readers week after week.
4. Q&A Sessions
Position yourself as the go-to expert in your field by hosting Q&A sessions. Encourage your audience to submit questions via contact forms on your website, social media, or blog comments.
When responding to these inquiries, offer in-depth and comprehensive answers. Demonstrating your knowledge and commitment to helping your readers will build credibility and trust with your audience.
5. Product Tips and Tutorials
Your blog is an ideal space to showcase your products in different ways. Highlight them by offering informative posts such as "5 Creative Ways to Use Our Products" or "Top 5 Tips for Maximizing Product Benefits."
These types of posts not only demonstrate the value of your products and offer an insightful glance at what you have available, but they also inspire your audience to find new ways to engage with what you offer and keep them coming back for more.
6. Event Coverage
Attending industry events, trade shows, or conferences? This can all be content for your blog too. Document your experiences and insights. Include photographs, interviews, and anecdotes to make your event coverage engaging and informative.
Discuss what you learned, the connections you made, and the impact these events have on your business. You'll be keeping your readers informed, but it's also an excellent way to start bringing some of your new contacts into your social media fold and engaging with you.
7. Product Reviews
What makes a good product in your niche? What should your audience be looking out for when shopping for products like yours? Reviewing products relevant to your niche can be really useful for informing your audience.
When done respectfully, this can also be a powerful tool for framing what makes your product the right choice in comparison to others. This can help to highlight your key selling points to your target audience and show them why you're the right choice.
Product reviews can even helpfully redirect those who aren't your ideal customers to a product that fits them better. No one can be the right choice to everyone, but helping who we can in any way we can will always leave the right impression!
8. Interviews
Your blog is a space to develop your online authority, but acknowledging and bringing in other thought leaders can be exciting for your audience and powerful for your reach also. Diversify your content by conducting interviews with industry influencers, fellow entrepreneurs, or thought leaders.
If you try this type of content, be sure to research your potential interviewees and prepare thoughtful questions that resonate with your readers. Sharing these interviews as engaging content not only offers fresh perspectives but also strengthens your network within your niche.
9. Step-by-Step Tutorials
It's likely your audience won't want to depend on you for everything. We like to feel empowered to do some things ourselves. Engage them with detailed step-by-step tutorials on various topics and simple tasks that help them navigate your services or products.
Identify the activities that are within your reader's skill set. Break down these tasks into easily digestible steps, providing clarity through images and explanations. These tutorials will give your readers a sense of accomplishment and demonstrate your commitment to their success.
10. Caption Contests
Your blog doesn't all need to be entirely serious and heavy reading. Inject a bit of fun and interactivity into your blog with caption contests. These are amazing for engagement on your website and across social media.
Share an image and invite your readers to participate by leaving creative captions in the comments section. To boost participation, you can offer incentives like discounts or recognition for the best caption. Caption contests foster a sense of community and playfulness with your brand. It can also really accelerate your social media results.
11. Customer Success Stories
Stories where you demonstrate how you've helped previous customers / clients are one of the best ways to build trust and social proof. Reach out to satisfied customers for testimonials and share their experiences with your products or services.
Highlight the tangible benefits and impact your offerings have had on their lives or businesses. These stories provide relatable examples of how your products or service can solve real-world problems for your audience.
12. Guest Posts
You don't have to be writing all the time. You can broaden your content horizons by inviting guest bloggers or experts in your field to contribute. Collaborating with industry peers or thought leaders who can offer unique perspectives is exciting for your readers and time saving for you.
Most bloggers or experts will jump at the opportunity to get in front of a new audience. However, before reaching out, it's a good idea to make sure you have a clear idea of what kind of topic you'd like for your expert to cover, with some guidelines for them to work from. Try to anticipate the questions they may have and make it easy for them to say yes to your guest post offer.
13. Resource Roundups
What resources are out there that either you or others have created that would be useful to your audience? You can curate valuable resource lists to help your audience and acquire links from others in your industry who see the value in your list for their audience.
Make sure to provide concise descriptions and categorize the resources for easy reference. You want to make sure your library of resources are as helpful and easy to navigate as possible so that you're the go-to place for information in your niche.
14. Infographics
We all love visually engaging content. Images can help us understand complex concepts and make data exciting to read. If you Identify data or concepts relevant to your niche, you can transform them into compelling infographics.
Canva is an amazing place to start designing, with tons of tools to help you best represent the information you'd like to display.
Make sure to write a bit of content on your blog alongside your infographic to explain the concepts in more detail. Infographics are also highly shareable and can boost engagement on social media platforms; so be sure to add your social profiles on your blog too!
15. Trend Predictions
Predicting what's up and coming in your area is a superb way to establish yourself as an industry thought leader. Both your audience and your industry want to know what the next big thing is - and whatever it is, it's sure to get people talking about your blog.
Once you've identified something you can talk about, explain the potential impact of these trends on your readers and offer insights on how they can adapt ahead of these changes. This kind of forward-looking content is perfect for acquiring links and developing authority.
16. Case Studies
Case studies are the ideal way to illustrate the practical benefits of your products or services. They're an opportunity to present the real world problem your customers / clients have, and the solution you've previously provided
Highlight how your offerings address specific challenges or pain points. By showcasing success stories, you provide concrete evidence of the value you bring to your customers and build trust with prospective customers.
17. Seasonal Content
What are the occasions that matter most to your audience? Seasonal events are often golden opportunities to generate more sales. Plan ahead to create timely content that resonates with readers during these specific times of the year.
Consider putting together seasonal collections and inspiration. Talk about the events that are happening, what's trending over the season this year and more. Wherever you can, link back to your seasonal offerings that tie in with your blog content.
18. Transcribe Podcast Content
If you're creating podcast content, you've already opened up one terrific content marketing channel to reach your audience. You can continue to benefit from your recorded content by transcribing it into blog content.
Transcribing podcast content enhances accessibility and SEO as audio content isn't reliably detected. However, with your written content, you can also take the opportunity to summarize key takeaways and insights from your episodes, include timestamps, relevant links, and recommend additional content to complement your podcast on your website.
19. Interactive Polls and Surveys
We've discussed infographics and trend predictions already. Both of these require data to really blog about them effectively. Luckily, you can use your blog to acquire this data too.
Use your blog to create and share surveys with your audience. Explain a bit about what you would like to discover and ask them thought-provoking questions they're excited to engage with.
When you collect enough data, you can then share the results and analyze trends. You can create infographics or trend predictions from the data, but even just a breakdown of what you discovered can be really interesting for your readers.
20. Frequently Asked Questions (FAQs)
Many people find themselves on a blog when they have a question they want answered. Therefore, one type of content you should often focus on producing is answers to commonly asked questions, or FAQ lists.
Provide clear and detailed answers that address not only the what, but also the why and how. Answering questions in a way that leaves no details unturned is the key to being a valuable and rankable source in search engines for people looking for the answer you provide.
21. Book or Podcast Reviews
In a few points before, we've discussed how nodding to others in your industry can be beneficial and keep your blog engaging. Reviewing published works or other popular podcasts can be an excellent way to create connections and inform your audience about other valuable sources of information.
Be sure not to give too much away so that your audience still has a reason to go and read the book themselves or listen to the podcast. By all means share why you think the resource is valuable and how it impacted you though. Your audience will appreciate you helping them to discover other writers or influencers worth their time.
22. Infamous Mistakes
We all learn by making mistakes, but there's also no reason to make the mistakes that have already been made before. I think we all would love to know what we should avoid doing so we can save some embarrassment down the line.
So one type of content that's great for getting click throughs is pointing out these errors to your audience. Help your audience avoid common pitfalls by discussing infamous mistakes in your industry. Identify prevalent errors and offer practical advice on how to avoid them.
23. Industry Glossary
As a writer and an expert in your industry, it's more than likely that you'll sometimes fall into the trap of using technical terms that your audience don't really understand. If you're doing this, most everyone else in your industry will be doing this too.
With all this industry lingo floating around online, your audience will be very appreciative of any forms of glossary you put together to help them navigate the buzzwords. Keep it easy to navigate and link to technical terms where you can to help demystify your language.
24. Social Responsibility Initiatives
By showcasing your commitment to making a positive impact, you inspire your audience to align themselves with your values and draw more people to support you and your cause. Naturally, this is good news for your blog but even better news for your mission.
Your blog is a fantastic platform to highlight your company's efforts toward sustainability, social responsibility, or community involvement. Explain your initiatives, their impact, and (very importantly) how readers can support or get involved.
25. User-generated Content
There's nothing more powerful to business success than the words of customers or clients who have come before. We've spoken about success stories and case studies, but you can also get your customers / clients to produce content for you.
You can prompt them by leaving a card in their parcel or sending a follow up email to write some content for you about their experience. The key is to make it simple for them to respond to you so be sure to offer them prompts to guide their writing experience.
Wrapping Up
By this point, I hope there have been at least a few blog ideas that have got you inspired to go and start writing. Whether that's a new weekly feature you're planning or a one-off experiment.
Whenever you find you are stuck for ideas - which will almost certainly happen - feel free to keep this page bookmarked and revisit this list for a refresh of new ideas you can try out.
For more blog ideas, inspiration, and feedback, you should come and join our exclusive Facebook Community. Create users come together and support each other here while experts at Create keep ideas and tips coming each week.
Want more tips and ideas on how to start and grow your website? You can make sure you never miss a trick by getting our email updates. We share the latest news from our blog along with tips and ideas you can utilise to grow your business online.
Related Posts