Blog > 8 Ways To Make Sure Your Website Is Performing Well
Posted By Jack Ricketts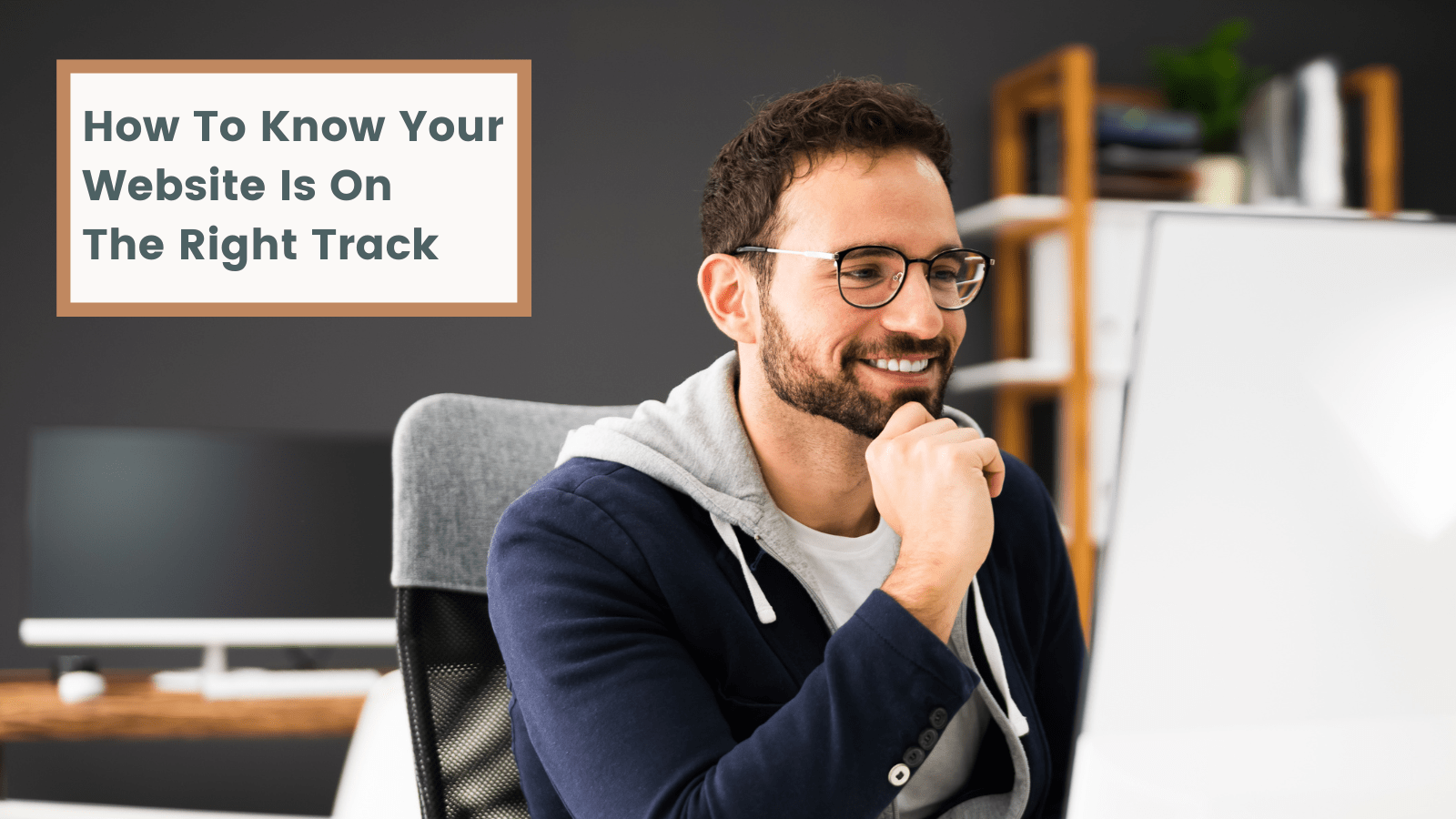 One of the most challenging parts of building a website is knowing if you're on the right track. Without immediately seeing the payoff to the actions you take, staying motivated to keep moving forwards becomes more difficult.
What you need to remember before anything else is that every step you take leads you closer to success. Building a website is a journey and learning what works and what doesn't is just a simple part of that.
If you've found yourself a little lost or in a rut with not knowing which direction to take, however, there are some simple metrics and milestones that can tell you whether you're moving in the right direction.
Keeping a close eye on the points in this blog over time can help you feel more confident in the actions you're taking and continuously see steady improvement over time. The information you can glean from each can help you to grow not just your website, but your business as the data opens up more doors for informed opportunities.
Here are the 8 points I'd recommend to keep you motivated and on track while you continue to build your website.
Determine Your Goals
The first step is to decide what it is that you want from your website. Not only is this important for keeping you on track and making informed design decisions, but it also gives you a meaningful baseline to track your progress.
The key here is to set yourself some SMART goals, which if you haven't heard before, are as follows:


Specific - You have to be super clear about the action you want to accomplish
Measurable - There has to be a way to measure this goal
Achievable - It shouldn't be too easy, but not unattainable either
Relevant - You should be clear about why the goal drives your business forwards
Time-bound - There should be a deadline where you assess your progress
You can find out more about setting these kinds of goals and building your website from them in my blog about Website Objectives >>
If you're just starting out and haven't had a visitor to your site yet, there's only one adjustment I'd suggest to these points and that's regarding achievability. Usually, it's suggested to aim high with your goals to drive you forwards. But if you haven't had your first visitor yet, just aim to get that one visitor. That's still an incredible achievement.
Once you start to gain traction in hitting these SMART goals over time, you can then start to push forward and become more ambitious in these targets.
Set reasonable goals that prove your ability to make this website a success. So long as you are always growing, you'll get closer to all that you dreamed your website could become.
Check Your Website's Bounce Rate
Bounce rate is the percentage of people who land on your page only to leave without taking any kind of action. This makes it an incredibly useful engagement metric to gauge whether or not people are finding the value they're looking for on your website.
If people are browsing your site, even if you haven't sold anything to them or had an enquiry from them, it's an indicator that you've hooked their interest and that you're on the right track.
Find out about bounce rate, where to find it and how to improve it on my blog about Reducing Bounce Rate >>
Start with your home page. A good bounce rate sits somewhere around 50% but any better than this is amazing. You can then work through the rest of your pages according to the benchmarks in the above blog about bounce rate.
The more you improve bounce rate across your site, the more you know that you are able to hook and invest your audience into what it is that you're offering.
Note: Average Engagement Time and Engaged Sessions Per User are also really good indicators of how people are interacting with your site and if you've captured their attention.
See What Affects Traffic To Your Website
When starting out, it can be hard to know where to focus in order to bring traffic to your site. Many people start promoting across social media, writing blogs for SEO, trying to build an email list and any number of other tactics to start building a regular stream of visitors.
This isn't a bad tactic at first, but you need to know which method works for you. It's often the case that you will find you excel in one area of marketing that fits your skillset and finds you your ideal audience.
To find out which channels (social media, organic search, email, etc.) drive the most traffic to your site, head to Google Analytics:


Select Reports from the left-hand menu

Click Acquisition

Select User Acquisition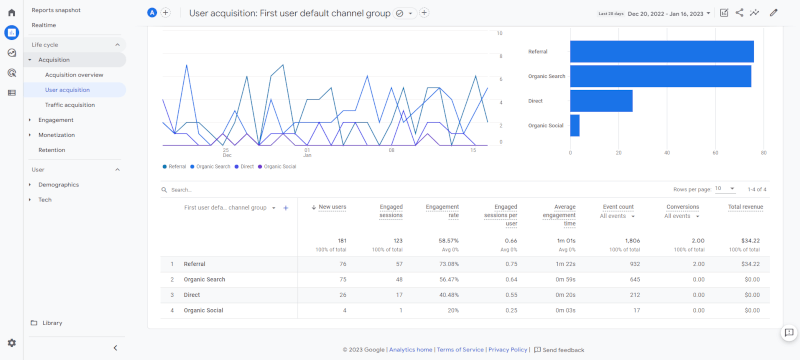 Be sure to select the relevant time frame you want to review in the top right as well.
This report tells me that this site's traffic is primarily driven by referrals, followed closely by organic search results. In this case, it's actually a referral from a TikTok / Instagram landing page and Google Search (You can drill down further by opening the dropdown in the first column and selecting Source / Medium).
I could try and focus on the other channels to drive traffic to my site, but ultimately I've found that for all my efforts so far, Instagram and TikTok video content, along with good SEO practice, has brought me well over twice the amount of traffic as any other platform.
This report tells you where your time is best spent. It shows you where your traffic is coming from and where you need to dedicate your efforts for the most results.
If you have a clear winner in this report already, you're well on your way! If you don't yet, try spending a bit of time developing each channel. Dedicate a week or so to each and see which has delivered the most for your website.
Track Your SEO Performance With Keyword Data
SEO is a broad subject and a means to drive traffic to your site. There are some fundamentals every website owner should acquaint themselves with to build a solid foundation for their site.
For anyone looking to grow their site through search, keywords are one of the first topics you should get started with.
Any person looking to use a search engine will first enter a phrase to begin their search. We refer to these as keywords. The aim of SEO is to show up for the relevant keywords people are searching for.
You can find out all about keywords and how to track them in our guide >>
When you know what keywords you'd like to show for, you can easily track their performance in Google Search Console.
Your performance here is perfect for tracking your SEO success. As more and more keywords show up and start climbing the ranks, you'll know that your efforts here are paying off.
Set Up Conversion Tracking
It's important to be tracking the actions that happen on your website that mean the most to your business. These are known as conversions. Any growth in the frequency of conversions happening on your site is one of the best measures of its success.
Some examples of conversions could be when someone makes a purchase on your site, makes an enquiry, adds an item to their basket or signs up to your email list.
If you've set up Google Analytics 4, it will already be tracking whenever a purchase is made on your site. It's also really easy to track other events as conversions.
Simply go to Admin, then Events (under the Property column). There will be a list of actions Analytics have detected that you can mark as Conversions if you want to track them more closely.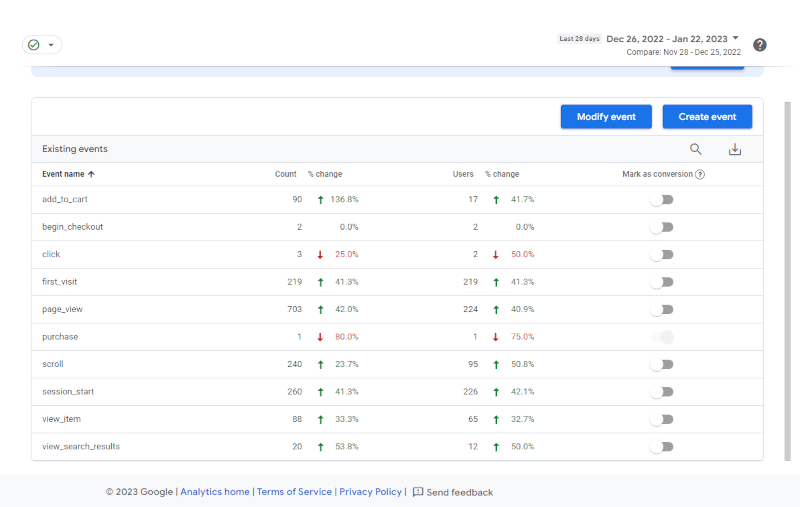 As mentioned before, this is one of the best ways to distinguish particular actions and track your website's success. They are also really useful for further growing your business with advertisements and tracking the success of your communications.
Find out more about GA4 Conversions >>
Compare Your Demographic Data With Your Desired Audience
It's great to know you're attracting people to your website. It's even better to know you're attracting the right people to your website.
It's a really powerful exercise to determine who your ideal customers or clients are. To decide how old they are, where they're from, what their typical salary is, what their interests are, etc. This all helps to feed into how you find them and communicate in a way that resonates with them.
Your website should be built for them, and your communications tailored for them. Your demographic data can tell you if you're doing this correctly.
You'll find demographic data in GA4 under Reports >> Demographics. However, you'll need to bear in mind that you need to be generating enough traffic before some results will be shown. The social media platforms you use will also have demographic data in their reports sections.
The right message to the right people will always help your marketing go further. Always try to keep this in mind and check that you're resonating with your ideal audience.
Strive For Feedback
We've mentioned before how powerful testimonials are for attracting new clients and customers to take action. Your feedback is a fantastic way to make sure your website is on the right track, but it can also help steer you in the right direction too.
We'd recommend setting up a page for collecting feedback of any kind. Be sure to leave space for your customers to write about how amazing their experience was with you, but you can also ask some more specific questions about their unique experiences.
Why not try asking your customers or clients how they found you, or how easy it was to complete certain actions on your site?
These kinds of questions can be really eye-opening and point out certain pain points you can remedy for your users. You might find they have difficulty finding certain information on your site or how to contact you. These can be easily fixed and can help you to improve your website experience continuously.
Always keep striving for feedback. Good or bad, the words of your customers or clients will be constructive and help you to keep growing your website for them.
Get Some Expert Advice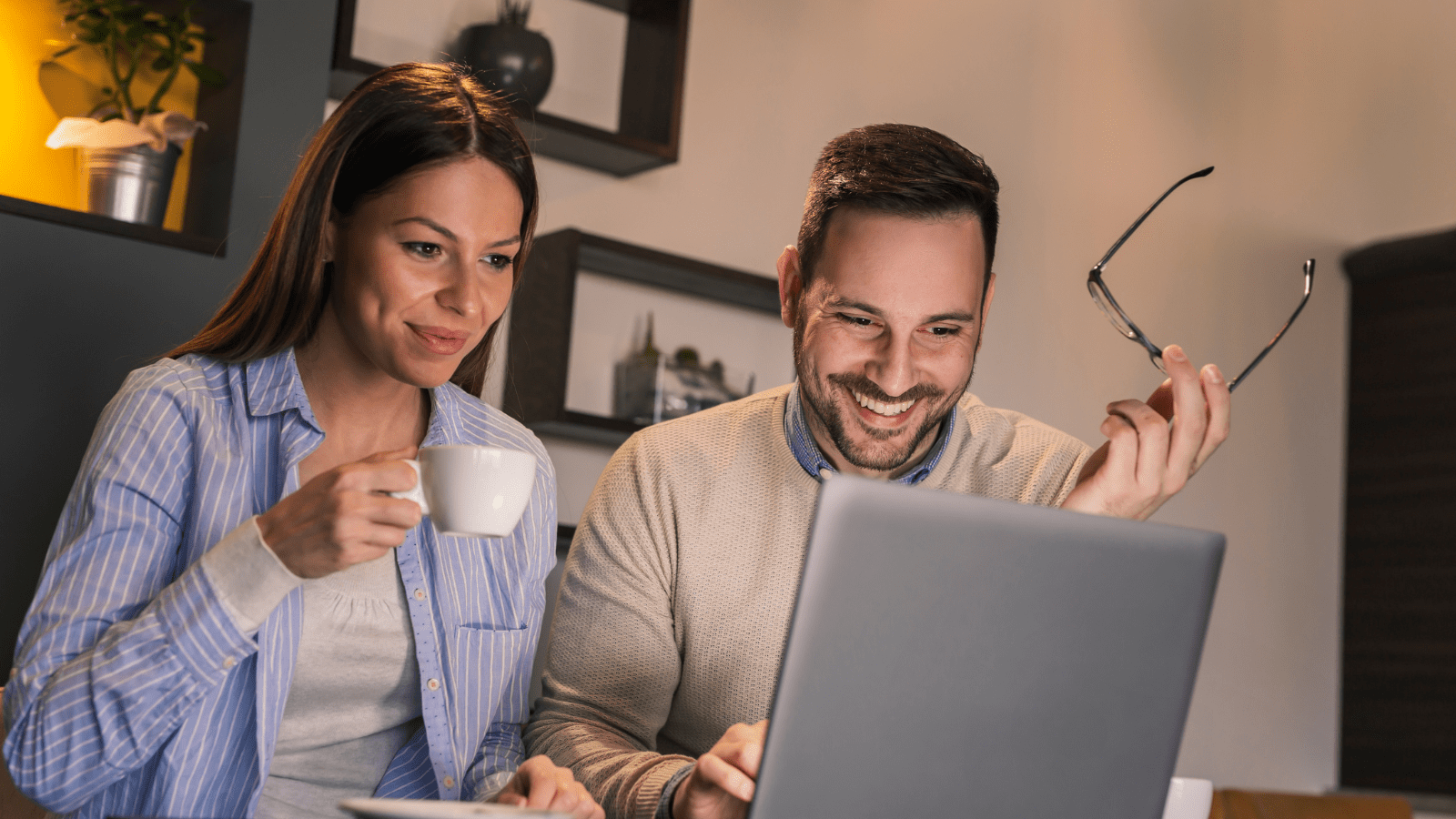 Using the previous steps mentioned, you'll be able to build a good picture of how your website is doing and if you're on the right track.
However, experience is one of the greatest teachers when it comes to building websites. It's taken myself over a decade to feel as comfortable with building websites as I do now.
If you want to know exactly how you can start dramatically improving your website and moving forwards in the right direction, we're able to offer our experience to you.
Ian, one of our expert Account Managers, has a wealth of experience building stunning and powerful websites. With our Website Boost service, he'll share this experience with you in the form of a report.
He'll highlight what you're already doing well and where there might be room for improvement. You'll find actionable steps you'll be able to take to improve your website and start seeing the results you're looking for.
Building a website that works can take years of trial and error, but the experience shared in this report and the experience you'll pick up from going through it can massively impact the time it takes to start realising your site's true potential online.
Wrapping Up
If you want to know if your website is on the right track, there are several steps you can take to find out how it's performing:


Determine Your Goals - Without concrete goals, you'll never have anything to measure your success against. This is your first step to finding out if you're on track.
Check Your Website's Bounce Rate - Engagement metrics like Bounce Rate let you know if your content is resonating with your audience and is valuable to your goals.
See What Affects Traffic To Your Website - You need to find out what marketing channel is working for you. This will help focus your efforts on what really works.
Track Your SEO Performance With Keyword Data - You should track where you're appearing on search and how changes to your site impacts your rankings to grow.
Set Up Conversion Tracking - Conversions are the most important actions taken on your site and tracking these helps you to know if what you're doing is working.
Compare Your Demographic Data With Your Desired Audience - Demographic data will help to tell you if you're reaching the right people with the right message.
Strive For Feedback - Good or bad, feedback can attract new customers or clients and help you to improve the experience of using your site.
Get Your Website Boost Report - Real-world experience can help you improve your website dramatically. A Website Boost report will give you concrete, actionable next steps.


Want more tips and ideas on how to start and grow your website? You can make sure you never miss a trick by getting our email updates. We share the latest news from our blog along with tips and ideas you can utilise to grow your business online.
Related Posts