Jump to section
Google Analytics is a free online reporting system that can provide you with detailed insights on your website users. You can find out more about who they are, how they behave and the steps they take towards converting and becoming a customer.
Getting set up on the platform is easy. What's more is that if you have a Create Account, you can integrate Google Analytics with your website dashboard to get insights at a glance whenever you work on your site.
Here's how you can get started:
How to Create a Google Analytics Account


Create a recognisable account name

Select your preferences on Account Data Sharing Settings and click Next

Make sure Web is selected and click Next

Complete the Property Details for your account and website and click Create

Read and accept the Terms and Conditions provided


You have now created a Google Analytics account. Before associating your website with the account, we would recommend reviewing your privacy policy and cookie information.
Keep this tab open for the next steps.


Enter your Google Analytics UA number below or connect using the Connect to Google button.
**Please note that Create currently only supports Universal Analytics properties. Google is going to be replacing Universal Analytics with Google Analytics 4 in July 2023, however, still set up a Universal Analytics property connected to your GA4 property and they will share the same information.
We are working on a new integration to support GA4 with Create, but until then, you can set up a Universal Analytics property by following this help guide.**
Connect Your Website to Google Analytics
You now need to connect your website to Google Analytics. This is done through the use of a tracking code embedded on your website. Create can automatically set this up for you at the click of a button. Follow the steps below to get Google Analytics working with your website.


Click Content from the top menu

Click Site Information from the left-hand menu

Select the tab titled Google Analytics
The easiest and quickest way to get this setup is to simply click the green Connect To Google! button in this area. This will automatically retrieve your Analytics information from your Google account and apply the tracking code to your website for you.
You will need to save your changes and publish your website for this to take effect.

Please note, if you are met with an error message after signing into your Google account, it's likely because you have the new Google Analytics property which Google now uses. Please follow this help guide to resolve this.
If you would prefer to set this up manually, you will need the Tracking Code from the tab you left open before. This is found at the top of the page and will look similar to UA-123456789-1. Copy and paste your unique code into the text field and save your changes.
Be aware that Google updates reports every 24 hours so it may take that time for data to start showing in your account after installing your tracking code.
How to Set Up Your Google Analytics Dashboard in Create
The Create Google Analytics Dashboard tool allows you to display key Google Analytics statistics for your website on your Create Dashboard. Available on each package, this tool allows you to see at a glance:


Visits and page views

Top Referrers

Top Keywords

Top Pages

Visitor Location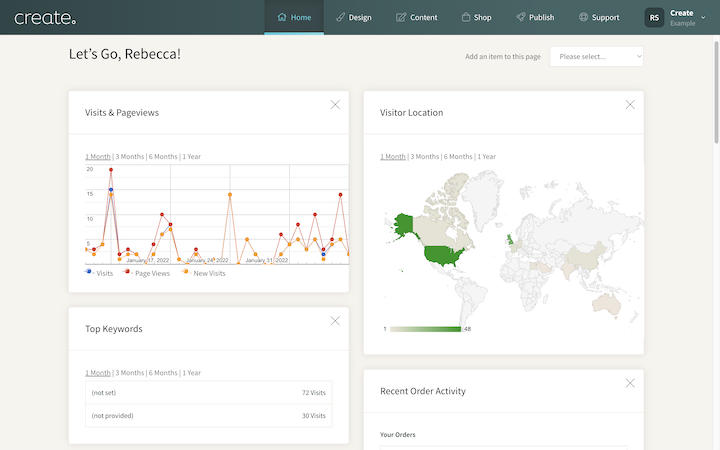 Setting up the Create Dashboard tool is easy. You can show your results on your Dashboard by following the instructions below:


Log in to your Create account

Click Content from the top menu

Click Edit Site Information from the left-hand menu

Click Google Analytics from the top tabs

Under Google Authentication, click Connect to Google

You will be prompted to log in to your Google account. Enter your username and password and click Login

Click Accept to allow Create to display your stats in your account
Confirm which Google Analytics profile you wish to connect with your account. If you have more than one profile on your account, you can choose it from the drop-down menu box then click Save Changes to confirm.


Now, you can choose which details you would like to add to your dashboard by following the steps below:


Click Home from the top menu.

Click on Add an item to this page located in the top-right of the screen, a drop-down menu will appear. Choose any (or all) of the following:
Visits and page views

Top Referrers

Top Keywords

Top Pages

Visitor Location