Offering your customers more ways to contact you has become increasingly important when selling online. A great way to communicate with visitors to your website in recent times is to offer a live chat feature on your website.
Meta offers a free integration of their Messenger platform for you to use on your website. This can be completely managed through your Messenger account, meaning that you can respond to enquiries wherever you are.
The process to get this plugin setup is simple and you can change your colours and introductory message to style the live chat box to suit your website.
It is not possible to activate this feature through Facebook's mobile app. This plugin should be installed using a desktop.
Some Adblockers prevent the Facebook Messenger Live Chat icon from displaying on the page. You may have to switch adblockers on your browser off temporarily while you install the feature on your website.

How To Obtain Your Facebook Messenger Code
Go to Meta Business Suite (make sure you have the right page selected at the top of the left-hand menu)

Click Inbox in the left-hand menu


Click the Settings gear in the top-right





Select View all settings at the bottom of this menu


Click Chat Plugin





On this page, you can customise a lot of the features of your chat plugin, such as your Away Hours, Welcome Message, Button Styles, Colour and more. Customise these settings to your preference. (Note: Under Prominence, we'd recommend selecting the "Button" option so that the full window doesn't open on every page)


When you're finished customising your plugin, scroll back to the top and select Set up


Select Standard as the setup method


Work through the language and domain settings


Copy the code Facebook provides to your clipboard.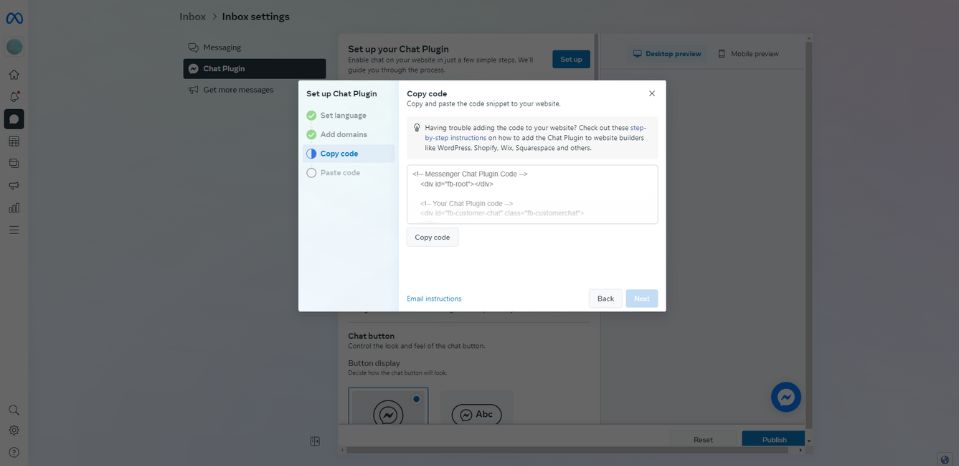 How To Add Your Facebook Messenger Code To Your Website
Want Your Own Website?
Start Building Today!
No credit card needed. By submitting this form you agree to our
T&Cs
and
Privacy Policy
.
Select Content on the Top Menu.

Click HTML Fragments from the left-hand menu.

Click on the New HTML Fragment button at the top of the screen.

Give the HTML Fragment a description for reference (e.g. Facebook Messenger Widget).

Paste your HTML code into the large HTML Code box.

In the Type section, select the Manual option.

Click Add HTML Fragment to save your code.

Next, click Site Footer from the left-hand menu.

Add your HTML Fragment to the Custom Footer Content by clicking the HTML icon on the toolbar, selecting your HTML Fragment from the drop-down list and clicking the Save Changes button when done.


Publish your site for the changes to take effect on your live website.

Head back to Meta Business Manager to click through the rest of the process and hit Publish at the bottom to complete the setup