What Is Klarna?



Klarna is a payment gateway that offers flexible payment options for your customers to complete their purchase, whilst you will be paid in full. With Klarna you can allow your customers to pay for their goods in split installments, 30 days later, or finance.
There is a minimum basket value of £35 for the split installments option to be available. This is the default value set by Klarna for the split payment option. If you wish to have this adjusted, please contact Klarna who may agree to have the value altered. If you do this, please also contact your Account Manager to let them know the new value which has been set.
Adding Klarna to your Create website is a quick and easy process once you have been approved by Klarna. Please note approval can take 7 - 14 working days.

Klarna is available to customers on our Business package. If you have any questions about this package, please contact your Account Manager.


How To Sign Up For Klarna
You will first need to apply to Klarna and provide them with details about your business. To begin the sign-up process for Klarna, please visit this link via Klarna's website. This will guide you through Klarna's automatic onboarding process and will be the quickest and simplest way to get Klarna up and running on your website. They also offer a manual onboarding process that will involve a Klarna sales representative guiding you through the integration. This method will require you to complete some test purchases using Klarna's test environment. As we have developed the integration with Klarna, to keep the process as seamless and simple as possible, we recommend signing up through the automatic process via Klarna's website using this link.
Early in the signup process, Klarna will enquire which platform you are intending to integrate Klarna into. Create will not be one of the platforms listed, you will want to select the Other integration solutions and select the Own built integration option.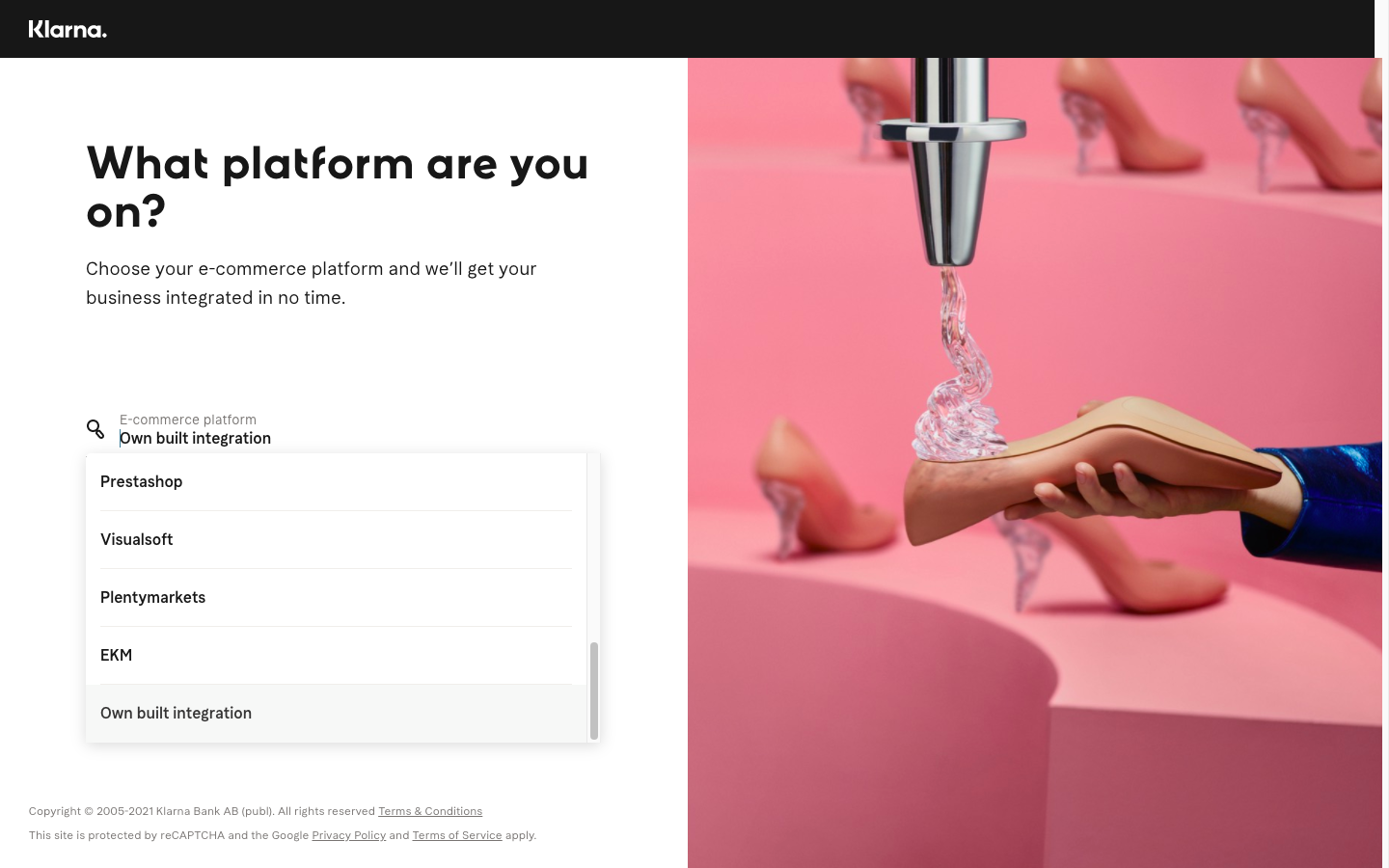 How To Add Klarna To Your Create Account
Once you have set up Klarna and your account has been approved, you will then be ready to add your Klarna details to your Create account. Please follow the steps below:
1. Log in to your Create account

2. Click Shop from the Top menu

3. Click Payment Gateways from the drop-down menu
5. Click Add Gateway
6. Select Klarna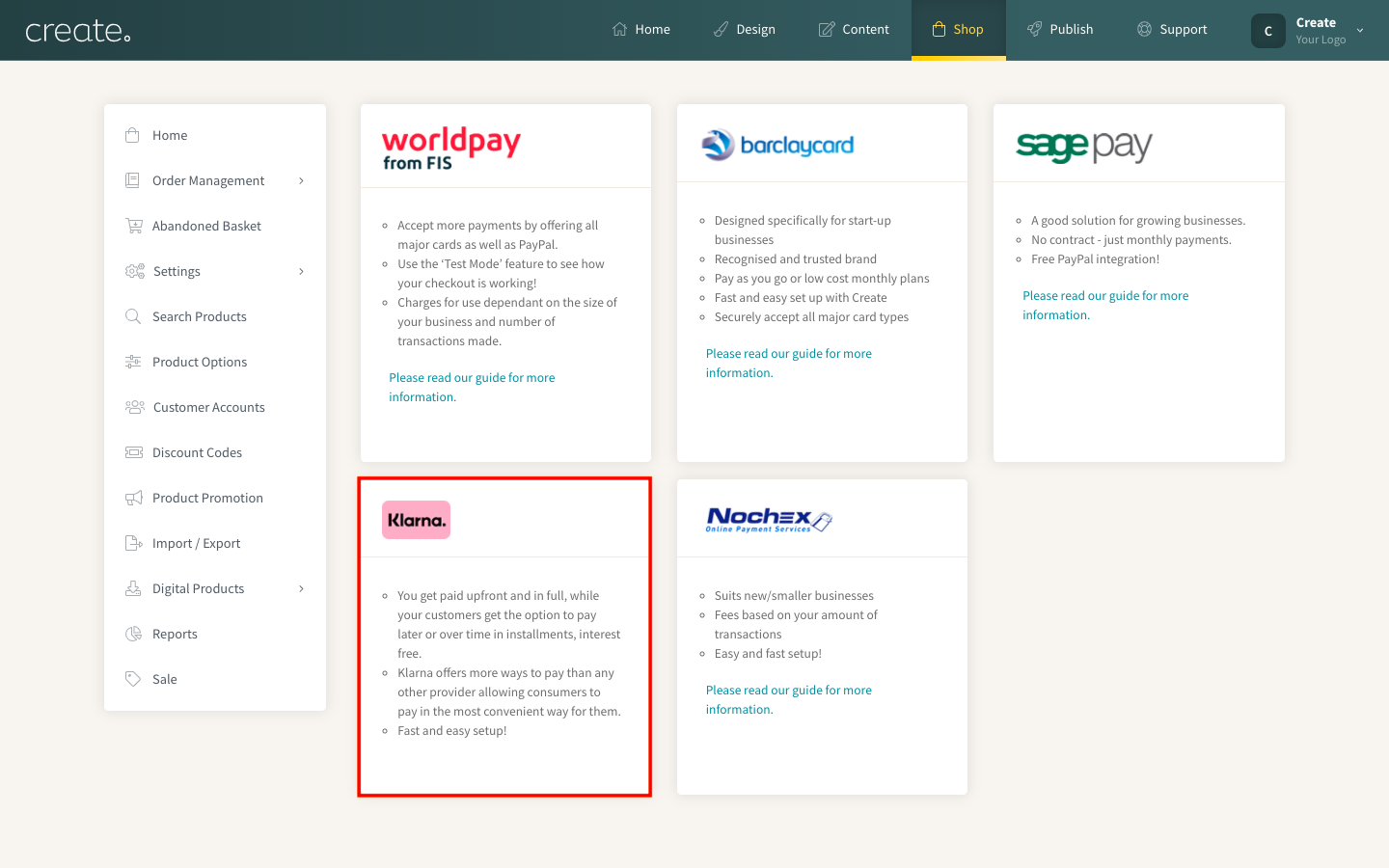 7. Enter your Klarna UID username found within the API Credentials in your Klarna account.
8. Enter your API Password which is generated within the API Credentials in your Klarna account.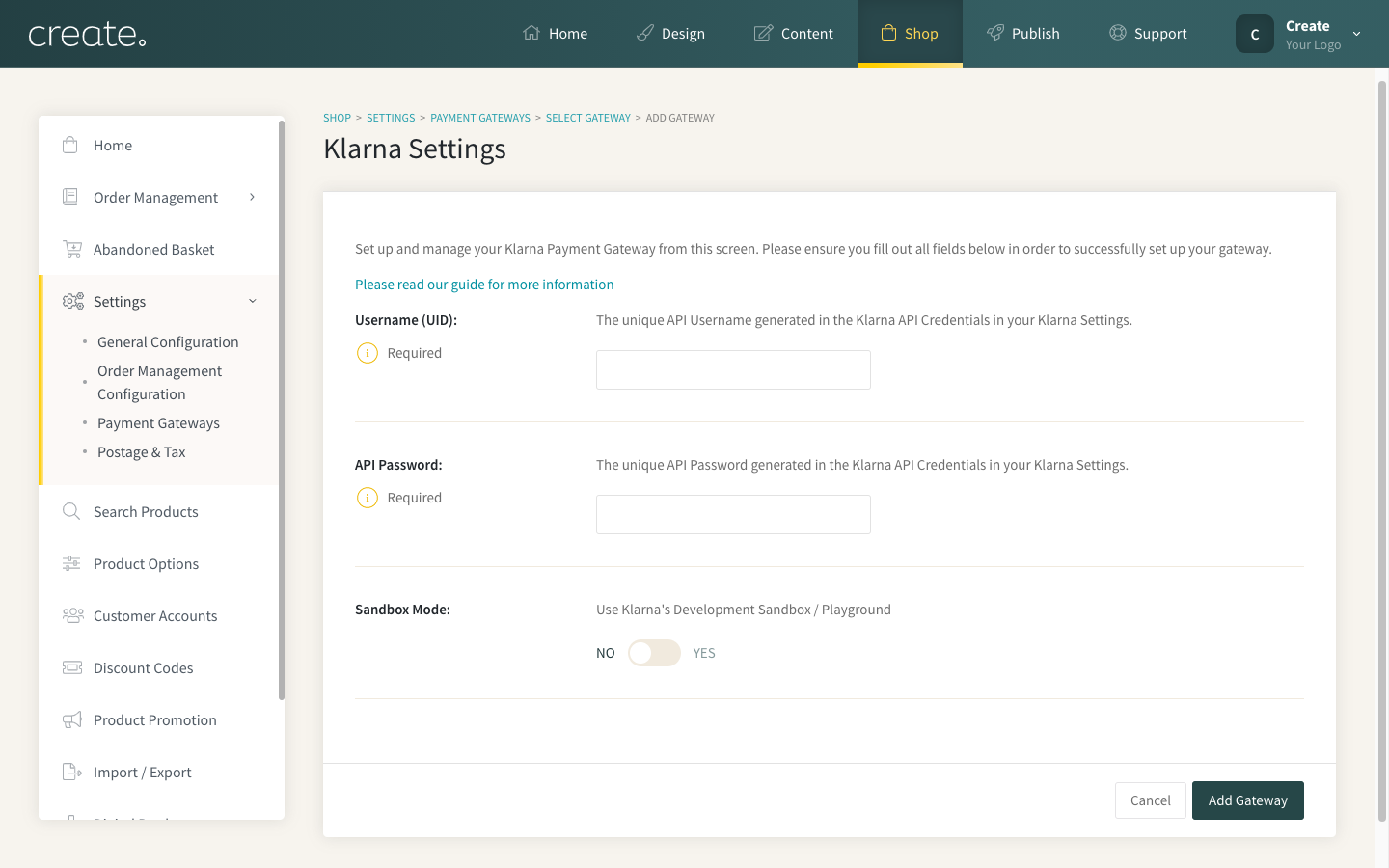 9. Click Add Gateway
10. Make sure the Klarna Gateway is then enabled with the green toggle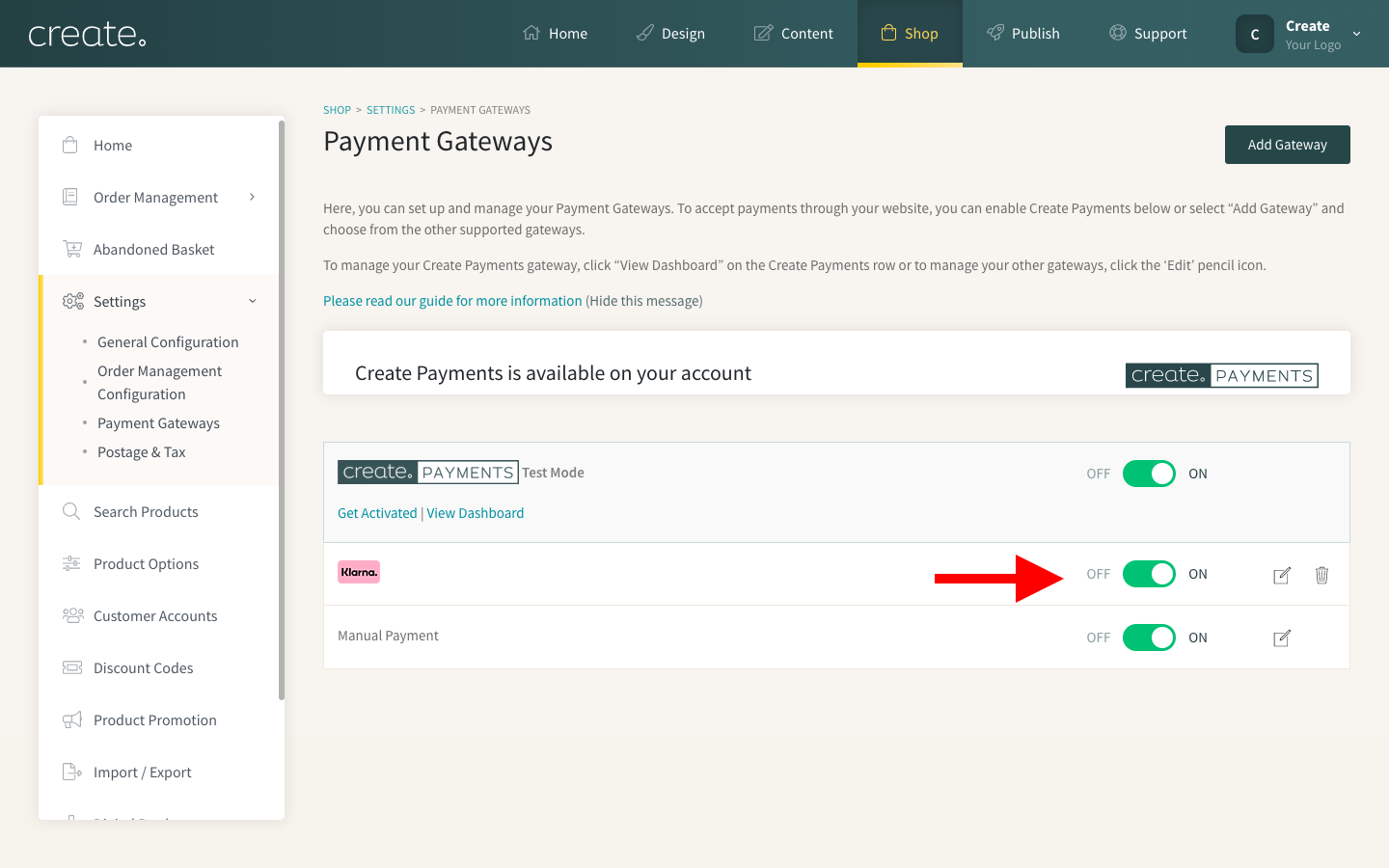 Depending on the Klarna payment options you have chosen to offer within Klarna, your checkout will now display the Klarna payment options during the checkout stage, as long as the basket meets Klarna's requirements.
If the customer's basket does not meet the minimum basket value required for the 3 interest-free payments, the checkout will show how much is needed to be added to the basket in order for it to qualify and that option will be greyed out.
After the customer has selected their preferred Klarna payment method, they will be taken to Klarna's payment screen to complete their purchase.
An example of how the split payment option looks can be seen below,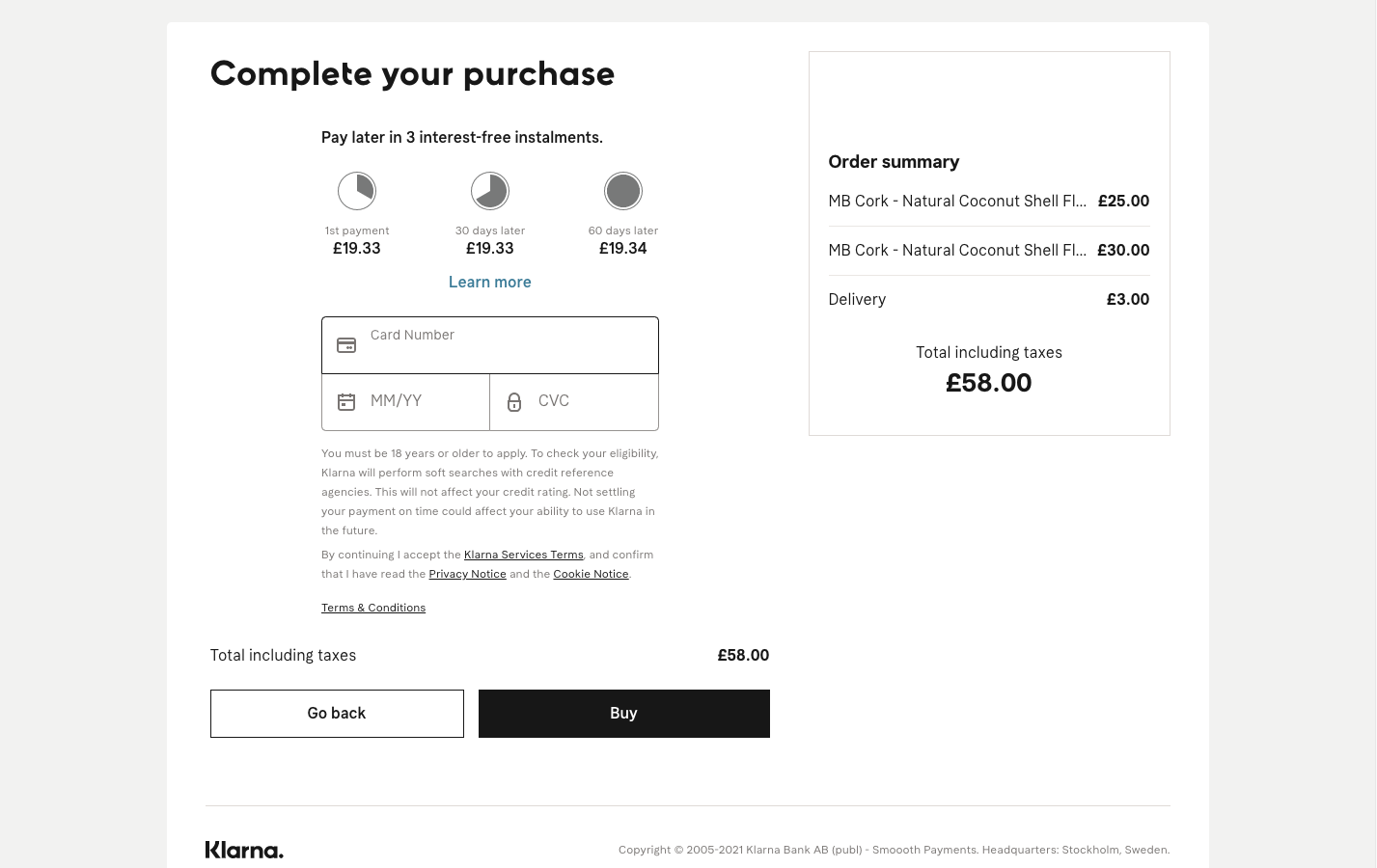 Once you have added Klarna to your website, you might wish to promote this as a payment option on your website. If so, Klarna does provide some on-site messaging you can use on your Create website. For more details about this, please see this help guide.