Blog > 5 Simple Steps To Grow on Instagram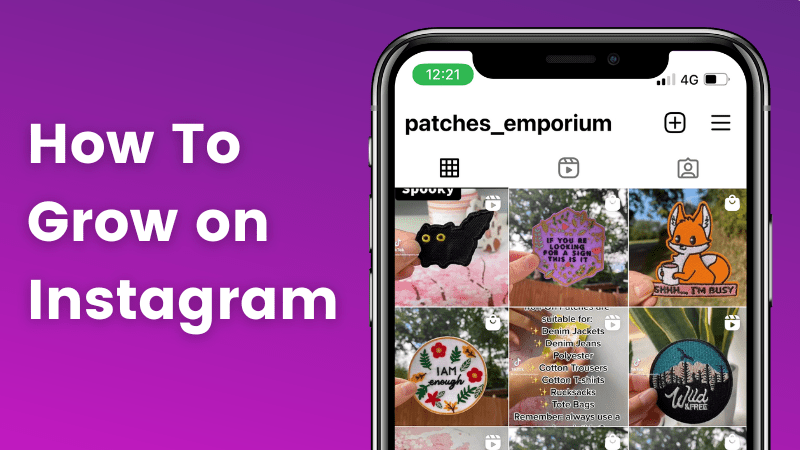 If you feel like you're at the end of your tether with social media, and whatever you try doesn't seem to be working, this article is for you.
I'm currently in the process of building and promoting my own site, Patches Emporium, from scratch. I'm documenting my adventures as I go so hopefully, you can glean some useful insights from my journey and grow your website alongside mine.
If you didn't catch my recent blog about creating and utilising sales channels on social media (which you should definitely check out as it also helps take a lot of work out of social media!), I set up almost every channel to drive traffic to my store, except Instagram Shopping.
This was simply because I'd neglected my Instagram page for a while and because of the lack of activity, Meta wouldn't let me set up shop.
So I decided to fix that…
What I'm about to share, I don't claim to be a silver bullet to growing on Instagram. It's a strategy I've used and it has worked for me so far. If you want to try it for yourself, feel free to tweak and adjust to build your own strategy that you believe in.
Here's my journey on Instagram - From hating almost everything about it to growing my profile by around 50 followers a day and making my first sale.
*For reference - the instagram account I'm using is @patches_emporium. You're welcome to visit my instagram and Patches website but please be aware that some of my content could be considered rude.
Starting Out On Instagram
I had created a profile for Patches Emporium long before I started setting up Sales Channels. Being that it's a visual platform, I knew it would work well for the products I'm selling and as it's such a massive platform, my audience was guaranteed to be out there somewhere.
Initially, I created around 40 posts to promote my products. I added relevant hashtags, wrote long captions, tagged my location… It felt like I had researched and provided everything for Instagram to properly index my content and put it in front of the right audience.
These 40 or so posts amounted to nothing. I had around 50 followers; some of which were only because they were following me back.
The problem was that I didn't have an audience to begin with. Instagram couldn't see or utilise any engagement metrics to determine whether my content was good or not; because no one was seeing the content.
In order to be seen, I had to build this audience. The only problem was that (judging by my previous 40 posts) this wouldn't be done through the quality of my content.
I needed to find a quick, effective way to find people and encourage them to check out my profile and follow me. To do this. I created a set of daily steps to follow:
Step 1: Follow 100 of Your Competitor's Followers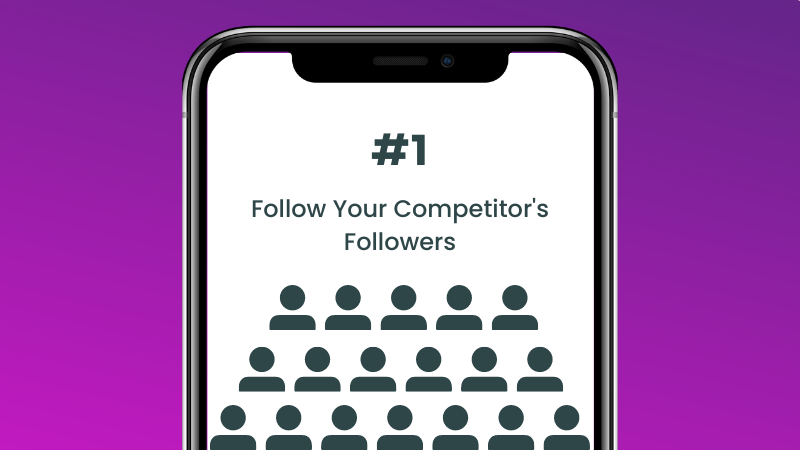 I have several competitors that have already made their mark on Instagram. Some of them will have paid hundreds, or even thousands, to find their ideal audience and get them to follow their account.
Their ideal audience is my ideal audience. I could quite easily tap into their following without needing an enormous ad budget.
All I simply had to do to get attention was to follow each member of their audience. This would pop each person a notification that Patches Emporium had followed them. They become aware of the existence of my business and if they love iron-on patches, they'd follow me back.
To continue to do this can get quite messy. My timeline suddenly became filled with a swathe of posts that I couldn't really engage with. In a later step, I make sure to tidy up by unfollowing those that don't follow back.


---
One of our lovely Facebook Group Members recommended to me that I don't actually have to follow these people to nab their attention. Simply engaging on any of their posts would also put a notification in their accounts which, while a little slower, is a great way to keep your timeline clean.
---

How you choose to approach this step is up to you, but in essence, the idea here is to piggyback off of the hard work of your competitors. You can tap into your ideal audience by utilising their audience. All you need to do is put a notification in their followers' inboxes to prompt them to check out your profile.
Step 2: Follow Who Instagram Recommends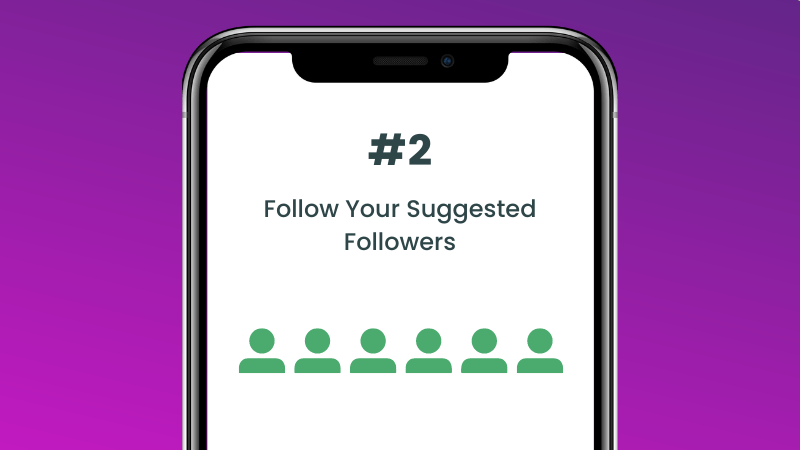 Step 1 is fantastic for finding and attracting the people who are likely interested in what you have to offer. The problem is that these people have no reason to engage with any of the content you're sharing. That is where Step 2 comes in and it brings with it its own set of rules.
Instagram has a "Suggested for you" carousel of accounts they recommend you follow. There are a number of ways to access these suggestions but I prefer to refresh my timeline once and they usually come up after the first post.
I spent a lot of time when I first hopped back on Instagram engaging with small business accounts and, as a result, these are the accounts that are suggested here for me. Before starting Step 2 (and after) it's well worth investing some time engaging with these small business owners.
This will help to bring up relevant suggestions of who to follow, but more importantly, small businesses understand what you're trying to accomplish. It's tough out there for everyone trying to build a following. Community over competition is prevalent throughout the small business community and when you find connections out there, they're willing to offer a whole lot of support if you're lifting them up too.
The rules for step 2 are as follows:


Check each small business profile

They must be following less than 2000 accounts

They must be following more accounts than the number of accounts following them

If they meet the rules above, like 6 of their posts and follow them


This will help you to build a following of engaged small businesses. With less than 2000 followers, their timeline won't be so cluttered that they'll never see your content and as they're smaller, they're more likely to reciprocate liking and engaging with your content and following you.
Remember, following the rules for this step is easy. The more work you put into nurturing the relationships you make with these accounts though, the more they'll be inclined to support your growth through engagement.
Step 3: Create a Post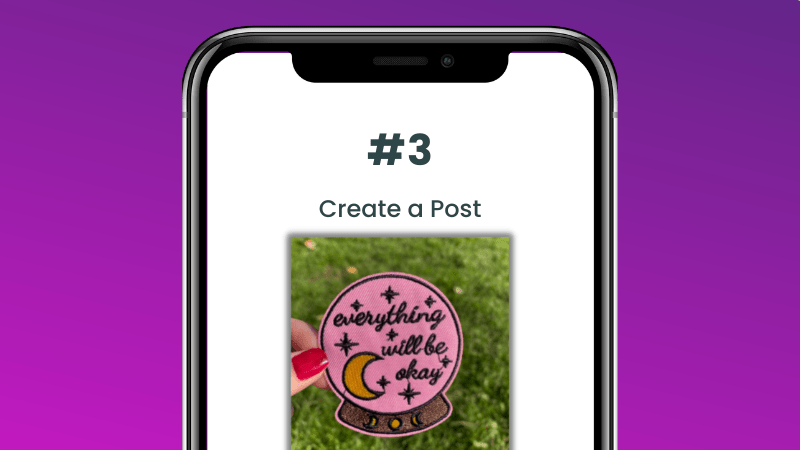 Step 3 sounds the most daunting, but much like the other steps to this formula, I put very little work into it.
The good thing about running an ecommerce store is that I already have a whole bunch of products with powerful product descriptions written out. Each day, I'll take a product, copy and paste its description, add some hashtags that feel relevant and post it. If you want to build in a bit more engagement, you can try adding a question somewhere into your post.
I do mix this up some days by posting some Reels from existing TikToks we've made, but the process is pretty much the same. The work is already done. I just have to post it.
If you don't have any video content, I can tell you from what I've seen work, the bar doesn't have to be high. You don't need to sing and dance. Even just a video of what you have to offer spread out on a table would work fine.


---
Side note: Contrary to popular belief - I'm not convinced you even have to bother with creating Reels to find some level of success on Instagram. I've seen no tangible difference in engagement between a Reel and a photo post. The only correlation I've seen with an increase in engagement is an increase in followers - But I digress…
---

The secret here is to keep it simple. Don't pin your hopes on trying to create a post that goes viral and rockets you to success; it's too much of a rarity to be a viable strategy. The aim of all of these steps is only to grow steadily and be present in the minds of your potential customers.
Step 4: Engage with Your Timeline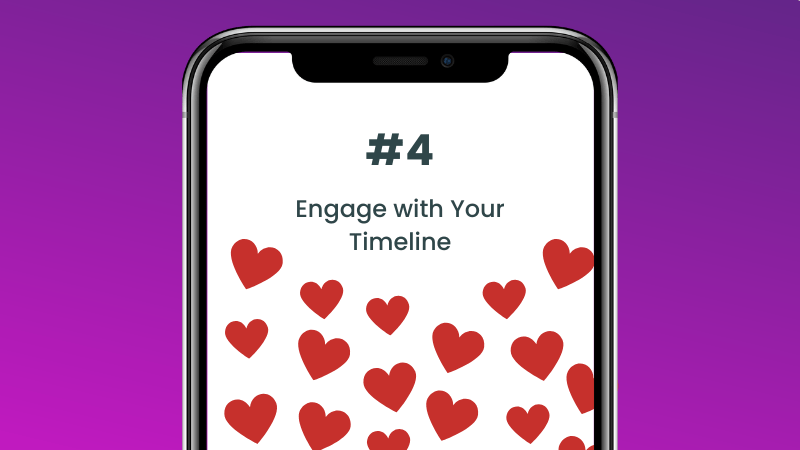 Once you've put out your post, we want people to engage with it. So we move immediately on to step 4 - engage with them.
This again utilises the feeling of reciprocity from your audience. I simply work my way through my timeline and for each small business post I come across that I'm following, I'll give it a like.
A lot of posts from your following will just be advertising their products and don't offer much scope for commenting (This is why adding a question into your captions is really useful). However, when I do come across something that's easy to engage with, I do. If it takes me less than 10 seconds to come up with a comment, I'll comment.
I'll keep working my way through my timeline until I've liked / engaged with about 100 or so posts, but I'm not strict with it.
This step helps keep you present in the minds of your audience and prompts them to engage back with you. I've found that through consistently liking and engaging with people's posts, I've had my account featured in their stories or Follow Friday threads which can be amazing for reaching more people.
This strategy I'm walking through isn't big on being social and, for the most part, is quite robotic. However, it'd be remiss of us to try to take the social out of social media completely. We have to remember that to succeed, we need people to engage with us. Fostering these relationships with your audience keeps setting the foundation for your future growth.
Step 5: Unfollow Those Who Don't Follow Back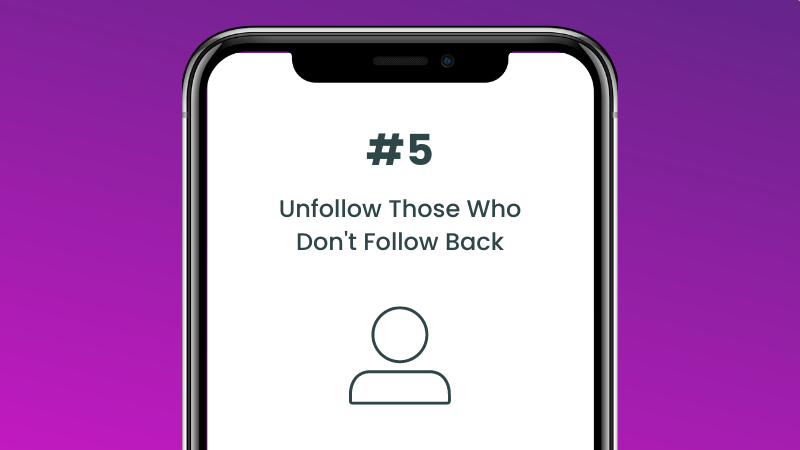 The sad part of this strategy is that not everyone is going to follow you back. We need to make sure that we clear the decks of these people that don't want to join you on your journey to Instagram success.
If we leave them, you'll just end up with thousands and thousands of posts in your timeline with no way to forge real connections and lasting engagement. There's also the added satisfaction that comes with sassily unfollowing those who don't want to get with your programme.
What's really annoying is that Instagram doesn't have the built-in functionality to tell you who isn't following you back. You'll need to download an app to help you with this.
There are plenty out there that all serve much the same purpose. Instagram doesn't cooperate very well with some of them so I'd recommend taking the time to look through the reviews and trying a few of these apps out to see which you get along with best.
I tend to unfollow about 50 people a day. This is because, in Step 1, I'll be waiting on many follow requests from private accounts which take time to come through.
If you make any tweaks to this strategy, I'd recommend coming up with your own number of unfollows. You want to make sure you're leaving people about a day's time to follow you back before you move on to the next day's batch of prospective followers.
Wrapping Up
I want to reiterate that I don't claim this to be the number 1 winning Instagram strategy - but I also believe that all these people online who are trying to sell the number 1 winning strategy are wildly misleading.
Instagram, sales, emails, website building… they all grow through any number of different strategies. They grow through ideas that you test. You have to be bold and try what you think might work and not get disheartened if they don't. Every experience is a chance to learn and build from.
Even while this strategy may be working for me now, I don't expect it to take me to the dizzying heights of Instagram fame. It will need to be adjusted over time.
For example, while I'm planning to keep following this strategy for now, I expect to see engagement plateau at some point in the future. Over time, I will accumulate followers who've stopped engaging on the platform and my reach could be wasted on these inactive accounts. I will need to add in a step to remove these followers one day.
The main thing to take away from this blog is don't be afraid to try your own strategy. By all means, feel free to try out the five steps above, but no one is going to present you with a strategy that will forever work for your account. Don't overcomplicate what you want to do but don't hesitate to step out and try something new if you think it'll work for your business.
Want more tips and ideas on how to start and grow your website? You can make sure you never miss a trick by getting our email updates. We share the latest news from our blog along with tips and ideas you can utilise to grow your business online.