Blog > How Sales Channels Can Be a Game Changer for Your Marketing (Real Life Experiment)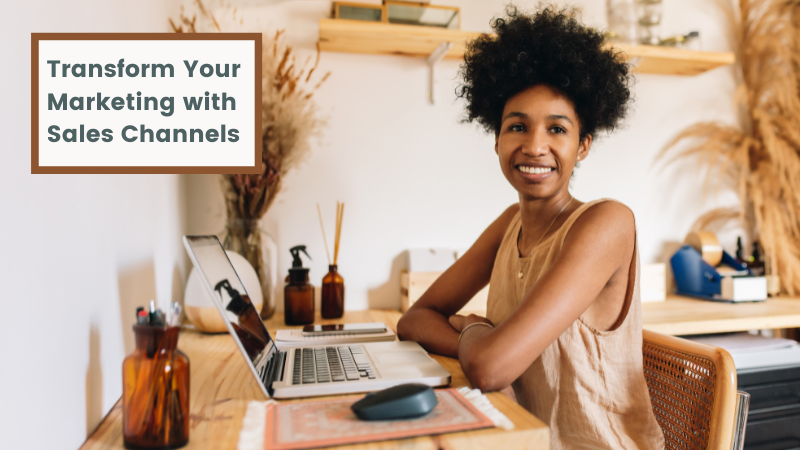 How are you driving traffic to your online store? SEO, social media, word of mouth… There are plenty of ways it can be done with a lot of hard work and determination. However, if you're not yet utilising Sales Channels, you're missing out on a golden opportunity to make your marketing easier and get eyes on your products.
Sales Channels are connections you can make from your website to other platforms in order to sell your products. For example, if you wanted to promote your product catalogue on your Facebook page, there's a channel for this that will keep your products constantly updated to reflect what's on your website and to encourage people to click-through.
One of the biggest challenges for small business owners is trying to be in all places at once with their marketing; all while also actually running their business. Sales channels streamline everything for you. They take the hard work out of managing multiple profiles while allowing you to be visible across a variety of platforms.
Those of you who know me from the Create Members Group on Facebook may have come across a project website I'm working on. My partner sells iron-on patches and we recently had a look at tidying up her website and seeing if we could make some sales.
I've worked through setting up every sale channel available on Create on her website. I wanted to give you an insight into how each works, why they work and just how easy it can be to start getting more people visiting your website through them. You can check out my results a month later down below.
Want Your Own Website?
Start Building Today!
No credit card needed. By submitting this form you agree to our
T&Cs
and
Privacy Policy
.
Google Merchant Center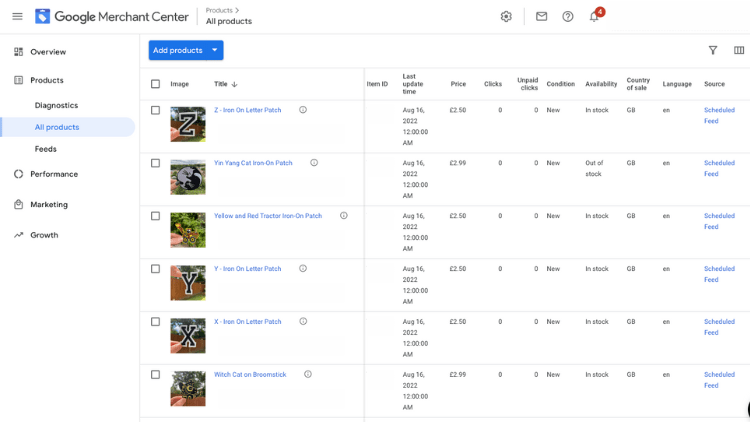 One of the first issues I found regarding the website's visibility was in search. I was already ranking for multiple keywords but there was a recurring problem I was running into.
For every search I was in, Amazon and Etsy were above me in the results. As you can imagine, the vast majority of people searching for my products were clicking through to these sites before they ever saw mine.
Of course, as a relatively new website and without the resources these companies have at their disposal, there was no way I would be able to knock them off their top spots in search; no matter how much I optimised my pages.
With Google Merchant Center, however, there was another way…
Google Merchant Center allows you to showcase your products in search through their shopping listings. For commercial intent keywords (where someone is searching for something they intend to buy), in many cases, items are shown at the top of the results pages before anything else.
In addition to appearing high up in the results, your listings also feature product images which are great for encouraging click-throughs. If someone knows they are searching to buy something, you'll also appear in their dedicated shopping tab.
This Sales Channel was my opportunity to get my products seen before people clicked through to Etsy or Amazon in search.
Find out how to set up Google Merchant Center >>
Over the course of a month, without having done anything more than set up Google Merchant Center, our website's products have received 714 impressions with 2 clickthroughs. 1 of which actually resulted in a sale (I put this down to sheer luck. I'd expect it to take a few more click-throughs before actually reaching a sale!).
Google Merchant Center also helped me to do exactly what I set out to do and you can see one of the patches we sell appearing above Etsy in the search results.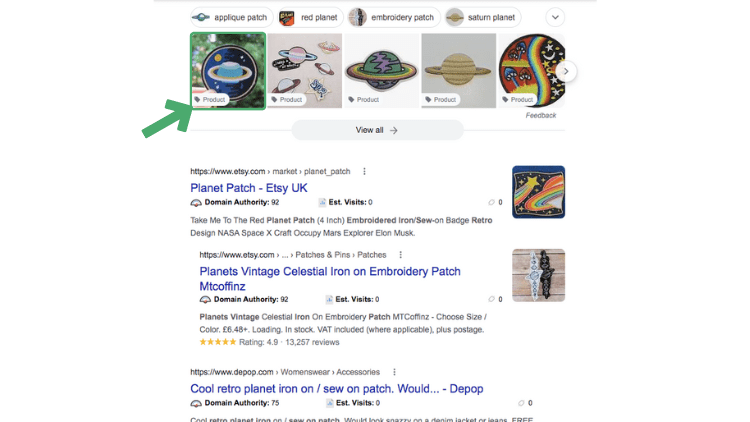 When I want to take this sales channel further, it's clear I need to work on my click-throughs. To get great results with Merchant Center, SEO best practice still applies to be the top result. You must make sure you have great metadata and detailed product listings in order to be shown more frequently.
You can also link a Google Ads account to promote your products more effectively and consistently be shown higher than other competing results.
Pinterest Shopping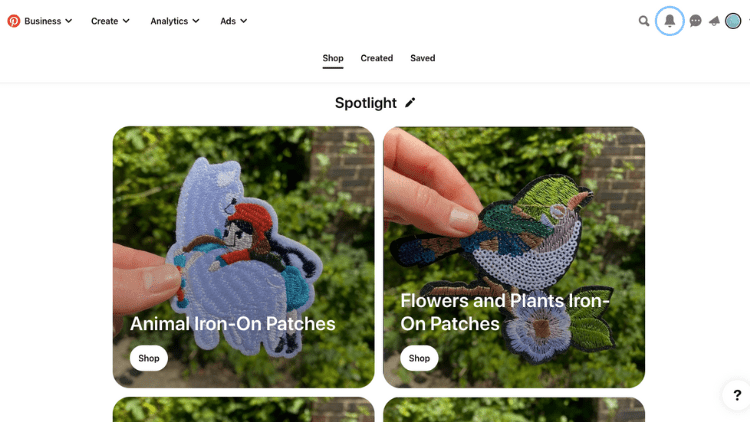 Pinterest Shopping is one of our latest releases on Create and if you're an active pinner, it can help drive loads of traffic to your store.
It will take your catalogue of products and create a shopping experience on your profile. Having Pinterest Shopping will also allow your products to show up in relevant searches on their platform.
The shopping potential on the platform is huge for many businesses. 97% of searches on Pinterest are unbranded. This indicates that the people using the platform are open to discovering new products they might not have come across before. Fantastic news for small business owners everywhere!
I decided to test Pinterest Shopping with our website. To do that, I first had to set up a Pinterest account as we were starting from scratch.
Find out how to set up Pinterest Shopping >>
I was pleasantly surprised by how easy it was to get everything set up. Within 10 minutes, I had submitted my website and products for review. Granted, it took a couple of tries to get approved but Adam has written a brilliant guide on what to look out for, and the updates made my website all the better for it.
Over the course of a month of being set up, my brand new Pinterest (with no other activity) accrued 1.15k impressions, 49 engagements and an audience 600 strong. I found this absolutely incredible for the small amount of work I put in.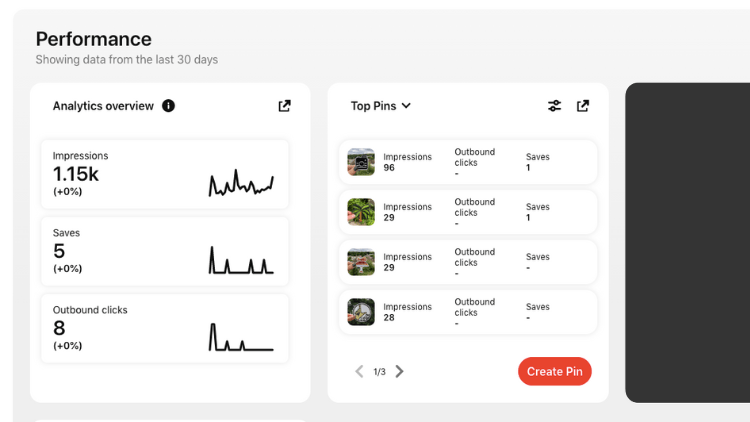 Of course, this can be taken much further if you are active on the platform and driving interest in your profile. You can also apply to be a verified merchant to build extra trust into your profile, encourage more clicks and get shown more frequently.
If you sell beautiful and unique products and cater more for a feminine audience, Pinterest Shopping could be a game changer for your store. With a bit of dedication to helping your profile grow, it can be a reliable source of traffic to your site for years to come.
Facebook and Instagram Shopping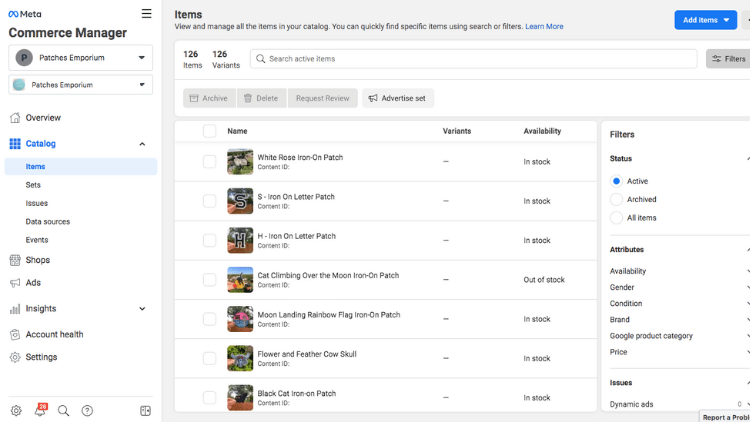 The Meta Business Suite Catalogue is an incredibly powerful Sales Channel tool. This feature allows you to bring your products into two of the largest social media platforms and create a custom shopping experience for your customers.
Additionally, you can utilise ads across these platforms to pinpoint your ideal customers with your products. If you have the Facebook Pixel installed, the data you can glean from these promotions can help you to continuously improve your targeting and reach the most people likely to buy for the least money.
There is one downside compared to the two previous Sales Channels mentioned. Meta Business Manager requires more effort to really benefit from all its capabilities. Having an established audience and regular engagements can make a huge difference to your organic traffic from Facebook and Instagram when combined with their Commerce Tools.
Get started with the Meta Business Suite Catalogue >>
For the purpose of this exercise, I wasn't able to set up the shop sections on my profiles as they were too new with very little content (I've since corrected this and found a way to consistently grow my Instagram profile). I was, however, able to run an advertising campaign using the Catalogue.
Using just one category of products in our shop and for just under £15, I was able to reach 4,003 people on Facebook and 1,362 on Instagram.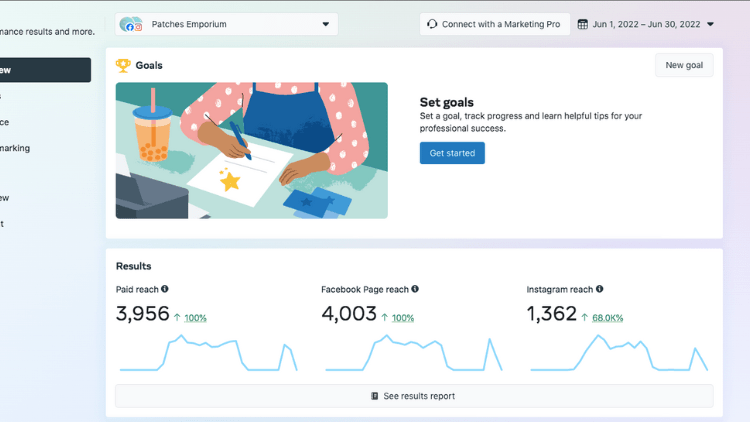 This hadn't resulted in any sales this time, but with the Pixel, I have a record of this data to hone in on who engaged, and who's more likely to buy in the future.
As I grow both the Facebook and Instagram profiles, I'll also see more impressions and more click-throughs as I discover my engaged audience.
Wrapping Up
Setting up these Sales Channels on Create takes no more than an hour or two. For that effort and time investment, I managed to get over 7000 fresh new eyes on my products.
That is all without prior investment of time into these platforms, or optimising my existing products in any specific way for them. If that's what's possible for the bare minimum effort, the question must be asked about how far you can take these channels?
If you maintain a presence on any of these platforms, I have no doubt you could far outdo the number of impressions and click throughs I was able to acquire from this experiment.
I will be continuing to invest time in these profiles to see how much potential they truly have for our website. You can follow along on this journey by receiving our emails or by following me on Twitter - @TheWebsiteWorks
Want Your Own Website?
Start Building Today!
No credit card needed. By submitting this form you agree to our
T&Cs
and
Privacy Policy
.
---
The website featured is Patches Emporium - You are welcome to visit but please note that some of the patches could be considered rude. It is a personal project started by Jack and is not affiliated with Create.
Related Posts