Blog > Highlights of 2020 at Create
Posted By Create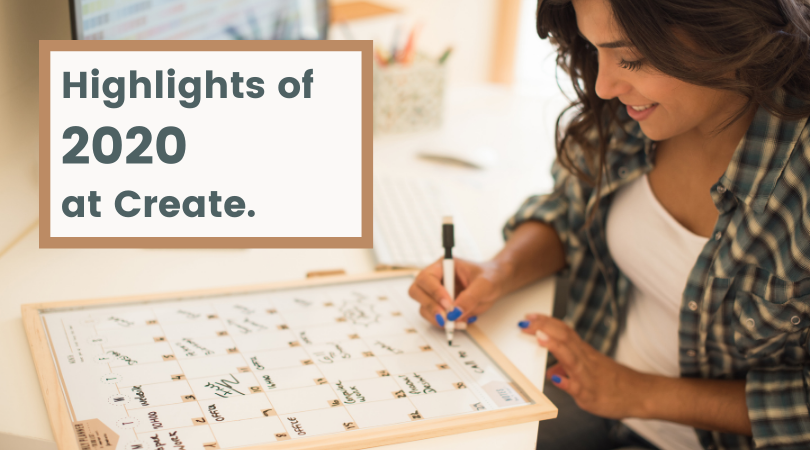 Another year has passed. We've seen hundreds of new websites come to life and even more small business owners continue and start their online journeys. We're incredibly grateful to have you all with us throughout what was, undoubtedly, a tumultuous year for so many.
2020 was the year that changed everything and disrupted life as we knew it. It changed the way we worked and forced us to adapt to new circumstances. Thankfully, that hasn't stopped us from delivering some fantastic new features designed to help you improve your workflows, take control of your marketing and deliver more from your website.
Here's some of the highlights we wanted to share with you:
The Facebook Catalogue and Pixel Integrations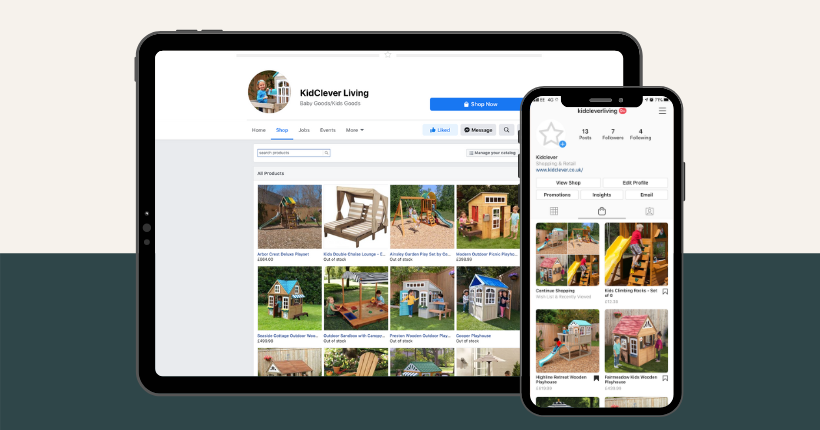 In 2020, we saw Social Shopping Features really come to the forefront; making it easier than ever for ecommerce store owners to utilise more channels to reach their customers. We wanted to help you capitalise on this opportunity so we worked to build a tool that would connect your website to Facebook and keep your stock updated across platforms.
We released the Facebook Catalogue feature that helps you to do this. After the initial set up, your website will update both your Facebook and Instagram Shops with up-to-date descriptions, images and product levels so you don't need to manage these on social yourself.
To increase your understanding of your visitors and provide you with extra marketing capabilities, we also released an integration with the Facebook Pixel. The Pixel tracks activity on your website and gives you unparalleled data to drive your marketing campaigns. It allows you to home in on your ideal audience, that will love your product or further to that, find you more potential customers like those who have already checked out on your website.
Before, it was difficult to navigate Facebook's code and install it on your website. It took time and there were doubts as to whether or not everything was set up as it should be. With the new integration, this entire process has been boiled down into just a few easy steps so you can get set up in no time and start taking advantage of all the benefits the Pixel has to offer.
If you've been running your website for a while and are looking at taking the next step towards growing your online business, these tools can help you to do just that and are available on our Business Package.
Find out more about the Facebook Catalogue >>
Find out more about the Facebook Pixel >>
Updates to the Order Management System


As a growing Ecommerce store, you'll know that a large portion of your time is dedicated to keeping track of orders and fulfilling them on time as efficiently as possible. There's the packaging to take care of, the emails that need to be sent, revenue to calculate and more.
The start of 2020 saw the release of our new Order Management System; designed to simplify and speed up this large portion of your operation. We're thrilled to see so many Ecommerce stores built with Create adopt this new feature and your invaluable feedback has helped us to develop this over the course of last year.
Here's some of the new features that the new Order Management System has enabled us to deliver to you:


Tracking Numbers

Improved Order Filtering

Bulk Order Editing

Expanded Order Viewing

Improved Mobile Experience


That's to name but just a few improvements that have been implemented based on your ideas and feedback that will contribute to making your workflows easier and afford you more time to spend on what matters to you.
Find out more about the new Order Management System >>
Page Presets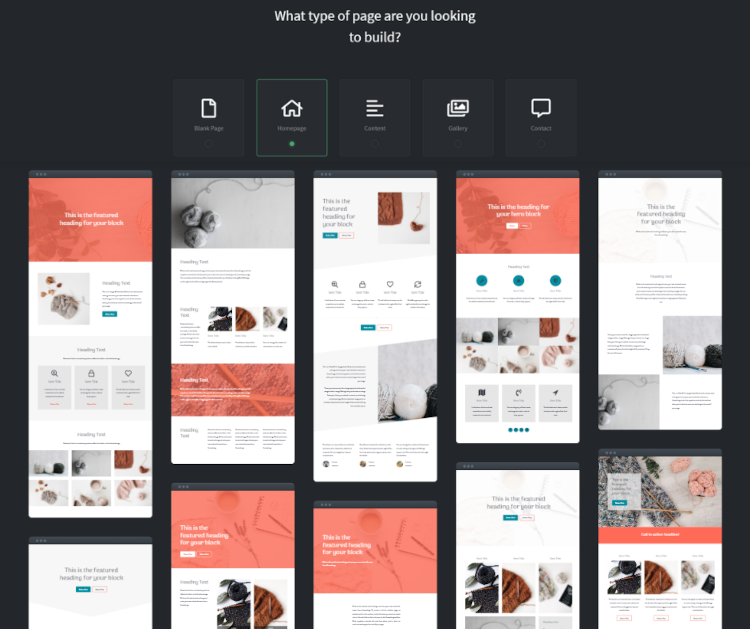 When you're creating a new page for your website, it can sometimes take time to choose all the Blocks you need and then get them styled and arranged how you want them. With the new Page Presets you can get a head start on this work by choosing the page you want to build from our new library of designs.
Our fantastic Designers put a great deal of thought and time into creating a library of page presets that you can use to structure different pages on your site. Each design balances a perfect blend of visual elements and calls-to-action to excite your visitors and inspire them to take a step closer to becoming a customer.
When you go to create a new page, you'll be able to find this extensive library and choose from Homepage, Content, Gallery and Contact page layouts. The previews adopt all of your design choices such as colours and fonts to give you an accurate representation of what your new framework will look like. With just a click, you can get started with customising your chosen design and filling it with your content.
New Design Features


On the topic of design, last year, we heard from you and understood that you wanted more flexibility in aesthetic choices for your website. We created a selection of new features to allow you that freedom to create a truly unique website tailored to your brand.


Custom Colour Palettes



The introduction of Custom Colour Palettes allows you to now adjust the colours of selected Content Blocks on your page. Rather than rely on just your overarching design preferences, you can now pick out the main elements of any Block and customise them in a way that makes them pop against the rest of your website's colour scheme.
Find out more about Custom Colour Palettes >>



Card Styles




Certain Blocks contain Cards which either overlay your images or are contained sections within a Block. This new feature allows you to customise their appearance on your page either by adjusting the transparency, adding a border or applying a drop shadow. These cards are typically used for short, punchy pieces of text you want to distinguish from the rest of your content and these new design options give you a new way to make your content jump off the page.
Find out more about Card Styles >>



Image Captions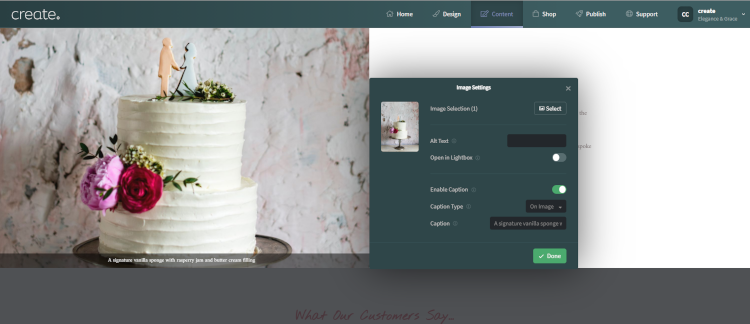 A widely requested option for your website images was the addition of captions. Captions allow you to describe the contents of the image or offer additional insight. Not only is this great for providing more context about the images on your website to visitors, but it can also help search engines to more accurately determine information about the image you've shared.
You can add captions to your images by clicking image settings and switching on the Enable Caption setting.



Block Shapes



Block Shapes enable you to customise the transition between one Block and the next within Content Pages. These striking design styles, when used correctly, can completely transform a page and add a new dynamic as your visitors scroll your website.
You can see some of these in action when you select certain Page Presets or you can customise your existing pages with them by going to your Block Settings.
Find out more about Block Shapes >>



Heading Sizes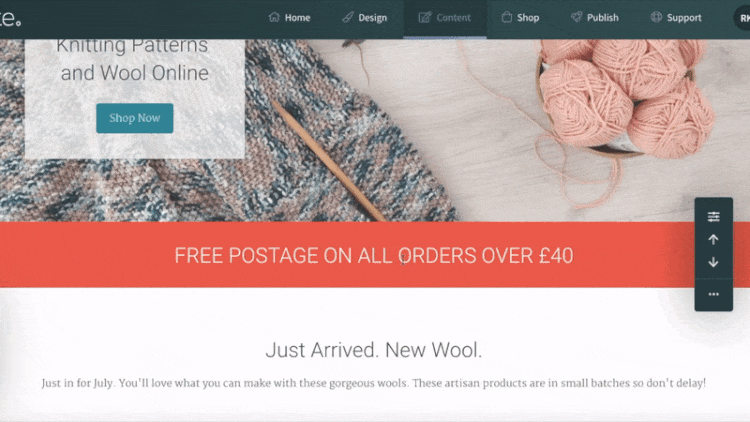 One piece of feedback we received mentioned that you wanted more control over the size of the headings on your page. By customising how large the headings are on your page, you can draw more attention to those selected pieces of text on your page.
Say for instance you're running a special offer and you want to draw your visitor's attention to it, the Heading Size Tool helps you to facilitate this so no one will miss the important notices or content you have to share.
Find out more about the Heading Size Tool >>



New Templates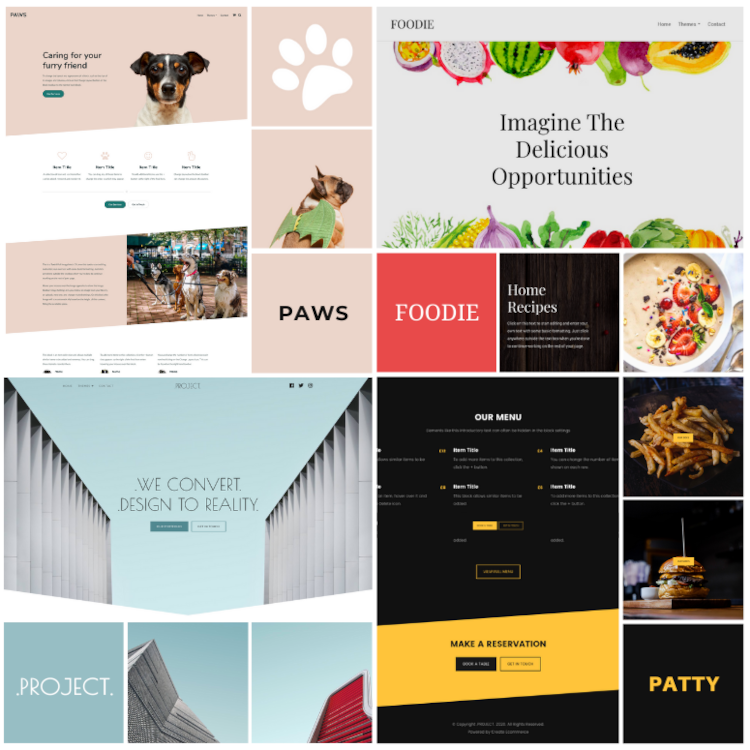 Templates lie at the very core of building a stunning website. They guide design choices such as font and colour and provide the framework on which you build your website. Based on professional website design principles, they can be a huge support in the creative development of your online presence.
2020 brought you four more templates to develop your site from; Paws, Foodie, Project and Patty. These industry specific frameworks make beautiful design ideas accessible to many more startups and established sites. Additionally, they take all the hard work out of ensuring that your website is mobile friendly.
See our full list of responsive templates >>
The Unsplash Image Library



Sourcing high-quality photography for a website is usually a hard and long-winded process. A process where you'd have several tabs open on your computer with different image sources. When you found something, you'd then have to download it onto your computer to then reupload onto your website.
Your time is important, and so is making the right first impression with your website. With this in mind, we set out to find a solution. We looked around for an image resource that offered everything. Accessible, high-quality, free imagery without the hassle. Unsplash offered just that.
We partnered with them to bring you a tool that allows you to browse their entire collection of free photography directly from your Content Pages Editor. With just a couple of clicks, your perfect image is available in your image library without having to download it to your computer. It's proved to be a fantastic solution; giving you access to professional imagery, and bringing more creative freedom in a fraction of the time.
Find out more about the Unsplash Image Library >>
New Blocks


Blocks are the foundation of your website in Content Builder. They allow you to structure your page in new and exciting ways and convey your content in beautifully coordinated design.
Throughout 2020, we worked to bring you even more block to design your pages with and here are some of the new options available to you:


Menus and Services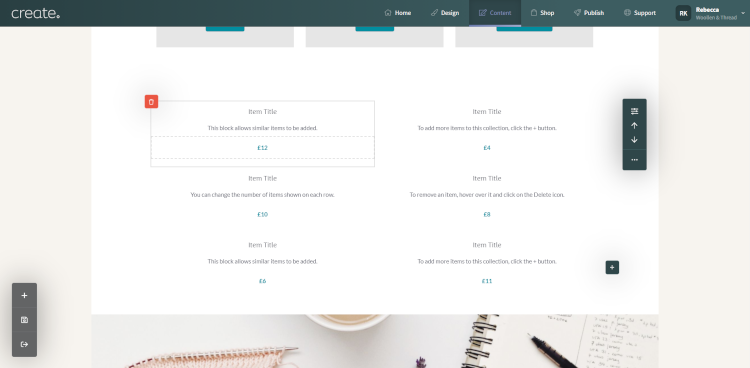 The Menus and Services Blocks comes into its own when you need to display a set of information clearly and concisely. Naturally, if you have a list of food choices to display, this Block choice works perfectly, but you can also use it to display a selection of your services, products and more. In fact there's loads of uses - just use your imagination!
Events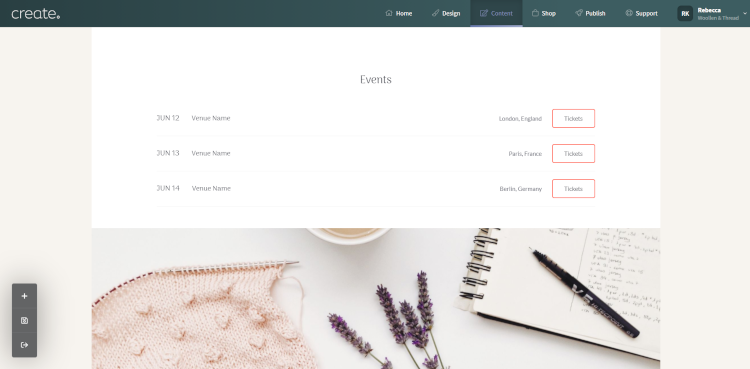 If you run or get involved with any events relating to your business, the Events Block is the ideal way to keep your website visitors informed and direct them to where they can buy their tickets.
Whether that's through Eventbrite or a page that you've set up dedicated to the event on your website.


Dividers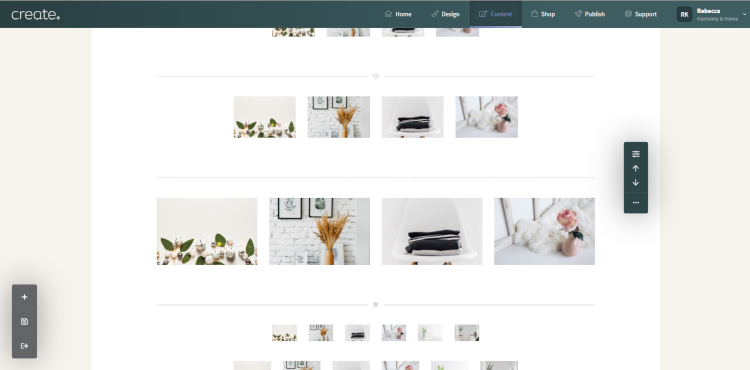 Creating space on your page is important so as not to overwhelm your visitors with too much information all at once. Space brings balance to your page and that's exactly how these new dividers can help you. They come in a range of styles, including dashed, dotted and double line dividers and those featuring an icon of your choice.
Shop Products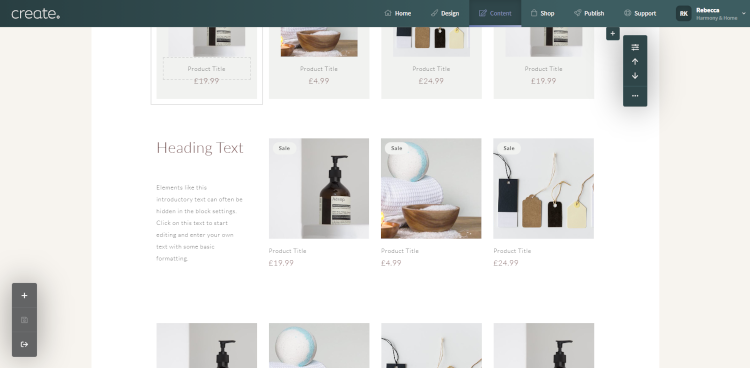 One of our most exciting Block releases for Ecommerce stores last year was the addition of Product Blocks. Showcasing your best items in places such as your homepage is a great way to draw people to your Shop and these Blocks enable this like never before.
These new blocks offer the perfect way to display prices, context, photography and even have the addition of Badges so you can highlight special points about your product, for instance, if they're in a sale or selling fast.


Quote Blocks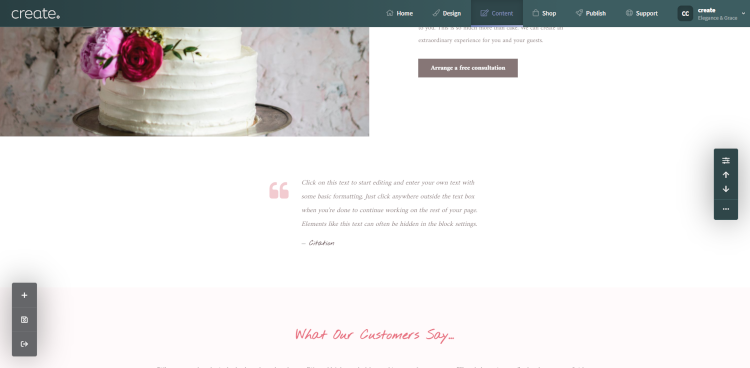 Quotes and testimonials are great, not only because someone has taken the time to tell you how pleased they are with how you helped them personally, but also because they go a long way to reassuring your prospective customers or clients that you're the right choice for them too.
The Quotes Block is a new way to get testimonials on your website and highlight some of the best pieces of feedback offered to you by your happy customers.


Expanding Blocks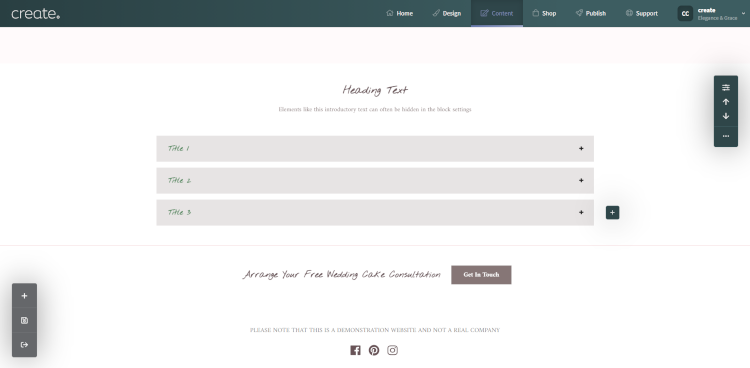 The Expanding Blocks have been a massive hit. If you have a lot of information to convey without taking up huge portions of your page, these Blocks help you to break your content down into organised and digestible chunks. They're perfect for any FAQ's you want to share or for detailing different elements of the service you provide.
You'll find lots of different variations of each of these different types of Blocks in the Content Builder Block Selector. Why not give them a go and add something new to your website with your next update?
Find out more about the Block Selector >>




Customer Accounts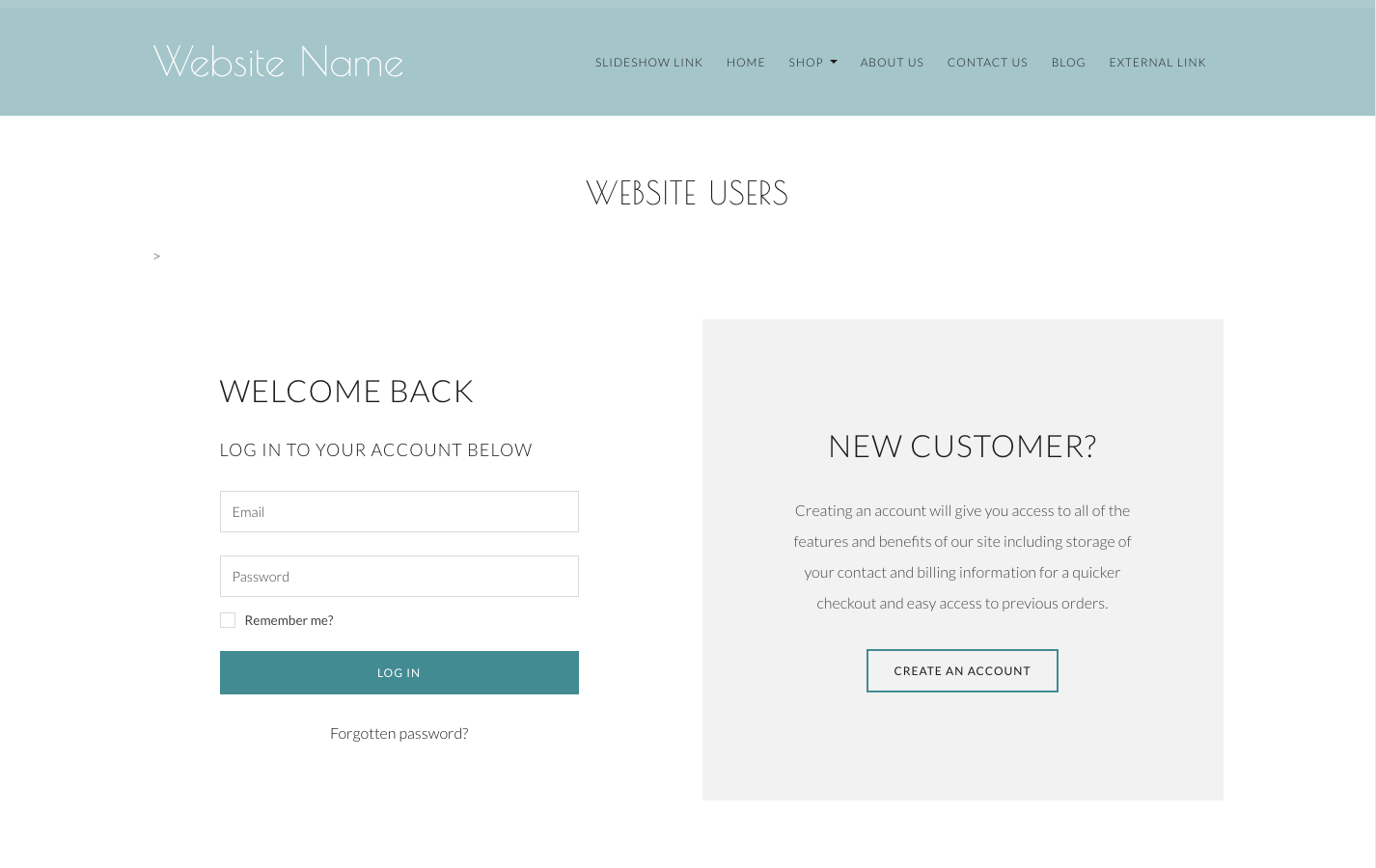 Towards the end of 2020, we released an update to the Customer Accounts section on Create. These accounts give your returning customers access to their address details, the status of any current orders and any previous orders that they have made through your website. This all helps your customers to check out faster and bring them back to your website time and again.
The updates bring a fresh new look to customer accounts and makes it easier than ever for them to navigate and interact with their personal account.
Find out more about the new Customer Accounts >>
Facing Up to the Challenges of Sustainability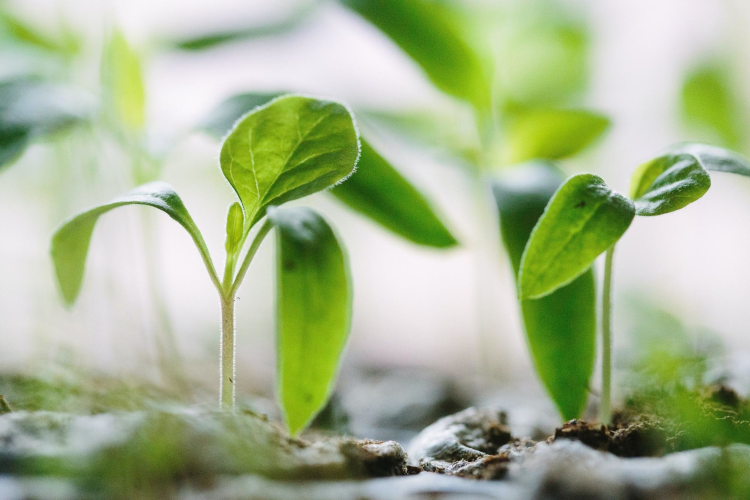 Aside from all the features we've been putting out. 2020 also offered us the opportunity to reflect and look at our impact on the world around us. Climate change and the effects of excess carbon in our atmosphere are clear for all to see.
As a business that depends on power to keep thousands of websites operating at once, we knew we needed to address our own output. We've always been climate conscious in the past, operating within a green office and doing our part, however, 2020 was the year we decided we were going to step up and look at how we can work towards negating our carbon footprint in its entirety and work out how we can create a positive impact instead.
Towards the end of the year, we planted over 40,000 trees and many of you joined us in this mass reforestation project. The forest we, collectively, have worked towards now stands at over 250,000 trees which will go a long way towards sequestering carbon from our atmosphere.
The effort doesn't stop there. All websites built with Create are powered by 100% renewable energy and we're looking at alternative methods of carbon reduction to ultimately give back more than we take from our planet. This is all in addition to continuing to contribute to our reforestation project.
We hope you'll continue to join us on this journey. There's still so much work to do but your support throughout has been resounding and hugely appreciated.
Find out more about the forest and how you can get involved >>
Wrapping Up


Alongside all the additional tools and features, we've been behind the scenes taking your feedback on board, making sure everything runs smoothly and considering the future.
Looking back at 2020, it has been a hugely difficult year for everyone, with small businesses hit especially hard. Moving into 2021, we're still presented with the challenges the virus brings and there's a long way to go before normal life can resume.
We're proud to be supporting you in the ways we can and we will continue to do so throughout the coming year. We have many more feature releases planned for the months ahead, all designed to help you get the most you possibly can from your website at a time when it's so critical for businesses to be online.
We're really grateful you've chosen us to join you on your journey and we will continue to keep bringing you the features that help your website grow. If you have any feedback or ideas, please, don't hesitate to contact your Account Manager and let us know - we'd love to hear from you.
All the best for the New Year!