Blog > 7 Website Tools to Boost Your Productivity
Posted By Create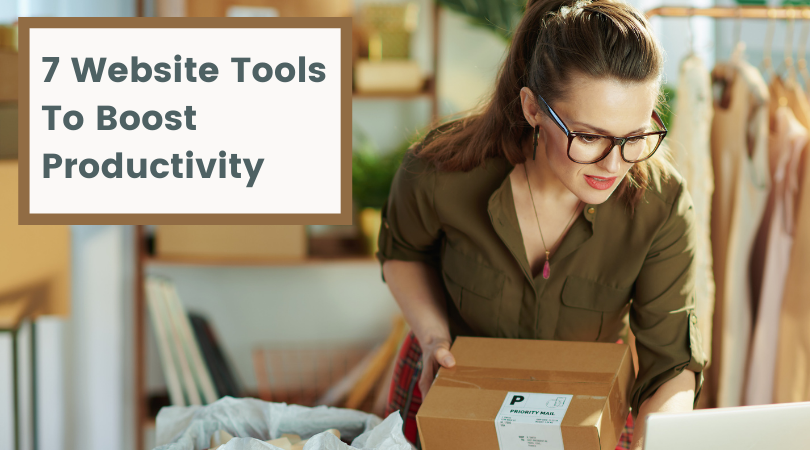 It's no secret that running an online shop takes a commitment of time and energy. Especially when the orders start flooding in that need to be fulfilled. There'll be trips to the Post Office, emails to write, stock to manage… Every day can turn into a busy one.
But you also need time for yourself, friends and your family, and who needs the kind of stress where each day you're just rushing to get everything done?
The trick is to work smarter, not harder, and there are a bunch of tools on Create to help you get more done and take control of your day.
Expanding Content Blocks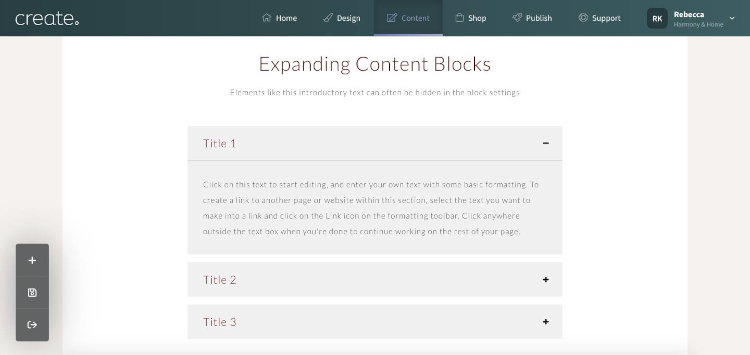 Your customers will naturally have questions, and an excellent way to save time is to have some answers to the regular questions you get asked prepared to cut and paste into a chat or email. However, your website can be used to provide the answers to questions you get asked a lot on your pages or even by creating a standalone FAQ page. This could include information about how to make a booking, or when / how items ordered will be delivered. Giving upfront information can help the customer to make a buying decision and cut back on how many questions you're fielding.
The Expanding Content Blocks in Content Builder offer you a neat and effective solution for organising your FAQs. You can compile questions into hidden away sections that your website visitors can open to read. It's most likely you can guess what your most frequently asked questions would be from your customers, but it's also something you can get a feel for over time and build upon to create a comprehensive resource using this Block.
The more questions you're able to answer on your website, the fewer emails you should need to get back to and thus save more time out of your day. If you find yourself consistently responding to the same queries each day, this Block could be a real asset to your website.
Learn more about Content Blocks and how to use them >>
Royal Mail Click & Drop Integration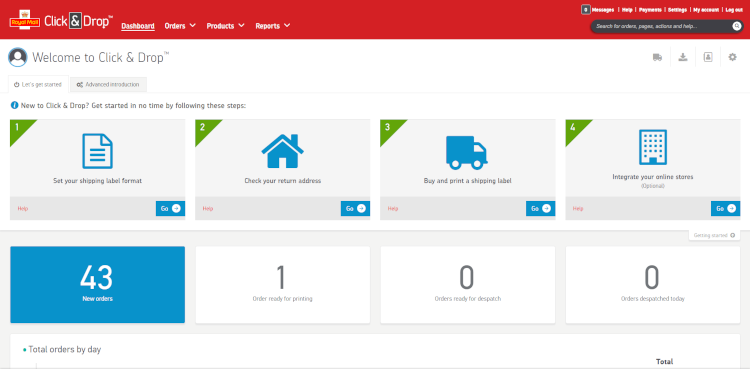 A recent addition to the Create platform is our Royal Mail Click & Drop integration. Royal Mail Click & Drop is a service that allows you to leave your parcels at a designated drop-off point rather than having to take the time out of your day to queue at the Post Office. Additionally to this, it can also offer some additional services and cost savings to your postage, plus there's a helpful dashboard to manage all your postage in one place.
Using our integration eliminates the need to manually transfer the postage information from your orders to the Royal Mail Click & Drop dashboard. As orders come through, our Order Management System will relay everything across to Royal Mail so you don't have to.
Posting to your customers is now as simple as clicking to order your postage and dropping them off at your nearest collection point. You can even print all of your labels through the Royal Mail Click & Drop system. If you're tired of the daily Post Office round and all the time and hassle that comes with it, this feature gives you the freedom to say goodbye to almost all of it and is definitely something to consider utilising!
Get started with Royal Mail Click & Drop >>
Bulk Order Updates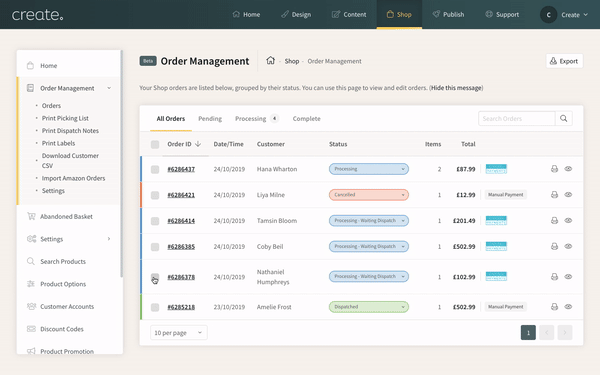 When you start selling through Create, you'll soon enough acquaint yourself with the Order Management System that tells you the status of your orders and what the next step is to take with each.
What you may not have had the opportunity to explore thoroughly yet is the myriad of other features built into the Order Management System; each with the purpose of working towards making life as an online shop owner easier. The Order Management System in Create has undergone a number of updates and improvements over the past year including the highly requested addition of Bulk Order Updates.
This feature allows you to change the status of a selection of orders at once and it's really easy to do. To the left of each row in Order Management, you'll find a checkbox, simply tick the orders you'd like to update the status of. Next use the dropdown selection box in the top left of the Order Management window to choose the Status you'd like to change them all to, click Apply and that's all there is to it!
It may seem like a simple enough update but it's one of many additions to Order Management that are helping small business owners save precious time. If you haven't yet explored the new capabilities of the Order Management System, doing so could save you countless hours when fulfilling your orders.
Learn more about Order Management >>
Multiple Dispatch Note Printing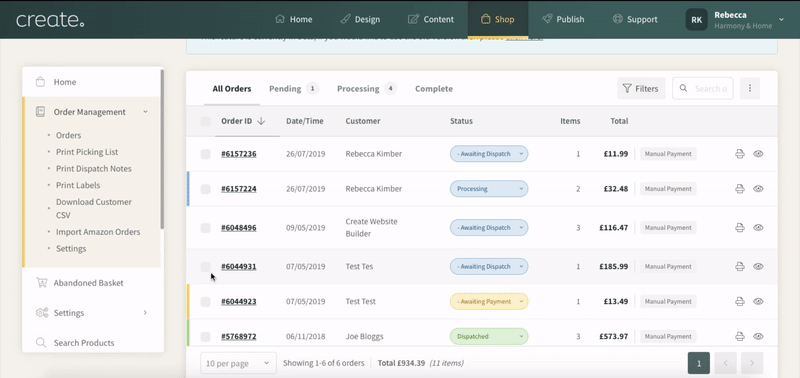 Need to print out a batch of dispatch notes in a hurry without changing the status of your orders? Another really helpful addition to the bulk order updates is the ability to print off a set of dispatch notes at once.
All you need to do is select the orders that are going out by using the checkboxes on the left, and select "Print Dispatch Notes" from the drop-down above your table of orders. When you hit Apply your dispatch notes will open in a new tab, ready for you to print off all in one fell swoop.
Making sure each of your orders has its respective dispatch note is great practice and only becomes more important for the growing ecommerce store. You can customise yours with your logo and any information you need, like how to return items, that will help save queries with customer orders further down the line.
Get started with Multiple Dispatch Note Printing >>
Automatic Order Email Updates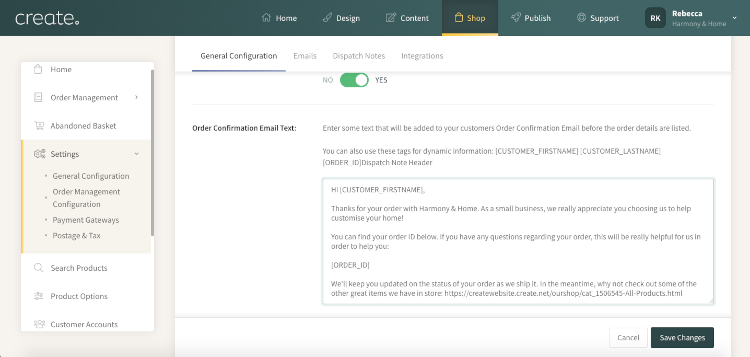 We've already discussed the fact that responding to emails can take up huge chunks of your day and while it's a nice idea to be able to respond to each customer personally, automating where you can will help you to make more time for yourself in the day. Emails such as order confirmations, dispatch emails and refund notifications can still be filled with your personality and flair without you needing to send them personally.
With Order Management, you can automatically send different emails to notify your customers of the progress of their orders. Taking the time initially to personalise these to say exactly what you want saves you having to come up with a personal response each time an email comes in regarding the status of someone's order. With these emails taken care of, you'll find your attention isn't stolen away from you by email notifications as much and gives you the opportunity to focus on the more important tasks you have to hand.
As a bonus tip, you can even set your dispatch emails to send your customer's tracking information automatically. This offers both you and your customer peace of mind and puts the onus on the delivery company to update your customer further if there is a delay to their order.
Get started with customising your Order Email Updates >>

Making Tax Digital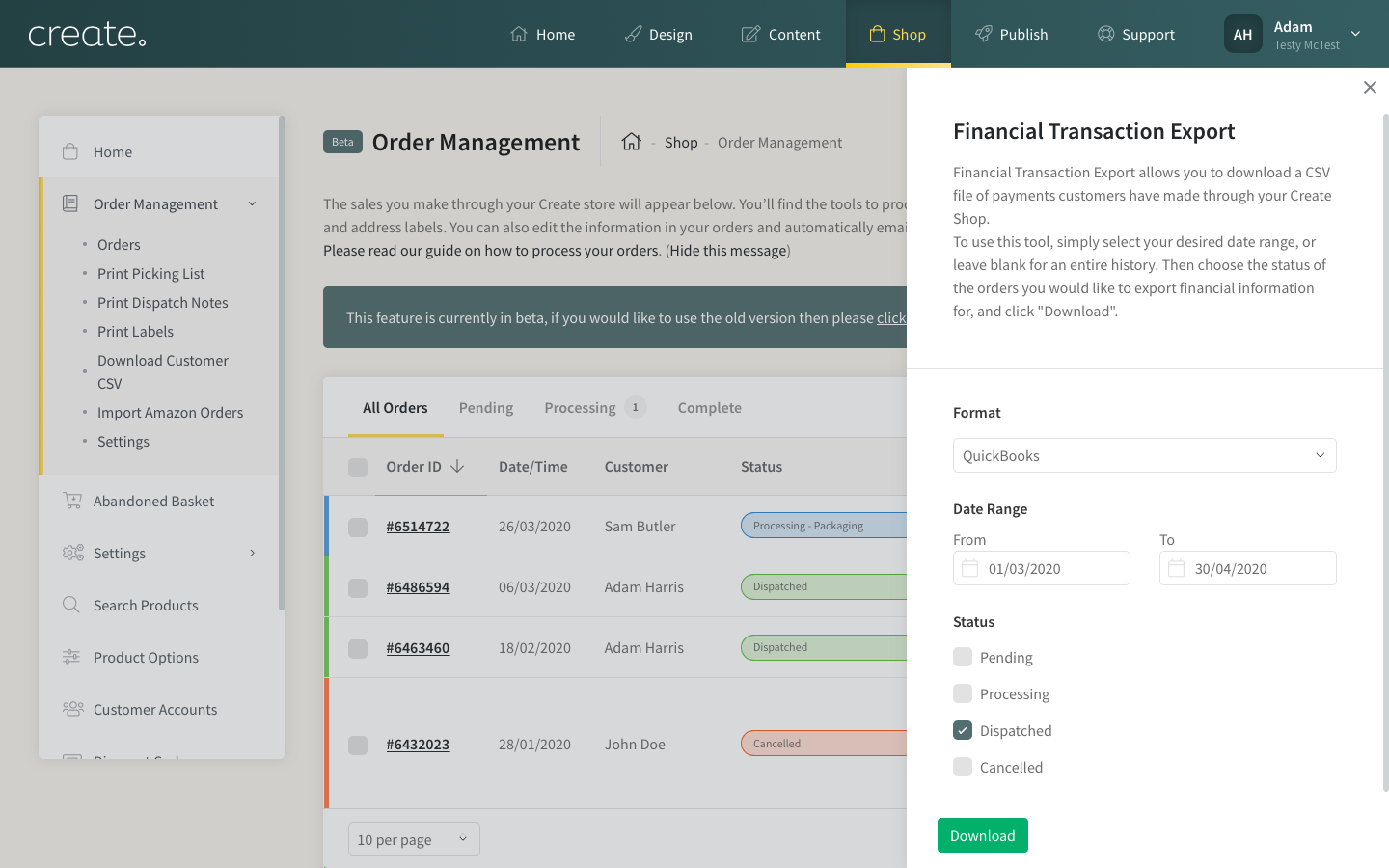 Counting receipts and calculating tax is certainly one of the less glamorous obligations of running a small business. It comes round each year and requires you to write off a chunk of time to spend in front of your computer filling out information about your sales and expenses. Not only is it time-consuming, but it can also be stressful if you aren't particularly well versed in accounting!
Those are two reasons we've introduced Making Tax Digital features. Within Order Management, you can now export your order information over a designated time frame and import them directly into Xero or Quickbooks. This will relay the information these two popular platforms require and reduce your workload.
This will become essential in the future as the government is pushing to reduce as much scope for human error in tax returns as possible. However, we've introduced these features now as we know just how much of a help they can be to small business owners.
Get started with Making Tax Digital features >>
The Facebook Catalogue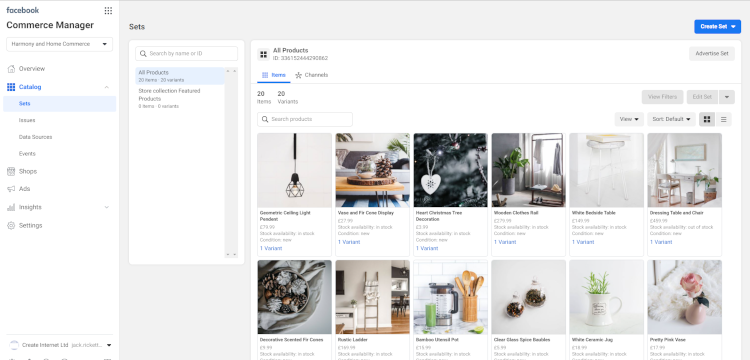 With the growth in people using social media to discover and purchase products, it's become increasingly important to list your products on Facebook and Instagram. For instance, Instagram now lets you add links to your product posts so people can click through without having to use the link in your bio. Additionally, Facebook offers a range of more engaging ad formats when utilising the Facebook Catalogue.
What many shop owners have found, however, is that keeping the stock levels and information up-to-date across their website and Facebook and anywhere else they are selling is a near-constant task. If it's not kept up-to-date, you run the risk of them taking some of (or all) of your inventory off of their platforms. Therefore it repeatedly demands your attention on a daily basis.
Using the integration between Create and the Facebook Catalogue enables you to keep all your stock and product information across Create, Facebook and Instagram synchronised and up-to-date. Selling on social media has never been easier with this new feature. After an initial set up, our Facebook Catalogue integration takes care of all the hard work for you. If you want to spare yourself these consistent daily updates, or even if you'd like to start selling on Facebook and Instagram, the Facebook Catalogue is the tool you need!
Get started with the Facebook Catalogue >>

For more ideas about selling across different platforms, check out our Sales Channels Experiment >>
Wrapping Up
Helping you to do more online is at the core of all of our updates. Whether it's as simple as a checkbox to print all your dispatch notes or creating new channels for you to seamlessly sell in more places than one.
As the busiest time of the year for shop owners looms around the corner, we hope that these features help you to have one of your most successful years yet while minimising your workload. After all, Christmas is for family and we all want to spend as much time with them as we possibly can.
What features are you already using from this list? Which are you looking to get started with? We'd love to hear your thoughts in the comments below!