Create's Order Management Tools have undergone massive developments over the past few months. These updates are designed to greatly improve the usability of the feature and help you to easily process your orders wherever you are.
The new interface has been released in Open BETA, meaning you can take advantage of all its new capabilities ahead of the full rollout. Including Royal Mail Click & Drop integration for ordering your postage online, bulk order editing and functionality to enable you to comply with HMRC's Making Tax Digital requirements, including financial exports for Xero, Quickbooks and Sage.
If you would like to try the updated Order Management Tools, you can do so by heading to your shop. There will be a banner across the top of your Shop Section offering you access to the Open BETA.



Log in to your Create Account >>
Find out more about some of the changes that we have implemented below:
Updated Interface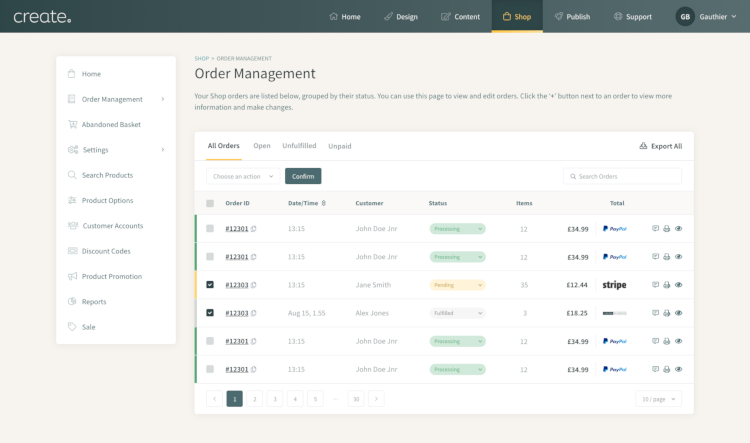 We have refreshed the entire interface of Order Management to align it with the rest of your dashboard.
At a glance, Order Management allows you to quickly assess the status of orders through the use of colour coding. You can also apply filter options to your orders to only see what you would like to at one time.
Additionally, the payment type your customer has used for their orders is clearly visible on the right-hand side to help you quickly identify where your payment has been processed.
Usability has been at the core of Order Management throughout the whole of the development process and this new design has been built to help you more effectively manage your orders on a day-to-day basis.
A Foundation For Mobile Usability


The new Order Management System has laid the foundations for an improved, mobile-friendly experience for Create Users.
Many of our users have expressed a need to be able to check and update orders on the go. The new design has been crafted with this in mind. With collapsable menus and improved order selection, using Order Management across your devices has never been easier.
Bulk Order Updating
You are now able to change the status of your orders in bulk. To the left of each of your orders is a new check box feature that allows you to select multiple orders at once, which you can then alter all at once using the drop-down status menu.
This feature has been included by popular demand and will save Create Users a lot of time when managing their orders.
Royal Mail Click & Drop



Due to popular demand, we have included Royal Mail Click & Drop functionality in the new Order Management updates.
This feature allows you to print your orders from home so that you don't have to spend time queueing at the post office. You can then simply drop them off at your nearest Royal Mail collection point and get back to the work that's going to move your business forward.
To do this, simply select the Royal Mail Click & Drop format in the Financial Transaction Tool and pick your chosen date range. The tool will collate all the details Royal Mail needs to process your postage into a spreadsheet that can be uploaded to your Royal Mail account.
Find out more about how to use Royal Mail Click & Drop >>
Making Tax Digital
Making Tax Digital is HMRC's initiative to make tax simpler for businesses across the UK and to eventually move all tax processing to online systems.
With this in mind you'll find new export options in the new Order Management which will automatically provide you with a file of your transactions in the format required by some of the most popular accounting packages.
Simply select your accounting software from the drop-down box in the Financial Transaction Tool and pick the date range you would like to export. Once the data file downloads you can upload it directly to Xero, Sage or Quickbooks to import your orders there.
Find out more about Making Tax Digital from your Accounting Software provider:
Please note that this feature is only available on our Business package.
Feedback
Log in to your Create Account and get started >>
The new Order Management is still in its BETA phase and as a result, there may be some minor issues that you come across. If for any reason you need to access the old Order Management system you can do so at any time by clicking the link at the top of the new Order Management.
If you do experience any problems using the new tools or have any suggestions you would like to share with us on this feature, please contact your Account Manager who will be happy to help.