Blog > How To Build Your Website Home Page
When building a website for the first time, there's no better place to start than your Home Page (After you've selected your template and made a few design choices that is).
A Home Page serves as an introduction to your website. You'll find that this will be one of the main ways people first land on your site, so it's important to put your best foot forward.
This page also serves as a directory to the useful resources or where to take action on your site. Your visitors won't know where they need to go when they first find your website, a good home page will lead them on this path.
This article will go through all you need to know to build a stunning and effective home page. You'll discover some of the theory behind what works, as well as inspiration to help you along the way.
Before you get started, here's how you can easily navigate putting together your home page in Create:
Your Website's Objective
The first thing everyone must consider before building their website is what they actually want it to achieve. This may sound simple but it's a point often forgotten as we get wrapped up in everything our websites can "potentially" do.
Knowing this singular goal is the most important step you can take in building a home page that works. This will help you to guide people on a journey that answers all their questions and helps them feel comfortable making a purchase or enquiring about your services.
On Create, it's really easy to build a page that looks beautiful using our Content Blocks. They will help to structure your page and achieve the style you're looking for. For each Content Block you add to your page, you should make a point to ask how this feeds into your goal. Consider how the content helps people move forward in their journey.
Want Your Own Website?
Start Building Today!
No credit card needed. By submitting this form you agree to our
T&Cs
and
Privacy Policy
.
If you find that, actually, some of what you may want to include distracts from your objective, perhaps it shouldn't occupy space on one of your most important pages.
This concept is one we've covered in a lot of detail in our post - Website Objectives - The Secret to Consistently Growing Online - it's that important to success. So if you're not 100% on what you want to achieve with your website, we recommend having a read of this blog!
Your First Introduction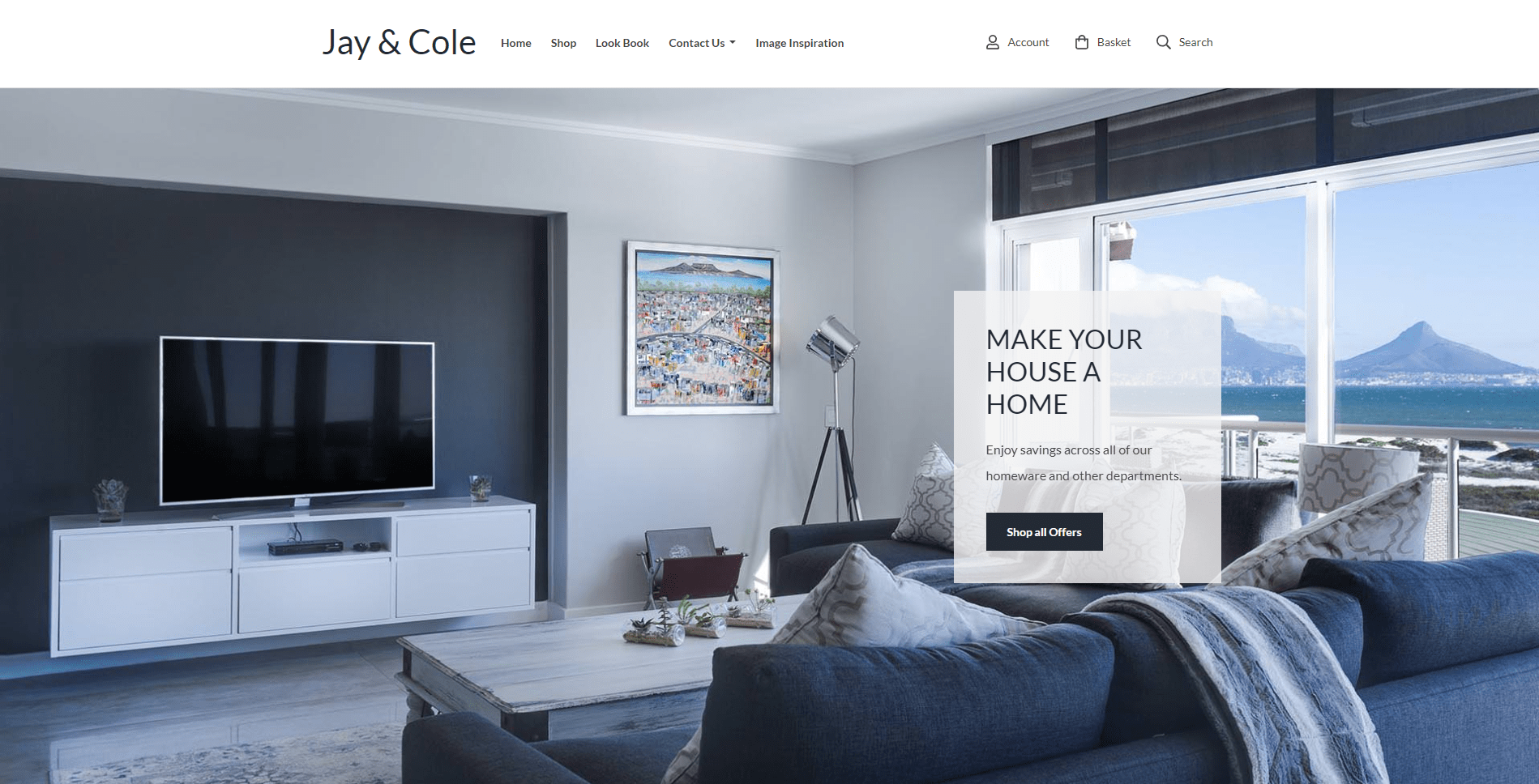 We all know how much a first impression can count for. The same can be said for websites. In fact, it's estimated that you have less than 1 second to captivate your visitor when they land on your page.
Don't let this alarm you, there are two simple rules you can apply to make sure you're making an impactful introduction before people even begin to scroll your page:
Make what you offer clear and simple - Less is more when you want to make sure a key point stands out and hits home. Make it clear what you offer and what makes you different in less than a couple of sentences. A headline and a small bit of text will suffice.
Use Stunning Imagery - If you want to captivate attention, you have to create a visual experience. Imagery helps your visitors to visualize how your product or service will impact them. There's loads of free imagery you can use even just within Create.
In the example of Jay & Cole (one of our website templates on Create like a lot of these examples are), you can see that the text used is minimal. However, it's clear to anyone visiting that the website is a homeware store with a mission to make your home more comfortable and inviting.
The imagery is a powerful way for people to see what a home can actually look like when shopping from Jay & Cole. Without saying anything, people will immediately start to envision what they like about the room and what they can put together in their own homes to create a similar style.
The first impression doesn't have to be complicated. Let people know they're in the right place, let them know the essence of what you do and let their creativity fill in the gaps.


Block Ideas
Headings Filter >> Hero

Headings Filter >> Headline & Image
Page Content

Putting Content Blocks together on a page will build a structure for your content. There are some points you should keep in mind when writing the content for your home page to maximise its potential.
For each Block you add to your page, consider how it helps to guide people to the next step of their journey. You should stay focused on your objective as much as possible. This will help you to create a home page that's not only captivating but effective as well.
It can be easy to get carried away adding lots and lots of content without considering its purpose. It pays to be concise where you can. Remember, you're only introducing your business here and linking to resources that explore what you offer in detail.
With this in mind, try to keep your writing short. Try instead to lead with imagery that captivates your audience, evokes emotion and engages their imagination.


Block Ideas
Text Filter + Image Filter


Unique Selling Points

Your home page is an opportunity to really convey all the wonderful things that set your business apart from others in your market. This is important as it can be the difference between someone choosing what you offer over someone else.
Make sure to pinpoint each and every unique selling point of your business, whether that be friendly service, a competitive price point, bespoke options, numerous testimonials, a different approach to what's available. Choose what makes you special and showcase it.
Collection Blocks are brilliant for conveying your points of value in a clear and concise way and you can lay these out in lots of different ways. Especially if you feel some points deserve their own space on the page and, help people make the decision to take the next step.


Block Ideas
Text Filter + Image Filter

Collection Filter >> Features

Collection Filter >> Featured Items

Collection Filter >> Icons & Text


Inspiring Action

At each point, you should be leading your visitor to the next step of their journey. This is primarily done through Calls-To-Action (CTAs).
Buttons are a great way to do this. They easily lead the visitor to different areas of your site. For an ecommerce site, this is straightforward. Ideally, you'd like to lead people to your shop so they can start browsing for purchasing ideas immediately.
You can include Product Blocks that feature sets of your items. For example, if you already know you have some best-selling products, these are perfect to feature as a collection on your home page. If you know people love them, it's likely they'll inspire more people to click through to your shop.
If your website is to promote your service, think about what information people will need before taking the next step and enquiring with you. You could link through to different levels of service so they can find out more, or through to your About Page to learn about who you are and how you work. Don't forget to link to where they can enquire as well!
Finally, consider how you can encourage people to take this action and continue through your site. Special or limited-time offers can be perfect for this. Nobody wants to feel like they're missing out. That's why limited-time offers are so powerful. They serve as a really useful prompt to inspire action and improve the effectiveness of your home page.
For shops, you could use a limited-time discount code; but you're not limited to just this. You could use products that you have a limited supply of or seasonal products that will be going away soon.
Examples for other types of websites could be upcoming events that people won't want to miss out on or special offers on your services.
Think about what you can use to prompt this trigger of not wanting to miss out. What do you offer that's only around for a limited time or that the supply is restricted of? Use it here to get people to take action on your website.


Block Ideas
Call to Action Filter

Collection Filter


Testimonials

There's nothing more powerful on a website than what previous customers or clients have to say about their experience with you. Including their words can help to build trust with those who haven't yet shopped or worked with you.
There are plenty of Quote Block options to present and highlight individual testimonials on your Home Page beautifully. If you have case studies you'd like to build into your site, another Collection Block could be the ideal way to link to these pages.
If you don't yet have any feedback to work with, you should check out our blog on obtaining quality testimonials for your website. You'll discover some quick tips that you can implement into your client journey to build their feedback into part of your process. You can even use your website to acquire feedback for you.


Block Ideas
Wrapping Up
Here's what to remember when building your Home Page for the first time:


-Know Your Website Objective - Your website objective will guide your process and help you to build a Home Page that does what you would like it to do.
-Make A Powerful First Introduction - Make sure your visitors know immediately that they're in the right place and use stunning imagery to captivate them and keep them on your page.
-Build Content In Line With Your Objective - Each Content Block should feed into your objective, but remember to stay concise so your key points really land with your audience.
-Include What Sets You Apart From The Rest - What are the reasons someone would choose your products or service over another? Make sure to set yourself apart from the crowd.
-Inspire Action Through Buttons And Offers - Your Home Page serves as the starting point of a journey. Guide your visitors with buttons and encourage action through offers where you can.
-Feature Testimonials - The words of your existing customers or clients speak volumes on a website. Try to include them where you can to build trust with your audience.
Most importantly to remember is to have fun with the experience! Getting started on your website can be an incredibly rewarding experience and it can be exciting to see a Home Page you can be proud of starting to take shape.
Don't worry about whether or not what you've made is absolutely perfect. Each page of your website is an experiment that will develop over time. You'll soon learn what's working for you and what you can develop; especially if you join our exclusive Facebook Group for people building their websites with Create. This can be a fantastic resource for ideas and feedback.
If you're pondering your next step, why not check out how to build an About Page? It's perfect for building trust with your audience and helping them feel more comfortable taking action.
Want to get ahead and know how to successfully launch your website? You can make sure you never miss a trick by getting our email updates. We share the latest news from our blog along with tips and ideas you can utilise to grow your business online.
Related Posts