Blog > Why Small Businesses Need A Website
Posted By Create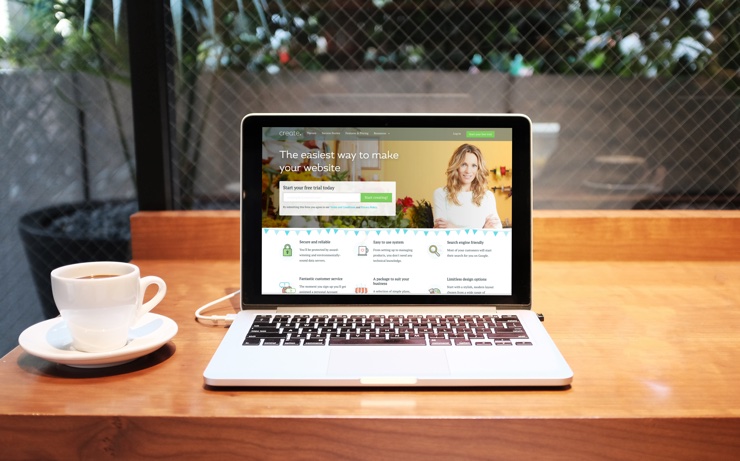 These days, when people want something, they Google it. It's the first port of call when people want to find out more about any product or service, yet 1 in 4 small retail businesses still don't have a website.
Many small business owners feel they won't benefit from making a website, but with just under 90% of people in the UK now using the internet, that's 57 million potential customers just waiting, a few clicks away!
Getting your business online is a fantastic opportunity for growth. Here are 6 reasons how your business can benefit from having a website.
Sell to more people
Whether it's a product or a service, these days many people just go online to find what they need. Sitting in the comfort of their home with a laptop, people can easily compare different providers. Your competition won't be in a different town any more - they'll be right next to you in the list of search results.
Think of the internet as a huge marketplace where your business can gain more exposure. This is your opportunity to gain a new customer base and make more sales.
Communicate with new and existing customers
Websites are not just about generating additional sales of your products and services. They're also a great opportunity to communicate with new and existing customers.
Build relationships with customers. Having a good reputation for customer service and communication - and showcasing that online - is just as important as the product
Easily gather feedback from customers. It's free, and who better to help improve your business than your customers?
Invite feedback. This encourages a positive view of your business - it shows you embrace criticism and are always looking for new ways to grow in line with your customers' needs.
Boost your brand with additional elements
Become more than a shop / service - a website gives you the tools to grow as a brand:
Create content - write relevant, high quality blog posts or content related to your brand or product.
Link to social media - create awareness and fun conversations around your brand. Attracting new customers is as much about engaging them emotionally as it is convincing them your product is worth buying.
Promotion for your brand becomes easy! You can send newsletters, host giveaways, offer discounts and promote sales - all from your website! This is a great way to gather new customers as well as retaining the ones you have.



Want Your Own Website?

Start Building Today!

No credit card needed. By submitting this form you agree to our

T&Cs

and

Privacy Policy

.





Showcase your products / services and take orders
Of course, having a website isn't just about telling people about your business; it's an opportunity to show off your products or services at their best.
If you're a service provider, like a photographer or a landscape gardener, you can make a portfolio to show off your best work.
Web users want to be able to find things quickly. They want to be able to see product examples and easily make a purchase there and then, or they'll go elsewhere. Don't just show what you sell - make it easy for people to jump straight into a purchase.
Price your products realistically but don't be afraid to mark up. People will pay more for the convenience of buying online.
If you want to know more about how to make your first sale and increase numbers, download our FREE guide here.
Extend your opening hours - and your profit margin!
A website never sleeps! Unlike a physical shop, a website is open 24/7. Purchases can be made at any time at the customer's convenience. Imagine waking up to your inbox full of sales!
Once you're up and running, a lot of the work has been done for you. With a Create website you can:
Get a 'Coming Soon' page instantly while you build your ideal site
Choose from a range of clean, professional templates to get the perfect design for your brand
Have an online shop selling up to 10,000 products
Have a dedicated customer Account ~Manager to answer any queries you might have
Easily link your website to up to four social media profiles
A website gives your business credibility
These days people expect businesses to have an online presence - in the same way that a physical business address was expected before the internet.
Without a website you risk looking technologically incompetent or unprofessional. It's easy and quick - so why not start a free trial with Create today.
The phrase 'small business' can make you feel nostalgic for a time of independent family-run enterprises. But getting a website doesn't have to detract from this - it can add to it.
Expanding a business with a website makes it more likely to survive in an increasingly digital age, where customers use the internet to research services and products, and expect to do this at a time convenient to them rather than just in traditional business hours.. Your small business can still act and think local, but with a website it has the potential to be visible to a much wider audience and introduce more areas of interest, sales and potential revenue.
If you'd like to start a website why not try Create today? We make it easy for you to make a website in just a few clicks, and if you have any questions - ranging from how to get started to how to generate sales - your free, dedicated customer Account Manager is only an email away.