Blog > What Makes A Great "About Us" Page (With Examples)
Posted By Create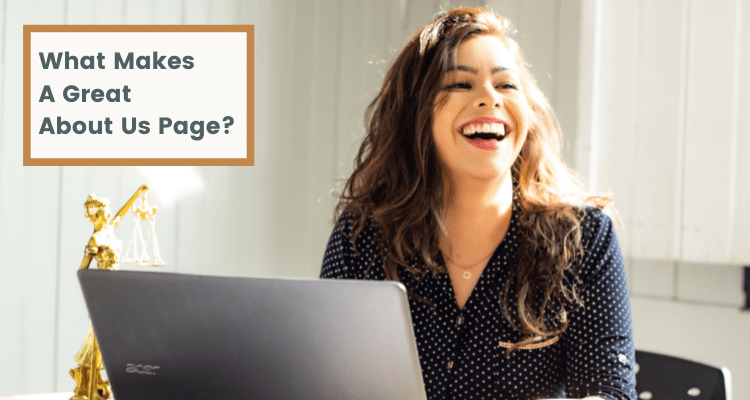 About Us pages… Every website needs to have one. If you're setting out to build a website, or if you already have, it's likely one of the first pages you will have created.
If you're anything like me, writing about yourself is one of the hardest topics to do well (despite being the number 1 authority on the subject!). Outlining the criteria you need to cover on your About Page is the first step to making your life easier.
So what makes a great About Us page? We can break it down into three key parts


Who you are

What your values are

What your mission is


They're almost like past, present and future components for your writing. When people visit this page, they want to get an insight into what a company stands for and what they represent before they decide to do business with them. They want you to give them the reasons to connect with your business emotionally.
To do this, you can share the roots of your passion and how you got started (past), the values that drive your business day-to-day (present), and what your ambitions are for your business (future).
In this blog, I'm going to outline exactly how you can convey these points with writing prompts and examples. So if you're stuck for inspiration when it comes to putting your best foot forward, I'm here to help.
What to Include in an About Page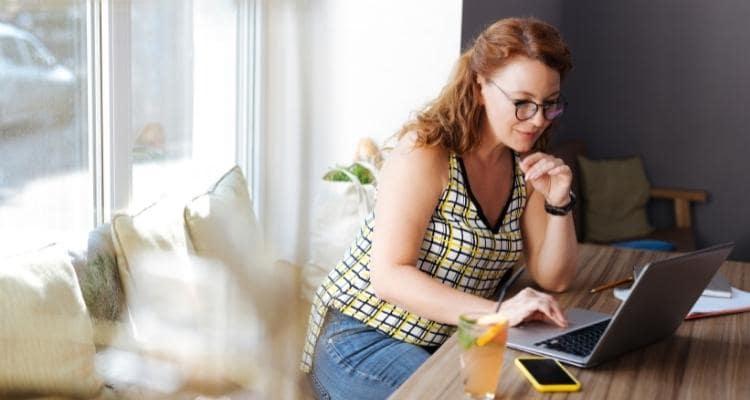 Breaking your page down into sections is the easiest way to keep your writing focused and objective. This is really easy using Content Blocks in Create.
Below are some ideas for sections you can write about. You don't necessarily need to include all of them. You can pick and choose what fits for you. I've outlined how each section can provide insight to your customers.
Your About Page is your space to convey everything wonderful about your business and your personality. Be sure to include some imagery to make the page pop too!


How Your Passion Began
Where did you first learn that you had a passion for what you do? Tell the story of how you first discovered excitement for your work or creations. Everyone loves a story, especially one where someone has found the courage to live their passion. As a bonus, it really helps to convey your level of experience and qualifications if you've been passionate about your work or craft for a while.


How Your Business Started
What was the trigger that turned your hobby or passion into what you wanted to do as a business? A lot of big brands don't bother to tell this story of humble beginnings. Not only is it inspiring for others, but it's also an opportunity to convey authenticity.


What Was Your Motivation
Small business owners and entrepreneurs often have a reason beyond earning money that drives them to succeed. A business is a platform to effect the change you'd like to see in the world. What are those values that made you take the leap? This is hugely important in helping customers or clients feel like their values align with yours and appreciate your efforts.


What to Expect When Working with You
Particularly for service businesses, clients will want to know who they are working with and what to expect from the point they send an enquiry. You can help to put their minds at ease by sharing a bit about who you are and how you'll guide them through the process from start to finish.


What Are the Core Values Driving Your Business Today
Business is fraught with difficult decisions and challenges that can define a company at certain points. What are the values you hold in business that act as your north star? What keeps you always aligned with these values? This helps to build trust in your potential customers or clients. They know that these are values they can hold you accountable to as well.


What Are You Currently Working On?
Is it business as usual or do you have a project outside of making money that you're working on? What do you have going on in the background that represents the values you're aligned to or moves you closer to achieving your mission? Actions speak louder than words so if you have something you're working on, share it!


Your Recent Work
Galleries can help bring a page to life. Do you have pictures of you working on any projects? You can add these in to demonstrate your passions and / or values. Carousels are a great way to do this and validate what you're saying on the page.


Where to Find You on Social Media
The perfect supplement to your About Page is a few links to your Social Media accounts. Your About Page tells your story, but your Social Media gives your audience the freedom to follow your story as it happens and celebrate your successes with you along the way. There's a selection of Social Icon Content Blocks you can choose from to highlight your profiles beautifully on the page.


What Are Your Goals for the Future?
What are you working towards to create a better future for everyone? Are you focused on creating a more sustainable future? Contributing to charities? Creating opportunities in your community? Whatever you're striving towards, share it with your audience so they can get on board with your ambitions!


What Does Your Roadmap Look Like?
You could take the previous point a step further and map out your plan for reaching your goals with milestones. This is an engaging way to bring your audience on board and can provide a lot of social content and cause for celebration with your community every time you reach one of your milestones.


BONUS: Include Testimonials
Your customers or clients will always be able to convey all the positive, glowing points about your business more powerfully. The experience of one person reflects perfectly what other people can expect from your products or services. It's important to always be asking for testimonials wherever you can and asking the questions that highlight the best parts of your business.
About Us Page Examples
So you know some of the key components that can help to create an impactful About Us page, but how does this look in practice?
Below are a few examples across different industries that you can draw inspiration from. As mentioned before, they don't contain every example from above. They take what works for them to create an authentic and insightful glimpse behind the scenes at each company.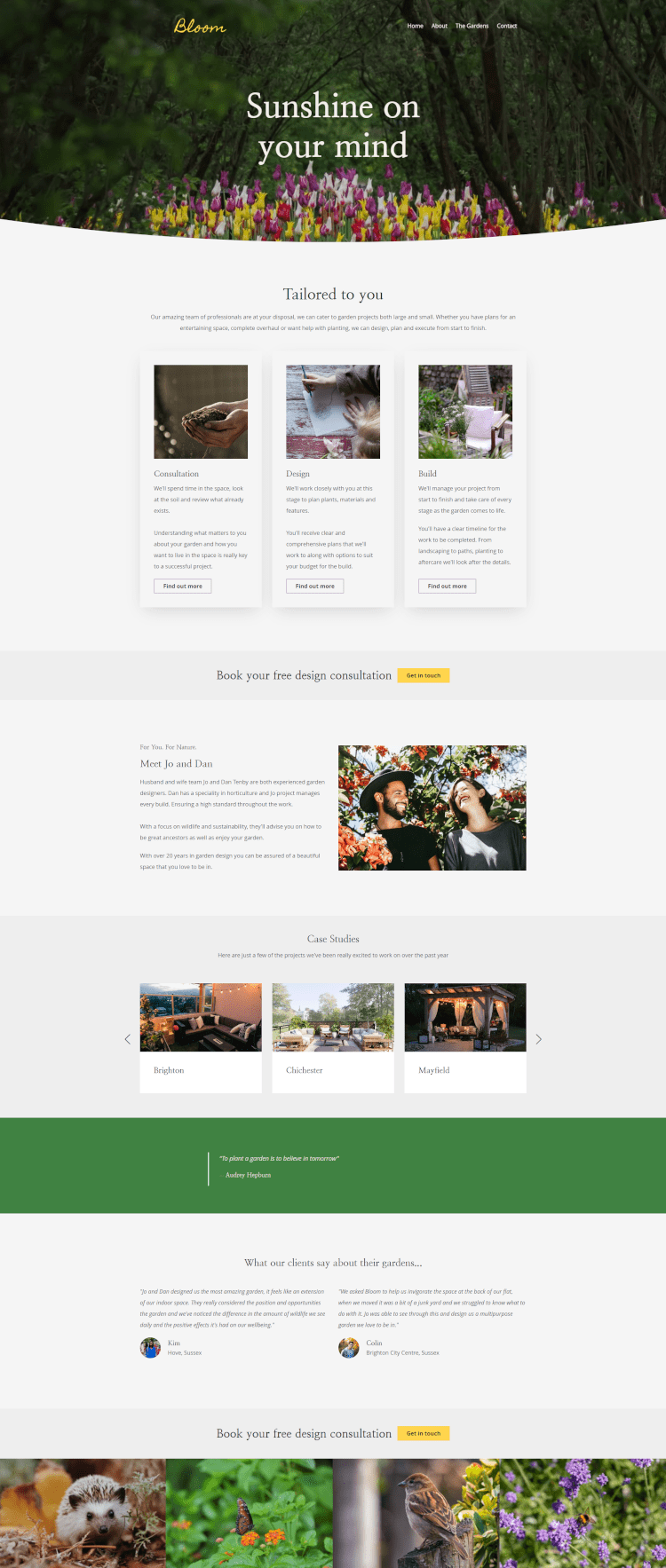 Bloom does a fantastic job of conveying to potential clients exactly what to expect from making an enquiry. It can be daunting to reach out without knowing what the next steps are. Everything is outlined on the page along with details of who you can expect to be working with.
The first Block on the page is a Collection going through each stage of the process; the consultation, the design work, and the build. They each link through to the relevant pages on the website that explore these steps in more detail. It's all perfectly outlined so clients can feel at ease getting in touch. A call-to-action encouraging visitors to enquire immediately follows this if they're ready to get in touch.
Following that, the owners introduce themselves. They display their level of experience and their specialities in this short and sweet bio. They share their focus and passion for sustainability and care for wildlife. It's so important for service businesses to give an idea of who people are getting in touch with. Clients are won over primarily by who they're working with so make sure to put yourself out there and display your personality!
The next Block features a carousel of case studies for projects they've completed previously. This is ideal for talking about previous customers' experiences and helping new customers visualise what you're capable of and whether your work fits what they have in mind for their project.
The page ends with an inspirational quote and a couple of client testimonials. As always, testimonials are ideal for a short and snappy way to build trust with your audience. If you've been able to meet and / or exceed previous clients' expectations, it demonstrates that you can for any potential clients out there too. Again, this is followed by a call to action to make an enquiry as the next step of the visitor's journey through your website.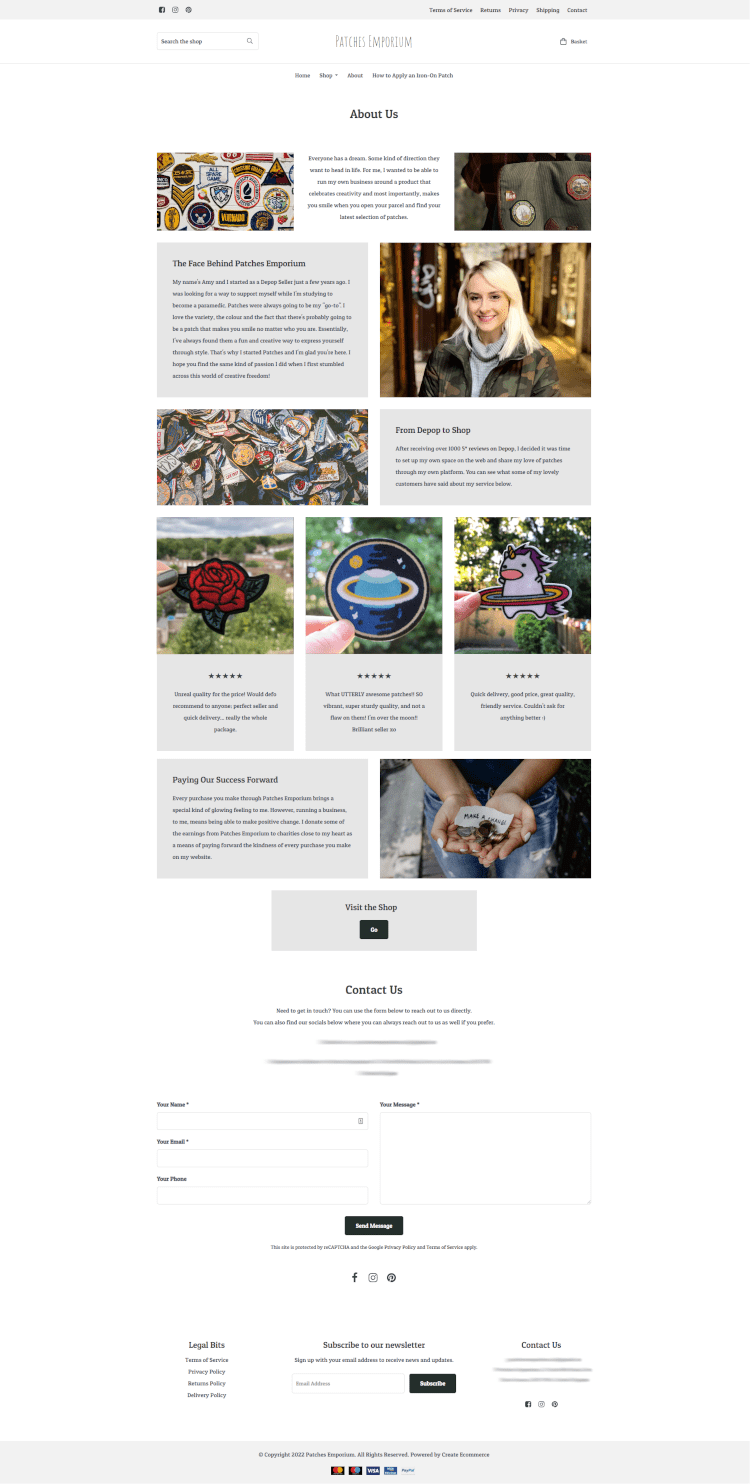 The About Page for Patches Emporium focuses on the personal angle and story of the owner. It speaks about why they got started and the passion they found for their product along the way.
The page starts with a brief introduction of why they do what they do. It demonstrates a passion for iron-on patches that they hope those visiting their site share.
The page continues to show the face behind the business. This goes a long way when trying to connect with your customers. It demonstrates that your business isn't just a faceless money-making machine. It goes from humble beginnings of running a side business to finding a love of the product they continued selling.
Further down, they display the huge amount of positive testimonials they've received. This is a perfect way to build trust and validate everything being said on the page. You don't need this many testimonials to make an impact, but you should by all means show off what people have said about you!
Finally, the page mentions that they try to pay forward the kindness of every sale to charitable causes where they can. It doesn't go specifically into what charities they are but details can be found on their select patches, giving them the freedom to support a variety of causes close to their heart.
Also important to note is the contact information and social links at the bottom of the page. They encourage people to get in touch if there's anything they need help with, and social media is an ideal way to encourage your audience to get on board with the stories you are sharing.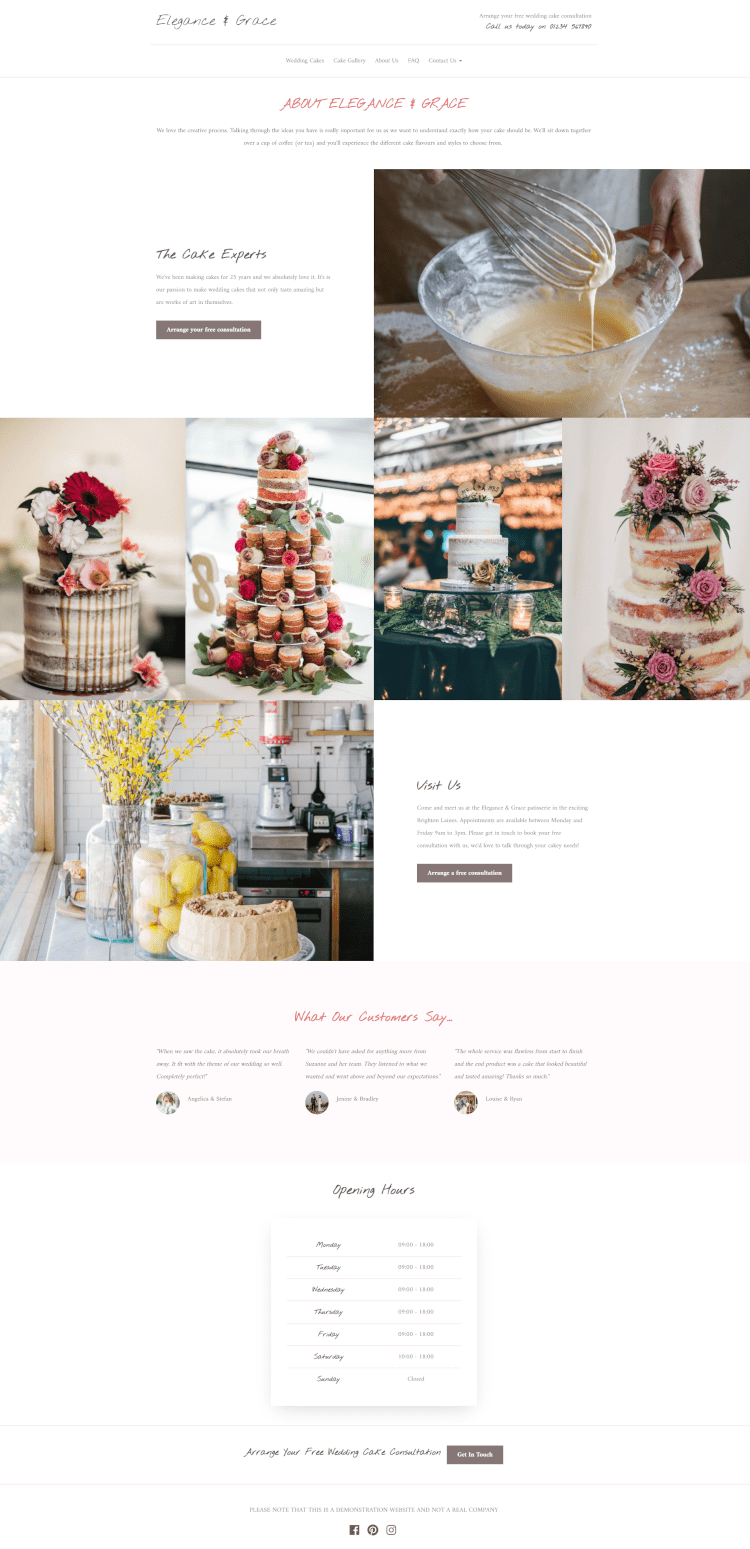 The great thing about bespoke, creative services is that often enough your work can speak for itself. This is exactly what Elegance and Grace capitalises on by keeping text short and letting bold and bright examples of their work take the main stage.
The page starts by putting anyone thinking of making an enquiry at ease. It demonstrates the importance of having a sit down and getting all the details right so the cake they make is perfect on the day. At the same time, they demonstrate friendliness by offering to talk it all through over a cup of tea or coffee.
They highlight their experience in the industry and their passion for making cakes. It's mentioned that they have been doing this for 25 years. More than enough time for any clients to feel rest assured they're in safe hands.
There are details as to where they are located and their opening times. Having these details doesn't overtly display anything about your business behind the scenes, but it's important to have so that anyone who makes an appointment can clarify the details without having to ring you up again.
Again, the page ends with three testimonials from previous customers, all shining a positive light on how amazing the cakes they received were and what an impact the Elegance and Grace service had on them personally.
One more thing that is important to note is the use of Calls-to-Action throughout the page. There are buttons at each step to encourage you to make an enquiry and book a consultation. It's important to keep your objective in mind and always be helping your website visitors take the next step.
About Us Page Templates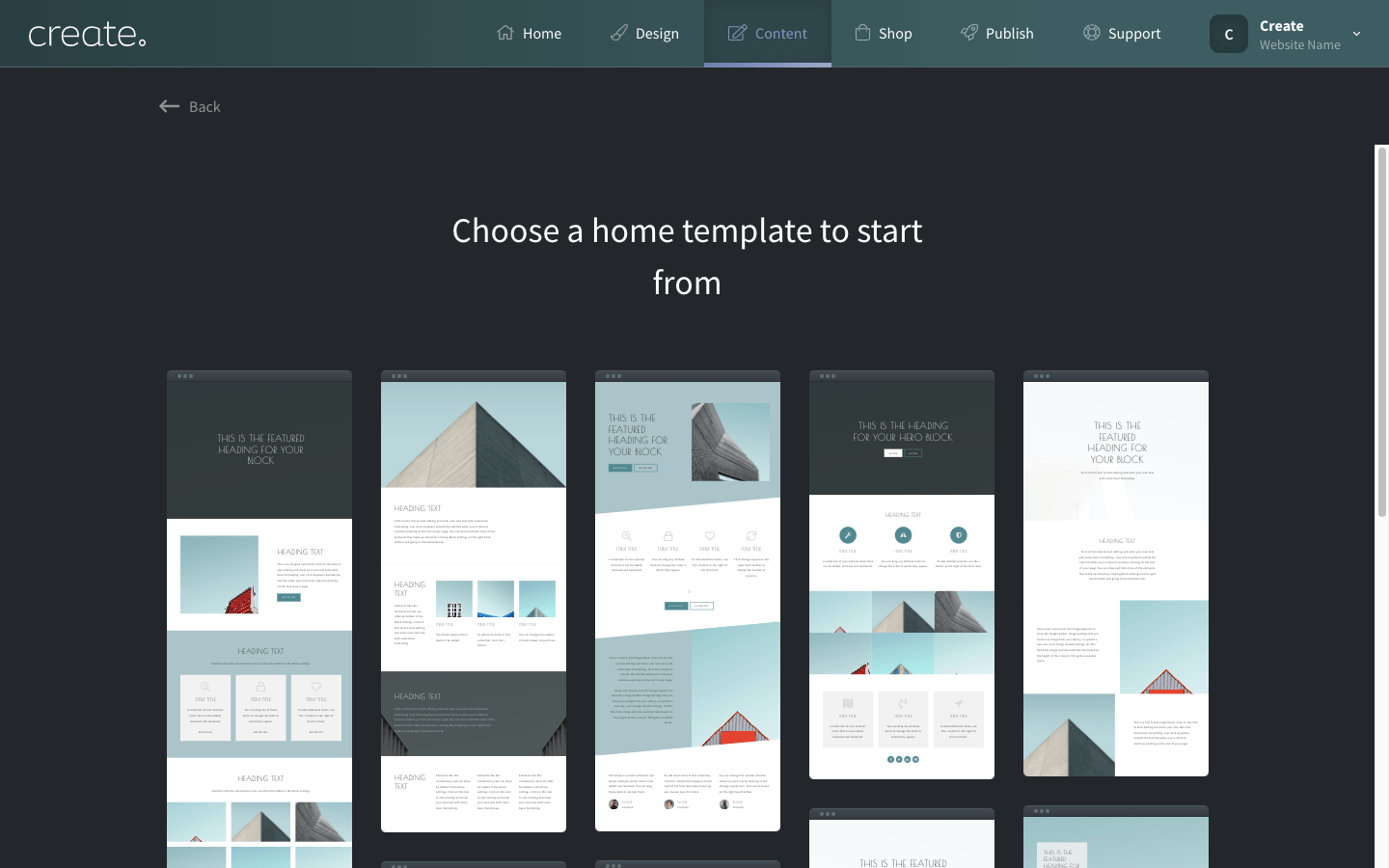 At Create, we want to help make building the pages of your website as straightforward as possible while offering the best results. There's the option to build your page from scratch, but you can also get a head start with some of our fully customisable Page Presets.
When creating a new page, you'll see a selection of page types you can select a preset from. The Home Page presets are a fantastic option for also building your About Pages. Selecting any of these will automatically import a selection of Content Blocks that you just need to fill in with your own content.
I know that, personally, I struggle to get started when I have a blank sheet in front of me and having the Page Presets helps to get ideas and creativity sparking. From there, I can customise to my heart's content to build a professional-looking page that fits the feel of my website perfectly.
If you're looking to give your About Page a freshen up, why not create a new page and give this a go for yourself!


Want Your Own Website?
Start Building Today!
No credit card needed. By submitting this form you agree to our
T&Cs
and
Privacy Policy
.
Wrapping Up
Your About Page is a window to express everything that's wonderful about your small business to your customers. It's a place to share your passion and creativity, the projects you're working on, and it gives you an edge over your larger and colder competitors who aren't bold enough to share their personality with their audience.
Taking the time to build an About Page that connects you with your audience is well worth the time, and I hope the tips in this post helps to offer some inspiration to fulfil your page's potential.
Once you've built your About Page, why not get some feedback on it from other small business owners? We have a Group on Facebook for people using Create to build their websites where you can get this kind of feedback; along with other website-building tips and opportunities to introduce yourself to a warm and welcoming community. We'd love to see you there!
Related Posts