Blog > Site Migrations - How to Move Your Website to a New Platform
Posted By Create
Are you looking to move your site to a new website building platform? Whatever your reasons for wanting to migrate your site elsewhere, the idea of actually doing so can feel quite daunting.
This doesn't have to be the case. While you probably have a lot of questions, the process is usually quite straightforward and can be done with little interruption of your live website.
Any good website building platform will guide you through the process step-by-step as best they can, helping you transition as seamlessly as possible. With that being said, it's a good idea to acquaint yourself with the fundamentals of moving your site so you have an idea of what to expect. This guide will walk you through the key points so you can feel more confident in moving to the right website building platform for you.
Choosing the Right Website Builder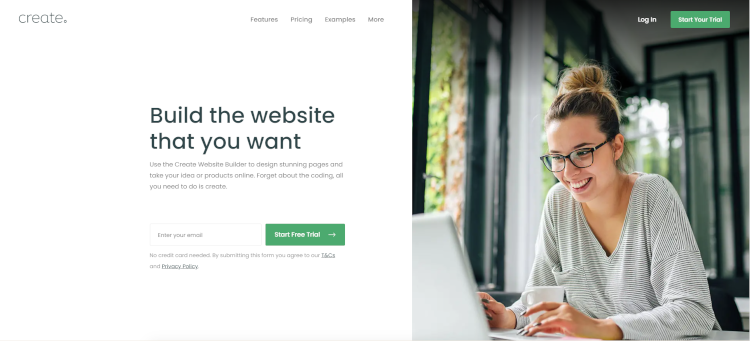 Before you get started with transferring any part of your website, you should first take the time to figure out which platform is right for you. It takes time to migrate a site to a new platform, but the outcomes can be really beneficial, especially if you haven't updated the site in a long time and it's become outdated. It's an opportunity to consider things like the user experience of your site and the objectives of your pages afresh and this can lead to positive outcomes.
The first step would be to check out the reviews of different website builders to see what other business owners are saying about their experience. Websites like Trustpilot offer a very fair picture of what you might expect of a platform should you make the decision to move your site there. Make sure when you're choosing a platform that you consider how much support you want to have access to as well. Some platforms are very self-service orientated with minimal facilities to contact customer service. This may be fine for some highly experienced, professional website builders. However, as a business owner, you may find it beneficial to choose a website building platform that has readily available and friendly support so you can get back to focusing on what matters to your business.
Once you have an idea of which platforms you might like to try, it's time to test them out. All good website building platforms will offer you an opportunity to try out their tools for free. You can use this free trial to experiment with replicating one of your pages. Take your time to familiarise yourself with the tools, ask any questions of the team and get acquainted with the platform. If you have an online store, now would also be a good time to replicate one of your products too in order to see if the platform's ecommerce tools feel like a good fit for you.
By taking the time to assess each platform thoroughly, you can settle into a new website builder for a long time and build a relationship with their team that helps keep your website in tip-top condition and with fewer day-to-day maintenance worries.
We welcome you to try the free trial of our platform. The Create Website Builder is designed to help small businesses get online and build a beautiful presence on the web without the need to know how to code. Our friendly team is based in the UK and are on hand to help with any questions or concerns you may have.
Replicating Your Website's Design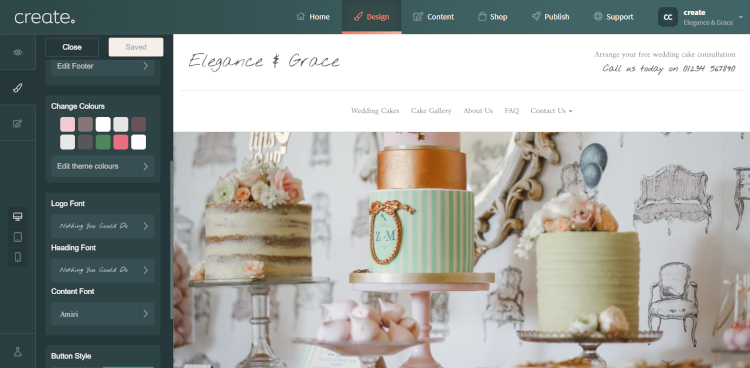 All website builders have different capabilities and ways that they structure web pages on the backend of their platform. With this being the case, it's very rare that site owners will be able to build exactly the same website on another platform. This could, however, represent an opportunity to try out some new things and breathe refreshed life into your website as a result of your site migration.
One of the first tasks of setting up a new website is to select a template to build your site from. This will be a foundation from which you can work and structure your pages. Create has many templates suited to different industries for example. You can either select one that closely resembles your previous site or choose a new one that you feel holds a lot of promise.
When setting up your design preferences on your new build, you should take note of what fonts and colours you use for your brand and design that you want to take forward. All good website builders should be using the Google fonts library for its compatibility with websites and its extensive selection of fonts. The reason to use this is to load the fonts online in the browser so your visitor sees the site the same as you. Previously if the visitor didn't have the fonts on their computer they'd see it in Times New Roman or Arial, which obviously didn't always have the effect the designer wanted. You should also make a note of the hex codes of your main website colours (for example #2f4649). These should be easily transferable between different website builders.
When you have these elements set up, you can start to structure your pages. Website Builders all have different mechanisms for how you do so and you'll want to find one that feels comfortable for you. For example, Create utilises Content Blocks to structure pages. These are customisable sections of content such as text, images, videos or any combination of each that you can drag and drop onto the page and customise.
You can use these blocks to build a similar version of your previous website or experiment with some variations. Whichever you choose, you should always keep the primary goal of what you want your website to achieve foremost in your mind when designing your pages, and build a pathway towards this objective for your users. We discuss this concept more in our article on building a home page that works for you.
Moving Content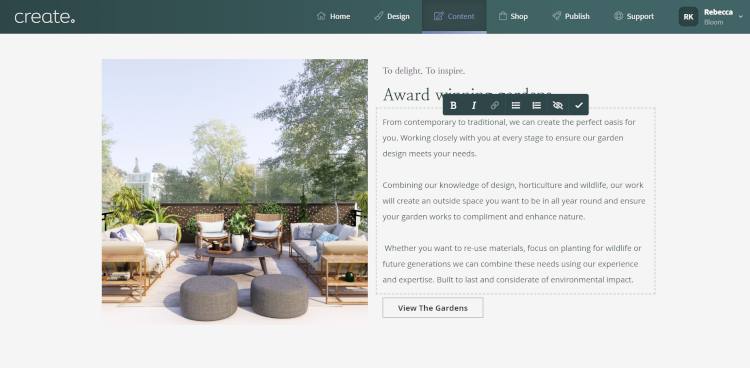 In very much the same way that you can't import your design preferences because of how tools work differently between platforms, there isn't a way to import and export pages and content from one website building platform to another. The transfer will need to be done manually.
For the most part, this can be as simple as having your existing website open in one tab, and your new website builder open in another and copying and pasting your textual content into your new pages. At this point in time, you should also be sure to copy across any meta information you had already set up on your previous website building platform.
For your images, we'd recommend downloading them from your existing website and adding them all to one folder so they're easily accessible for adding into your new website as needed. Take the opportunity to also delete any you don't need, starting just with a clean slate of the resources you use.
If this isn't something you have time to do yourself, you could hire the services of a web designer to take care of this for you. At Create, we would be happy to handle the whole transition for you as part of our website design services.
Moving Products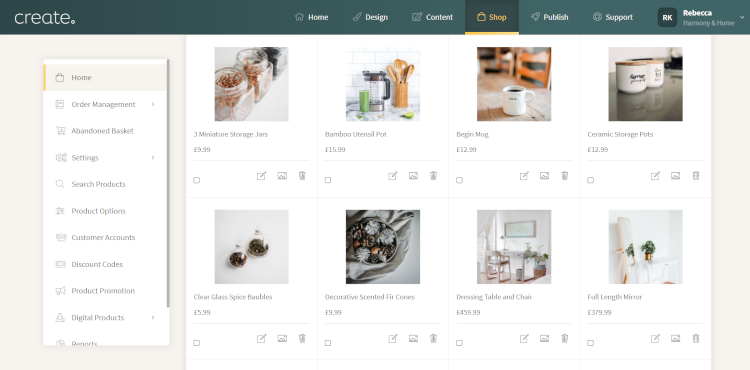 Moving your products from one platform to another can sometimes be done differently to moving content. If your store has just a few products, it can be a straightforward task to replicate your products in your new platform by recreating the listings. However, For ecommerce store owners who have thousands of products, it's simply not practical to recreate each listing one by one. Fortunately, your products can be exported from your old platform and imported into the new one in many cases.
The process of importing and exporting products will differ from platform to platform, but this is usually done by downloading all of your product listings as a .csv file so you can edit them as a spreadsheet. You'll need to re-configure the fields to match the parameters of the new platform you're moving to before uploading.
Once re-configured, the new platform can read and understand the information from your previous shop. You should have a check through several of your products to see that everything is displaying as you would expect, but otherwise, the process will be complete.
This can, at times, be a complicated process, so we'd always recommend keeping an unedited version of your list of products available. At Create, we always encourage that if you're uncertain about any part of the process simply reach out to our expert Account Managers who are on hand to offer their assistance.


SEO Considerations



With a change in platform comes a likely change to how your site is structured and therefore, you may want to make some preparations in terms of your website's SEO. You will need to make search engines aware that a change has happened in order to make sure your traffic is all going to the right place.
It's not uncommon to see a drop in rankings when a site migration takes place. This is while search engines determine the new structure of your site and where all your pages are. In order to make the transition as smooth as possible, you should consider which pages you'll need to set up redirects for and make sure to submit your sitemap.
For any pages where your URL structure has changed and you were receiving a significant amount of traffic, you can set up a redirect that sends visitors of your old page to your new one. This will also pass along a portion of the SEO page authority to your new page.
Get started with Custom Redirects >>
Once your website is live, you should submit your sitemap to Google Search Console and Bing Webmaster Tools as soon as possible. A sitemap is essentially a road map of your site and will tell search engines how your website is structured. Making sure they have this information as soon as possible will help them to reindex your new site and take note of any changes that much sooner. On Create, we automatically generate your sitemap for you so you can submit this to the search engines right away.
Find out more about sitemaps >>
Moving a Domain Name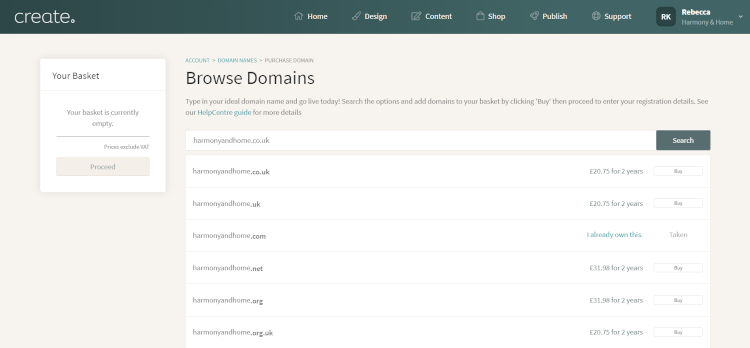 Your domain name is the URL of your website. You will have already purchased one when you first published your website. Naturally, when moving your site, you will want to transfer your domain name with you as you will have already established yourself under that URL and you wouldn't want to start from scratch.
Any domain can be transferred to a new platform. Typically, this requires asking your previous registrar to unlock the domain and provide you with an authorisation code that you'll then provide the details of to your new registrar. However, the process of doing so differs depending on your TLD (whether your URL ends in .co.uk, .com or any other variation) and there may also be fees involved in the transaction.
Find out how to transfer a .co.uk domain >>
Find out how to transfer a .com domain >>
Sometimes it's not necessary to do this and the domain name can be easily pointed to your new website by changing the DNS records. This means you don't need to worry about alterations to any other services you might have associated with the domain name like email accounts.
Transferring your domain is the last part of the process of migrating your site to a new platform. The good news is that you can get everything moved across before taking your previous site offline. When everything is ready with your new provider, all you need to do is authorise moving your domain name across and you can publish your website seamlessly with no disruption to your website.
Take the First Step Today
Want to get started? Why not explore what Create can offer by signing up to our free trial? You'll get access to all the platform has to offer so you can explore the features you need to excel online. During this time, our expert Account Managers are on hand to answer any of your questions about moving your site and offer their input and advice to make the process as straightforward as possible.
What's more, when you choose Create you'll be using carbon-neutral hosting that is greener and better for the environment. We've also spent time optimising our tools behind the scenes to make websites faster and more efficient. Find out more about our sustainability endeavours here.
We've helped thousands of business owners set up their websites and grow their presence online. If you are looking to transition to a new platform, we're here to help.