Blog > How To Use Pinterest To Promote Your Website
Posted By Create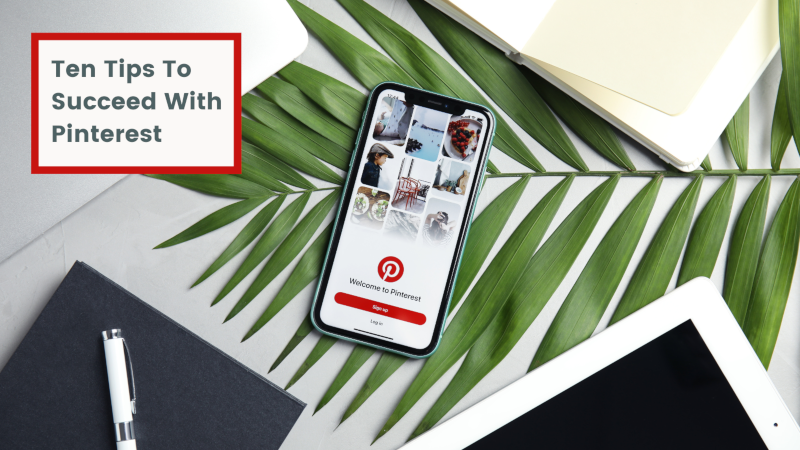 Pinterest is a social media platform unlike any other. While Facebook and Twitter and TikTok (etc.) scramble and fight to release new, competing features, Pinterest stands resolute with a formula that has worked for years.
If you've found yourself on Pinterest, you'll likely have realised how quickly time can pass as you are absorbed into a world of beautiful imagery and inspiring ideas.
Pinterest certainly knows how to captivate the people on its platform. As a business owner, you can use this to your advantage.
If you get the formula right, you could find Pinterest sends you thousands of monthly visitors to your site. Here are our tips on how to get started:

Find Out What Works
As with all things, a little bit of research beforehand can help you go a long way. Take a look around the platform and see what's working for other people in your industry. You'll soon find out what type of content people engage with and no doubt it will turn up some inspiration for content you can create. To start out with, try to find at least 10 different formats to experiment with and see which of them resonates with your audience the most.

Claim Your Website
Before getting started, you'll want to make sure you have claimed your website with Pinterest. This is a very straightforward process that will pave the way for getting more out of your profile from a business perspective. It will let people know where they can find more of your content on your Pins, as well as grant you access to analytics for your content on their platform.

Brand Your Boards
One of the best things about Pinterest is how easy it is to share (or pin) people's content. This means you have the potential to be pinned on hundreds of boards relevant to your industry, but you have to make sure your name is seen. Make sure to include your brand within your boards and on pins so no matter where your content is shared, you always get the kudos.

Create Pinnable Content
Design isn't everyone's strong point (if it's yours, I'm envious). However, to succeed on Pinterest, you've got to make sure your content is striking and visually engaging to get people clicking and pinning. If you're like me and struggle to build graphics from scratch, you should check out Canva. They have hundreds of templates that you can use to create stunning visuals specifically for Pinterest.

Make Your Website Content Pinnable

There are those who are actively looking to keep building up their boards with content they find online. So it's great news when they land on your site! You should make life as easy as possible for anyone to pin your content. This can be achieved with an Image-Hover "Pin It Button" which is quick and easy to set up following the steps in our guide. This code will make sure that whenever someone hovers over an image on your site, the option to create a pin using that image (with credit to you) will be available for them.

Do Your Keyword Research
In many ways Pinterest is more akin to a search engine than a social media platform. Much like achieving your SEO goals, proper keyword research and implementation can help you succeed on Pinterest. The targeting options within their ad campaign creation tools are a fantastic resource for finding keyword ideas on their platform. Once you have some ideas, be sure to include keywords in the titles and descriptions of your pins and boards.

Set Up Pinterest Shopping Features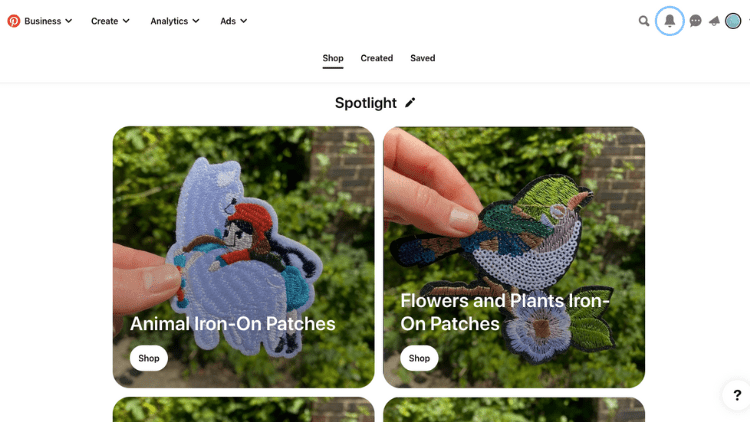 If you have an online store, Pinterest can massively help you to promote your products. Their shopping features allow people on their platform to click straight through from one of your pins to your shop page where they can make a purchase. If you're using Create, our Pinterest Shopping integration will allow you to upload your catalogue of products and Pinterest will create pins of each for you. Find out more about how Pinterest can get you more exposure for your products in our blog on Sales Channels.


Want Your Own Website?
Start Building Today!
No credit card needed. By submitting this form you agree to our
T&Cs
and
Privacy Policy
.
Become A Pinterest Verified Merchant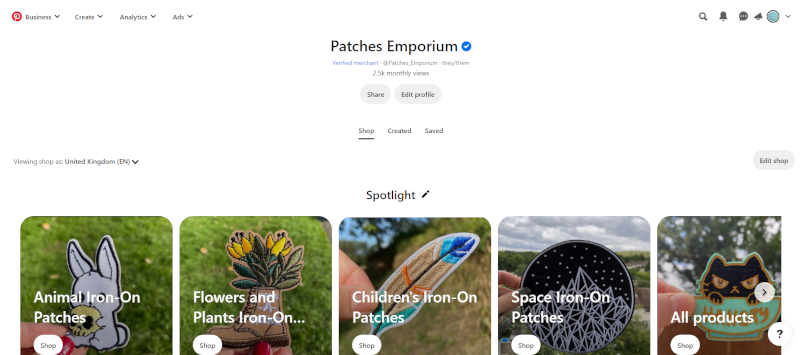 Further to setting up Pinterest Shopping features, you can also apply to become a Pinterest Verified Merchant. Their program can help you improve the visibility of your products, as well as add a blue tick to your profile and product pins. This can be an important trust factor that can greatly improve your clickthroughs, proving to people that your shop has been vetted and trusted by Pinterest. Find out more about becoming a Pinterest Verified Merchant.

Engage Where You Can
One of the key metrics for any social media campaign is engagement. Pinterest has moved in a direction, over the years, that has meant that engagement isn't a key part of their experience. This isn't to say it isn't worthwhile doing where you can. In fact, as engagement is rarer, it's somewhat more valuable on Pinterest.
Be sure to flesh out your boards with other creator's pins within your industry that provide value to your audience (so long as they don't compete with what you offer). Commenting on popular pins within your niche and adding value where you can to the community can also help to get you noticed.

Analyse Your Performance
The secret to growing online is knowing what you're doing right and replicating it where you can. Pinterest offers its own set of analytics to help you determine what's working for you on the platform.
When you access the Analytics tab, you'll find you can filter by metric. A lot of these metrics can look quite promising but always be aware of the business value of each. For example, if you find a pin with a lot of impressions and outbound clicks, this could be worth diving deeper into what drove these figures and replicating the success across future content.

Wrapping Up
Pinterest offers so much potential for your website compared to other social media platforms. Where content is fleeting elsewhere, with practice, you can create pins that stand the test of time and drive success for your business.
Don't forget, if you have an online store and want to get ahead of the competition, you can find out more about our integration to create Pins for all your existing and future products with Pinterest Shopping.


Want Your Own Website?
Start Building Today!
No credit card needed. By submitting this form you agree to our
T&Cs
and
Privacy Policy
.
Want more tips and ideas on how to start and grow your website? You can make sure you never miss a trick by getting our email updates. We share the latest news from our blog along with tips and ideas you can utilise to grow your business online.