To become a Verified Merchant on Pinterest, you will need to add a Pinterest Tag to your website to meet the requirements for their platform.
As a verified merchant, your Pinterest pins may appear organically to people who are searching for products and shopping on Pinterest.
Create supports the ability to add a Pinterest tag as part of our Business package and we recommend doing this after you have set up your Pinterest Catalogue.
Locating, adding, and testing the tag is a quick and simple process that is outlined in this help guide.


How To Locate Your Pinterest Tag ID

How To Add Your Pinterest Tag ID To Your Create Account

How To Test The Pinterest Tag Is Active

How To Locate Your Pinterest Tag ID
Please follow these steps to locate your Pinterest Tag ID.
1. Log into your Pinterest account
2. Click the Ads drop-down, followed by Conversions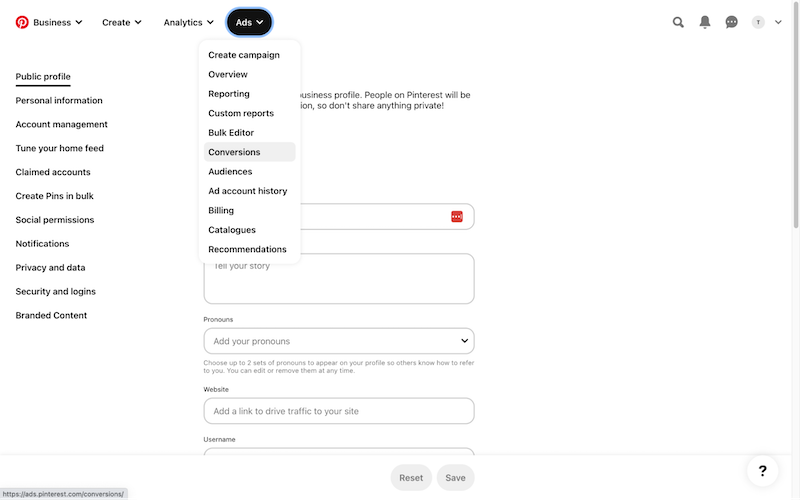 3. Click Tag Manager from the left-hand menu, followed by the Get Started button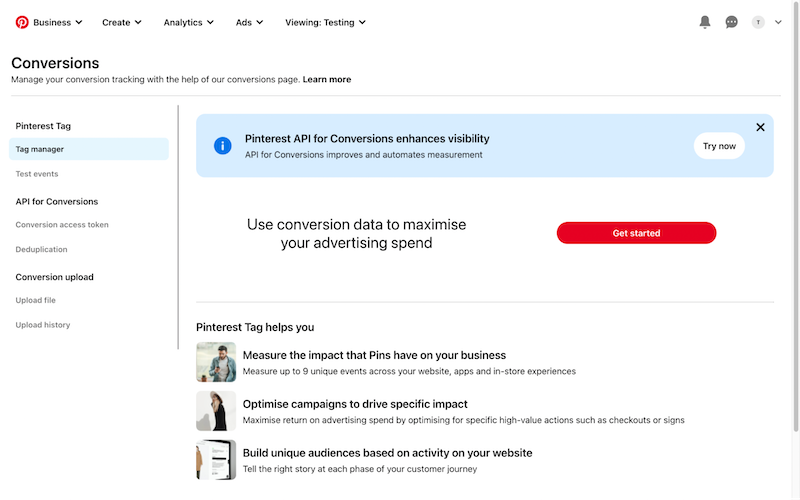 4. Your unique Tag ID should be displayed in the top-right of the screen, see the image below.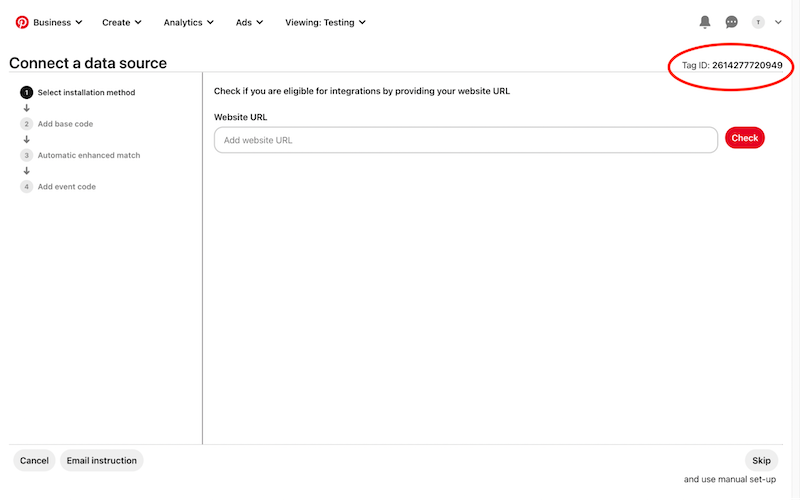 5. Copy the Tag ID as you are going to add to your Create account.

How To Add Your Pinterest Tag ID To Your Create Account
1. Log into your Create account
2. Click Content from the top menu followed by Tracking & Analytics in the left-hand menu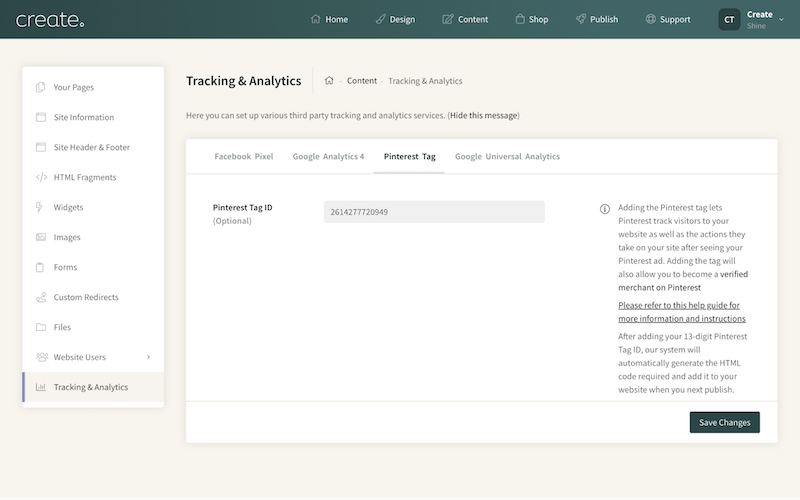 3, Click the Pinterest Tag tab in this section and paste the Tag ID you previously copied into this area.

4. Click the Save Changes button
You will need to re-publish your website to apply this ID to your website.
How To Test The Pinterest Tag Is Active

After locating the Tag ID and adding it to your website, you can test to see that the Tag is detected by using the Test Events section within Pinterest.
1. Click Ads from the top-menu
2. Click Test Events from the left-hand menu

3. Enter your website URL and it will open in a new tab. Navigate around your website, clicking on various different pages.
Event data should then start appearing on the test screen, like in the example below.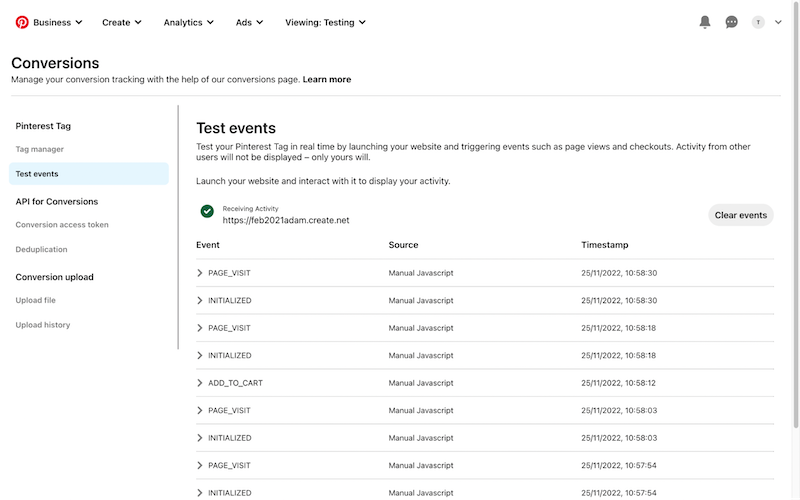 With this tag in place, it should allow you to become Pinterest Verified which Pinterest will complete for you automatically.
Please note that in order to remain on the verified program, Pinterest requires there to be an activity that triggers the PageVisit, AddToBasket, and Checkout events at least once every 7 days. If this doesn't happen, you may receive a notice from Pinterest warning you that you may be removed from the Verified program. Having a single sale through your checkout will resolve this.
If you happen to have a quiet period or close your shop for a duration of time, you can reactivate the connection by putting through a manual order, using the Manual payment option via the Payment Gateway section of your account. Just remember to disable this option, after using it to make an order.