Jump to Section:
---
One of the biggest challenges small businesses face marketing on Instagram is how they connect their audience to their products. With so little scope on most accounts to link between a profile and a website, it can be a frustrating process trying to encourage click-throughs. The Instagram Shopping feature is the best way to overcome this.
Instagram has always been strict on the number of links they allow on their platform and so they restrict an average user to just one link in their bio. You can utilise this link in your bio reasonably well by creating an Instagram Landing Page - Allowing you to reference your bio link in posts and creating a library of links to more effectively direct your audience to the relevant parts of your website…
But we all know - It would be much easier to have the link right there on the post or story.
If you have a business selling physical products, Instagram Shopping allows you to do so. This feature of their platform allows you to add tags to your posts and stories that will link your audience through to your website. This helps them to find and purchase your products more effectively so you can start converting more of your Instagram audience into customers.
What's more, is that with Create's Facebook Catalogue Tool, you can link all of your social platforms up and not have to worry about your product details and stock levels being misrepresented across Facebook or Instagram as everything is managed for you and kept up-to-date.
Here's how you can get started:
Instagram Shopping Requirements
In order to use Instagram's Shopping features, your profile must first be approved by them. This can take a few days to happen so to save time, be sure to check your profile meets their criteria before applying:


You must also agree and comply with Instagram's Merchant Agreement and Commerce Policies. You will be prompted to do so as part of the setup process.
How to Set Up Instagram Shopping
1. Go to Commerce in the left-hand menu of Facebook Business Suite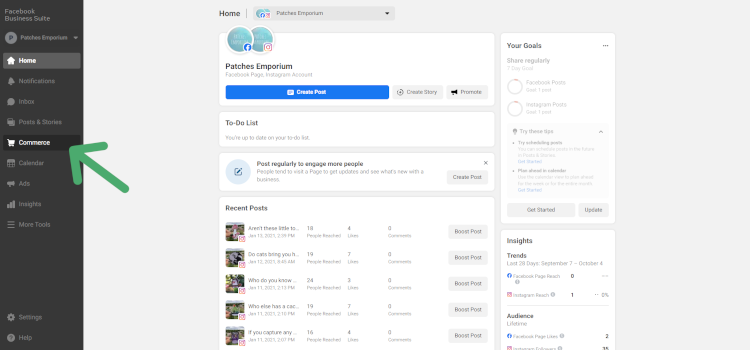 2. Click on the Catalogue you created before



3. Click Shops in the left-hand menu and then Go to Shops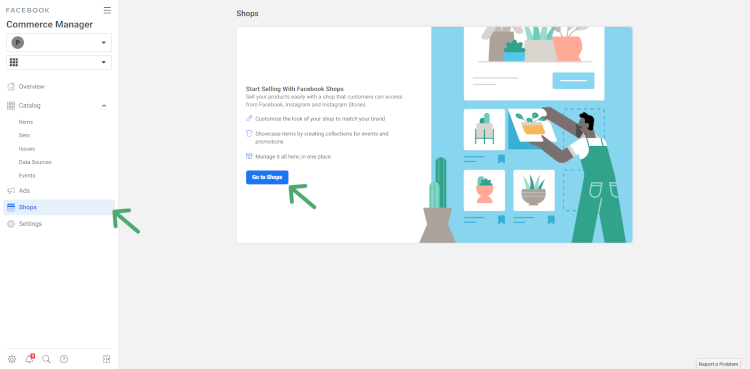 (Please note, if you intend to set up Facebook Shopping features in addition to your Instagram Shop, you can set this up at the same time.)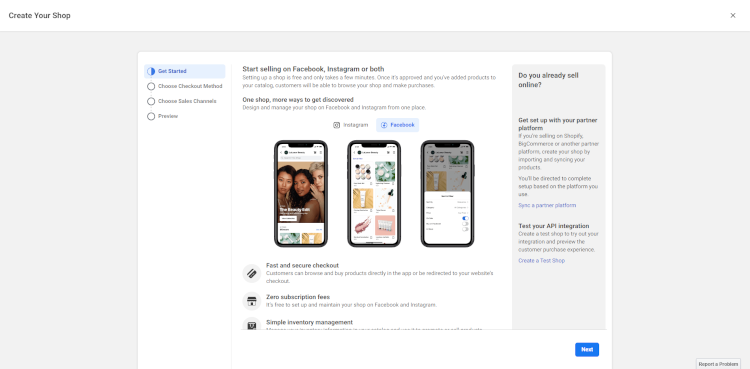 4. Leave the Checkout on Another Website option selected and click Next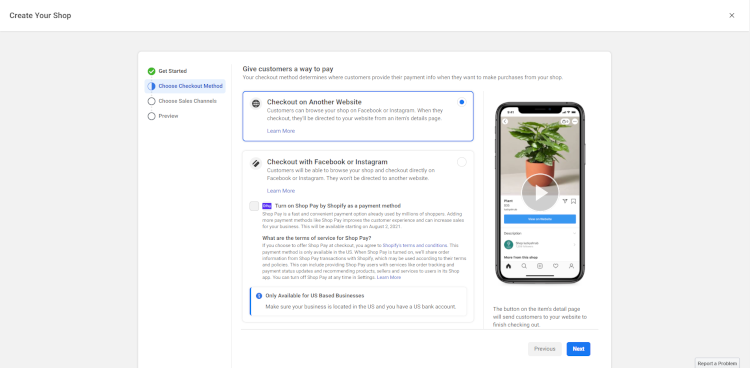 5. Select which sales channels you would like to set your shop up on and click Next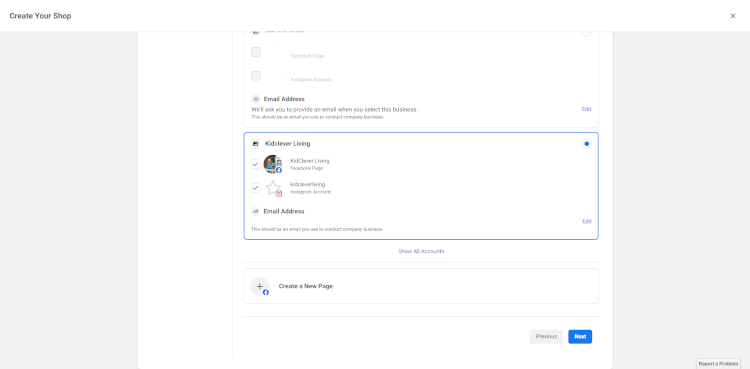 6. Select which countries and/or regions you ship to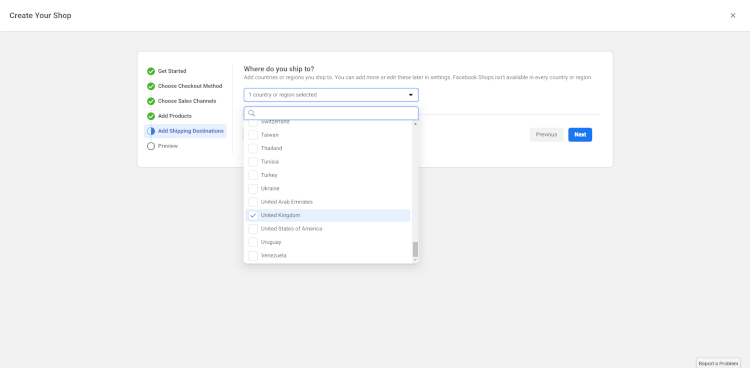 7. Review your setup and the Facebook Seller Agreement. When you're happy, tick the box to agree to Facebook's Seller Agreement and click Finish Setup.


Your Instagram Shop will now be set up. There will be a standard review process which usually takes around 24 hours to start tagging products and 2 weeks to fully publish your Shop.



8. When you next sign in to Instagram, you should receive a notification once your Shop has been approved and you can start adding your products. Tap the new Shopping icon on your profile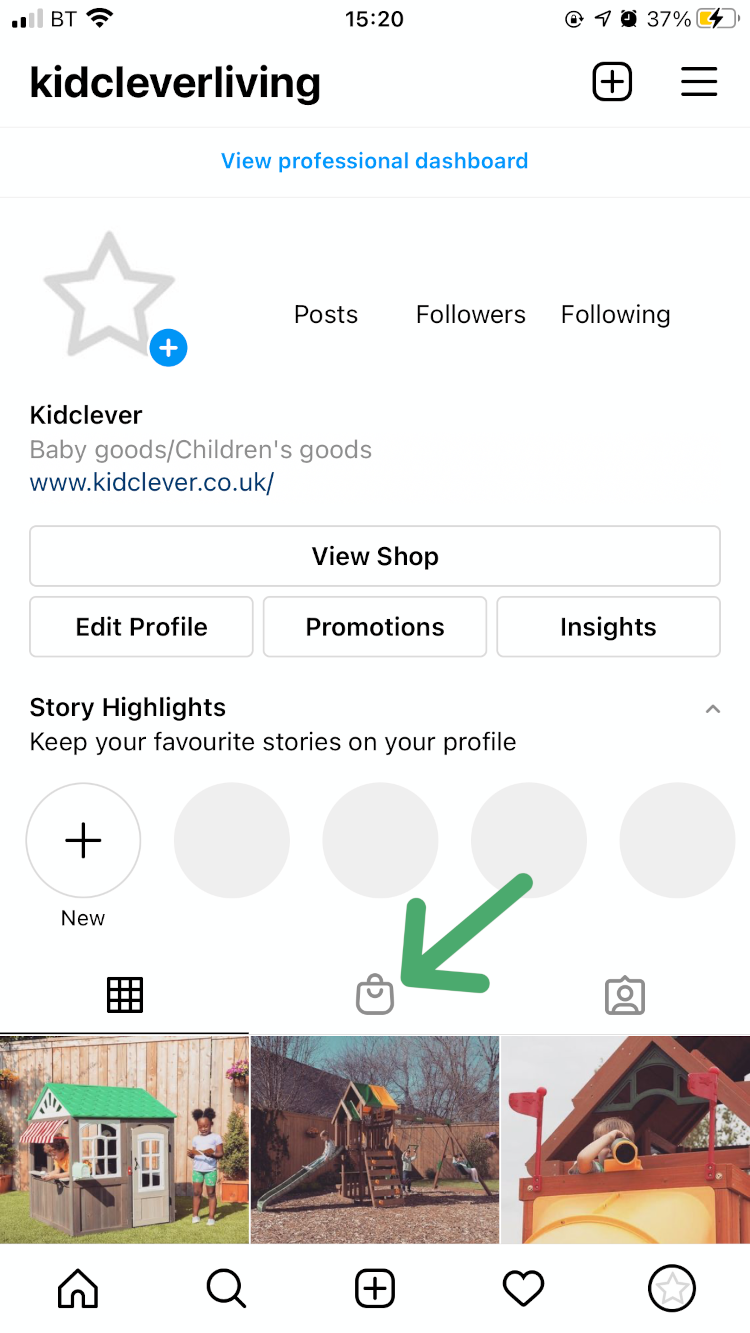 9. Tap Add next to each of the products you'd like to display in your Shop




The setup for your Instagram Shop will now be complete. You can also tag products in any of your posts or stories. Find out how to do so below.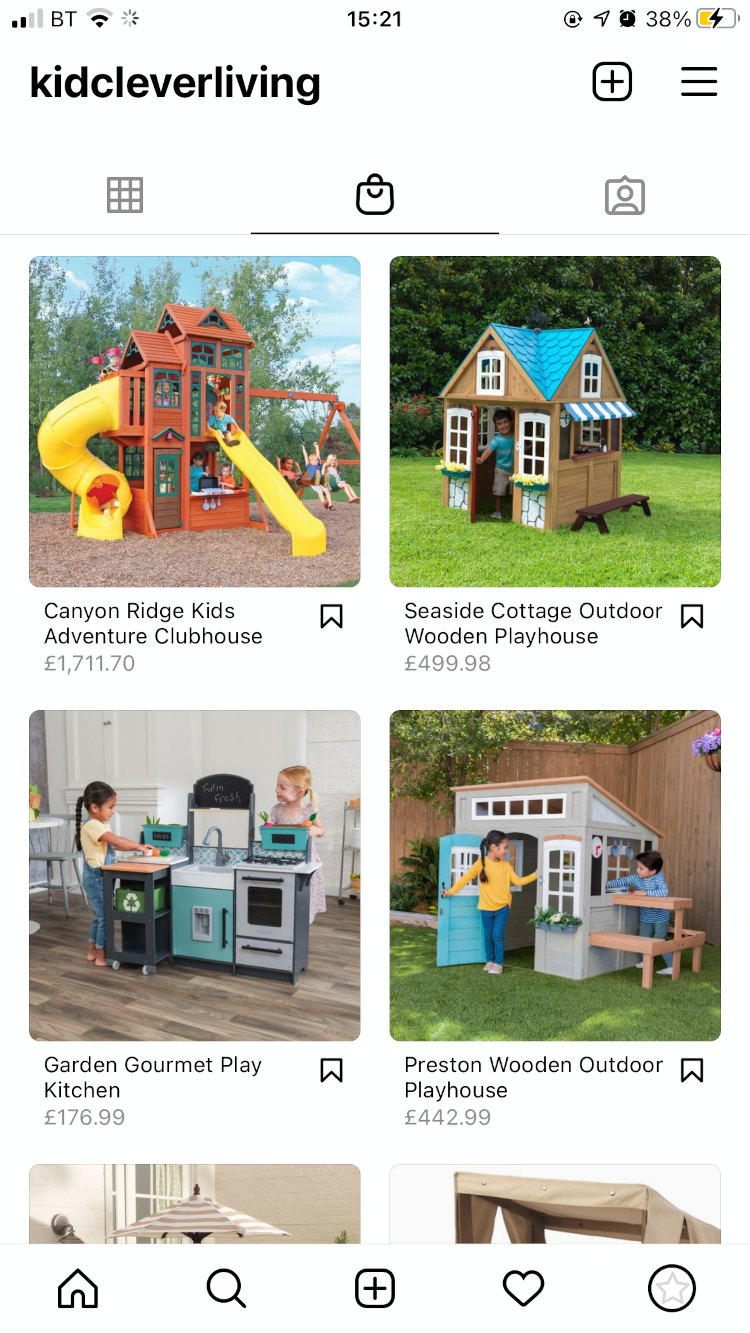 How to Tag Products When Posting to Instagram
Tagging new uploads to Instagram is easy. You can tag up to 5 products in a single image or video post. Alternatively, you can post up to 20 products in a multi-image post.
The process is still the same: you pick your photo, edit where necessary and add your caption. Now you've set up Instagram Shopping there will be a new option available to you called "Tag Products". You'll see this once you've been approved by Instagram.


Tagging a product is very similar to tagging people in your images. Simply tap where you would like your tag to appear (this can be repositioned later), select the product from your catalogue that you are tagging and click done once you're finished. When you publish your post, this tag will now be visible to people who tap your image and in your Instagram Shopping Tab. You can tag more than one product in a photo too.


How to Tag Products in Existing Posts
You can also tag any images that you already have on your Instagram feed provided they are in your Facebook Product Catalogue. To do so:


On your phone, go to the post you would like to tag with a product

Tap the Ellipsis in the top-right corner

Select Edit

Click + Tag in the bottom-left corner of the image

Select Tag Products

Tap the image where you would like the tag to appear. (You can drag and reposition this later)

Select the product from your catalogue
Your followers will now be able to see this and follow the link in your Instagram Shopping tab when they tap your photo.
How to Tag Products in Instagram Stories
Instagram Stories are a great way to create engaging posts for your audience without bombarding their feeds with your posts. They only last for 24 hours but this time limit also allows you some creative freedom without posts cluttering up your profile.
Stories come with a lot of engagement features and creative flairs. You can draw on your posts, create text and add stickers to your Story. Some of these stickers allow for your audience to engage. For example, you could have a poll, host a Q&A or encourage people to click through to your products for sale.
To create Instagram Shopping Stories:


Go to your Instagram Profile on your phone and tap your profile picture to create a new story. (If you already have a story post, tap your logo in the top-left to add another post to your story)

Take a picture using your camera or select an image from your library from the bottom-left of the screen

Tap the Stickers icon from the top of the screen


Select the PRODUCT sticker

BONUS: you can also select the SUPPORT SMALL BUSINESS sticker to showcase your latest posts or those of any small business that you love to encourage people to click through to that profile!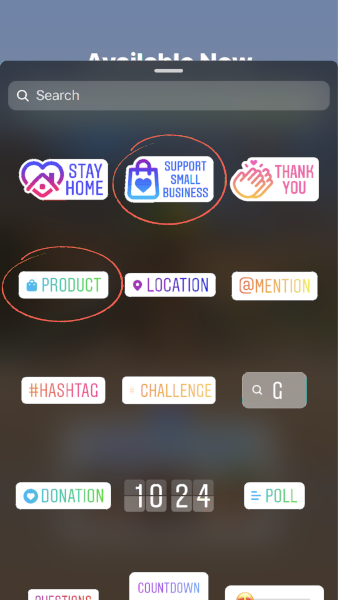 Select your product from your catalogue
Edit the product name if required and position the sticker where you would like it to appear on your story.


Your Shoppable Instagram Story will now be live. You can view it by tapping your profile picture.
FAQ


How long does it take to be approved for Instagram Shopping?
In some cases, being approved could take just a matter of hours. In other situations it could take a few days or even up to a couple of weeks. If you haven't been approved in this time, you should open a ticket with Facebook to find out what's happening.


I haven't been approved by Instagram, what can I do?
This will be because Facebook consider your account likely to be in violation of one of Instagram's Commerce Policies. You will need to review these Commerce Policies to see where your account may be in violation, make any changes and then wait until you are able to resubmit your application to use the feature. If you think you meet the criteria, open a ticket with Facebook to discuss this with them.


Why are there no products showing in my Instagram Shopping tab on my profile?
When you are accepted to use the feature, your Instagram Shopping tab will be empty until you start tagging your posts. The Instagram Shopping Tab will not import all your products from the Facebook Catalogue. Instead they will build up the products in your Instagram Shopping tab as you tag products on your Instagram posts.


Why are products I've tagged showing as pending?
It's likely that your product goes against Instagram's Broad Level Policy and will be subject to review. Check to see whether your product fits with Instagram's Commerce Policy. If your product isn't accepted but you feel it meets all the criteria, you can reach out to Facebook to find out more and try to correct this.


Why can't I sell directly on Instagram?
Instagram Checkout from Facebook is currently in BETA testing and is only available in some parts of the United States. They plan to roll this feature out to more countries in the future.


Does adding a product to my Instagram Story add it to my Shopping Tab?
No, only products that have been tagged in your posts will then appear in your Shopping Tab. However, you can save your Stories as Highlights so that they will always remain on your profile. This would be a great way to sort your stories into categories for shopping.