Blog > Highlights of 2021 at Create
Posted By Create
2021 has been a year of many challenges to overcome. It's been especially hard for small businesses who've had to work harder to keep afloat during lockdowns, prepare constantly for the unknown and act quickly in changing circumstances.
We've all had to adapt in different ways to keep moving forwards and many of the features we released last year were built to help you do just that. We've brought you ideas and tools that help you tailor your website in order to save time during the day, improve your website visitor's experience of your site, and to overcome challenges and achieve the results you're striving for every day.
It's been our goal to not only help you manage the difficulties of 2021 that you've been faced with, but to take the next steps in your online journey and flourish. Alongside the developments to the Create platform, we've also brought you two new services where we can take a more hands-on approach in helping you build your website and identify where you can improve.
We've also put more focus on creating a more sustainable web and dedicating ourselves to the green initiatives we're working on. With climate change and its effects on the news almost every day alongside the pandemic. We've worked harder than ever to spread awareness and combat the challenges of the planet's digital carbon footprint.
Read on to find out more about what you might have missed and how it can help you succeed in 2022.
Updates to Content Builder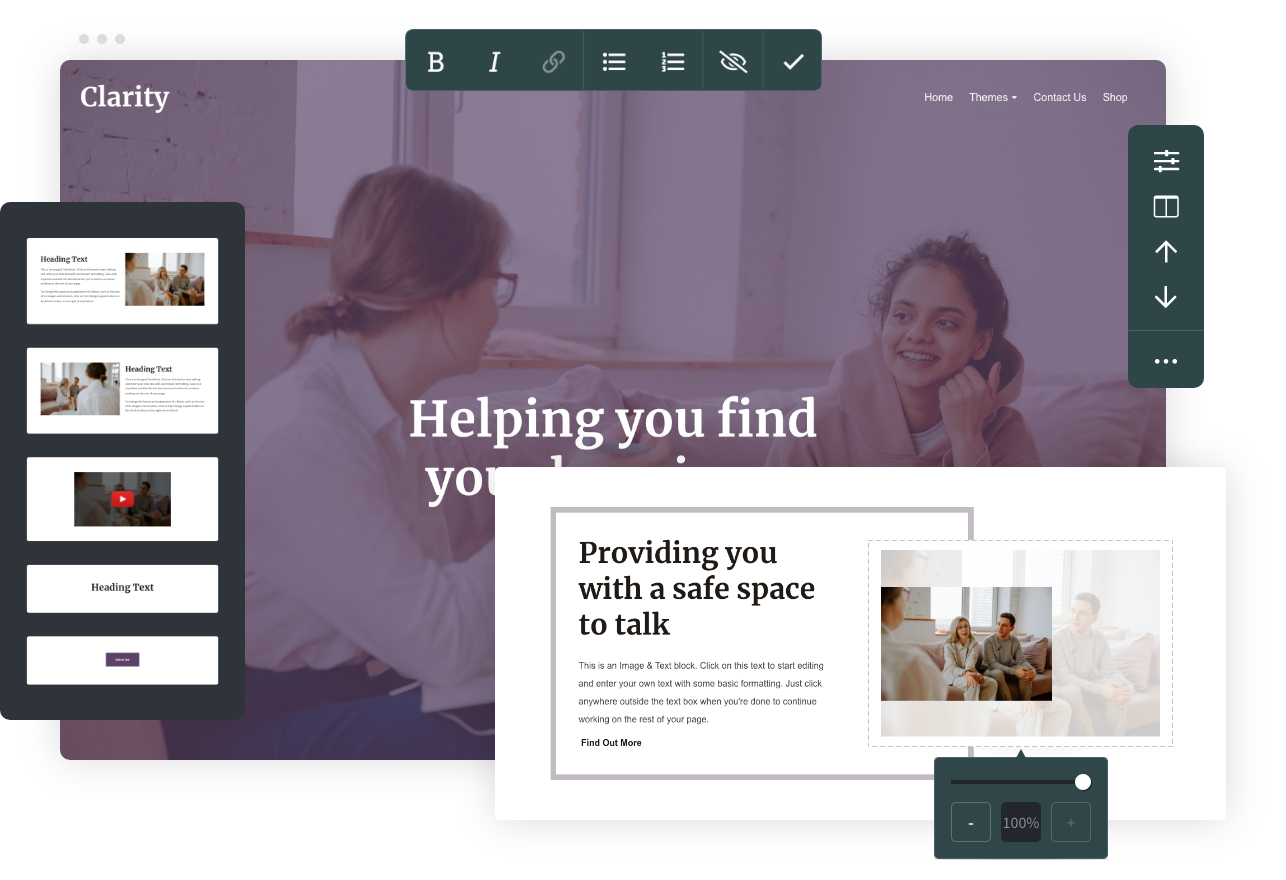 When it comes to building websites, we're always striving to make the process as simple and straightforward as possible. At the core of Create is our Content Builder that helps you drag and drop Blocks to quickly and easily make your website pages. Towards the end of 2021 we released several new improvements to how you find Blocks and display them on your page.
When searching for a new Block, you'll find our new Block Selection Tool. This interface allows you to filter our entire library of Blocks by using the specific criteria you're looking for. Whether you're looking for a Block that includes text and images or a Block for a specific purpose like contact fields or calls to action, the Block Selection Tool makes finding the ideal Block for your page easy. You can even search for how many columns of content you need to dial down your search to be more specific to your requirements.

We've also built in the new Block Layout Tool that allows you to change how the contents of a Block is displayed on your page. You can choose how many columns your content is divided into and its alignment on the page. This saves you time having to go back and find the Block you're looking for and instead allows you to try different formats in just a couple of clicks.
Find out more about our updates to Content Builder >>
Buy Now, Pay Later Options
Pay Later services have been around for a while, but since 2021, they've really come into their own as more people buy more products online. This is why we worked hard to bring this functionality to your Create stores so that you too can offer this service to your customers.
Both Klarna and PayPal Pay in 3 are available to add to your checkout. These allow your customers to spread the cost of their purchase across a convenient time frame. This added convenience can lead to higher basket values and conversions as the pressure of paying all at once is lifted.
We're only expecting the demand for this kind of service to increase through 2022 as it becomes more mainstream and customers come to expect these types of options available at checkout. If you haven't gotten started yet, now's a great time to get ahead!
Find out more about PayPal Buy Now Pay Later >>
Website MOTs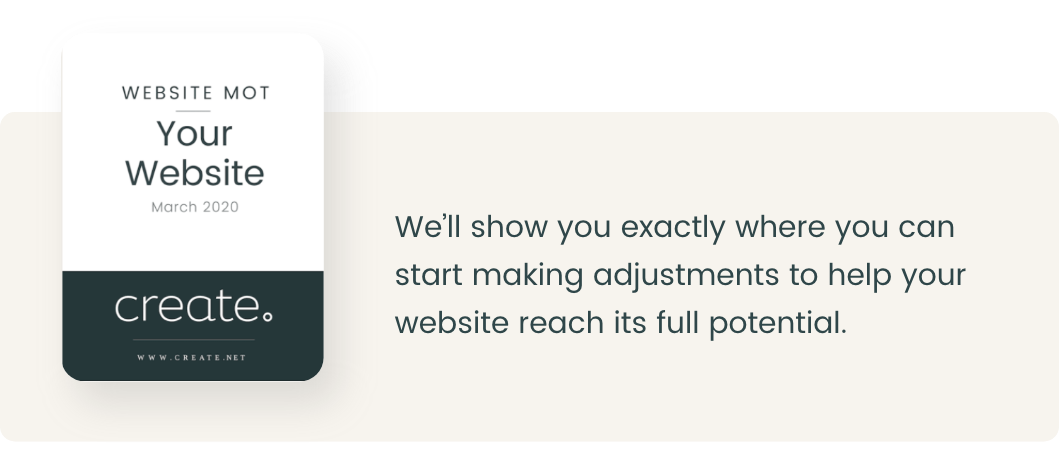 Knowing whether your website is reaching its full potential can be a hard thing to gauge and there are a wide range of aspects that can be looked into in order to boost your website's performance.
We aim to collate all this information for you into one handy report with our Website MOT Service. This service looks over a broad range of subjects, including the design, content and accessibility of your website, with any suggestions and improvements summarised in a checklist for you to work through at your convenience.
The Website MOT Service has been incredibly popular over the past year and has helped a wide range of users, spanning a variety of industries, improve the effectiveness of their websites. If you're looking to do the same for your website but don't know where to start, this could be the service for you!
Find out more about our Website MOT Service >>
Royal Mail Click & Drop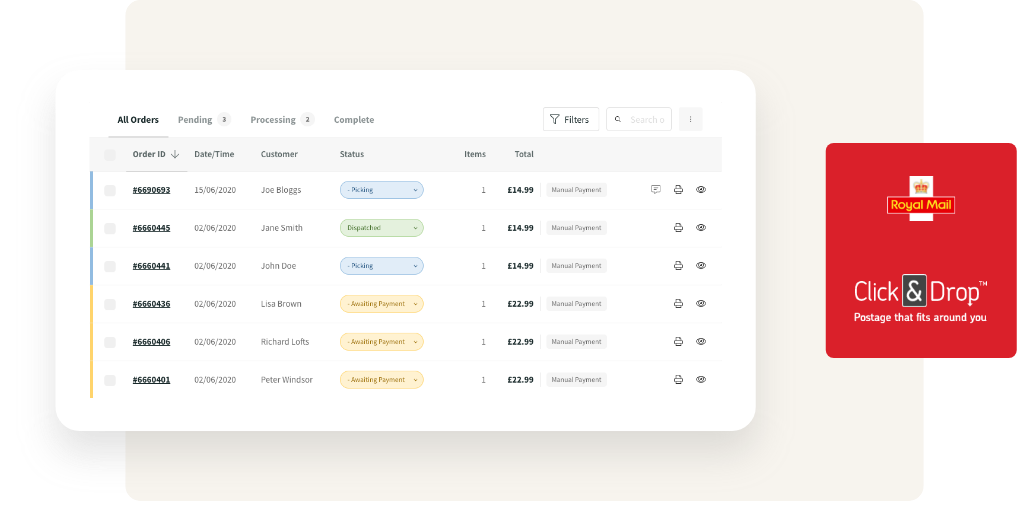 We all know that queueing at the Post Office can be a chore. Especially when there are hundreds of other things we all need to get done in the day. Time is our most valuable resource so it's important we claim as much of it for ourselves as possible. We built the Royal Mail Click & Drop integration to help you skip the queue and get back to what's important in your day.
Each time you make a sale on your website, your Order Management can now relay the postage information to your Click & Drop account. From here, you can print all your postage off at once and simply drop the parcels off at your nearest collection point.
Getting acquainted with the Click & Drop service has a ton of other benefits to it as well. It's a complete resource for tracking and managing your parcels and postage, and can even save you some money on your postage costs. It's definitely something to check out for your ecommerce store in 2022.
Find out more about Royal Mail Click & Drop >>
New Category Layouts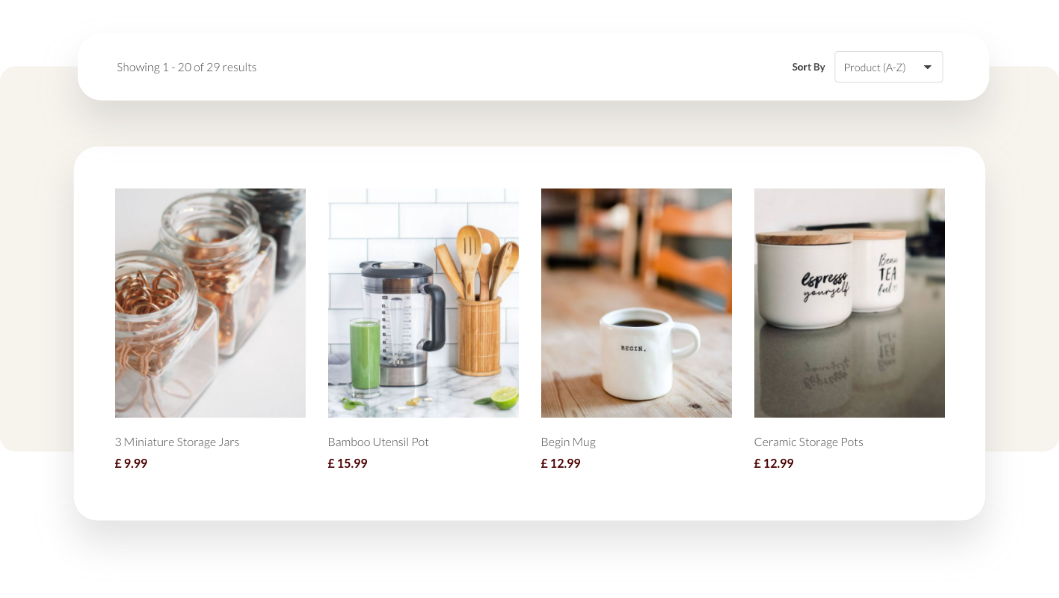 In 2021, we wanted to give you more freedom in how you present your categories to your shoppers. We built the new Category Layouts to give you more choices when you style your shop and new functionality to improve your customer's shopping experience.
This release updates the current existing category layouts and once chosen unlocks new aesthetic and functional options.
The new options include the ability to more deeply customise your design in this area so that it matches your brand and website as a whole. It also allows you to tailor your visitor's buying journey with new quantity boxes and Add to Basket buttons.
These options allow you to create a shopping experience that works for both you and your customers. They permit you more freedom in how you want to display your products as well as adding new functionality that can help you cater to your customer's shopping style.
Find out more about Category Layouts >>
Website Eco Checker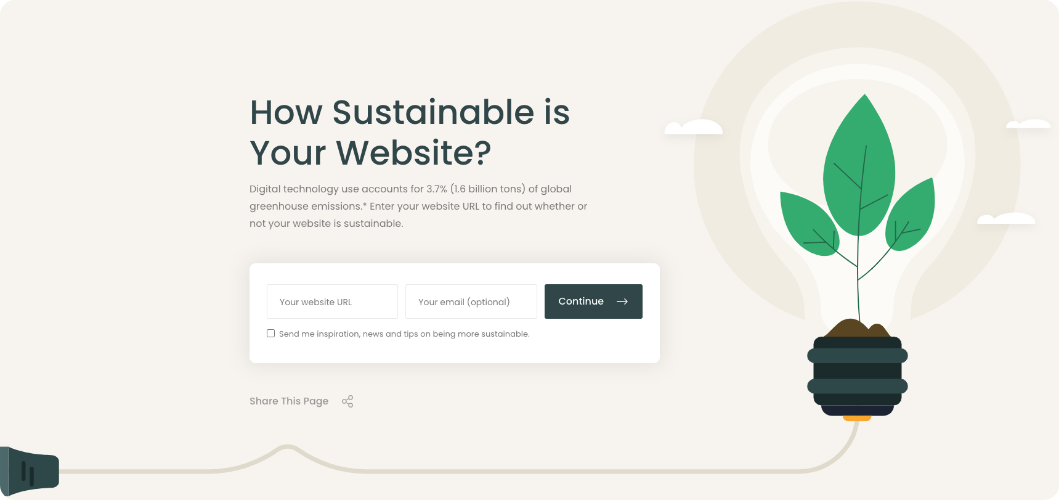 Over the last year, we've set out to improve our own digital carbon footprint and the footprint of each of our customer's websites. We've made huge progress and are trying to raise awareness of how unsustainable digital practices can have a negative impact on our environment through carbon emissions.
That's why we created the Website Eco Checker. It's a super quick way to know if you need to take action to make your site greener and some pointers on how to do it too!
It's our hope to keep spreading awareness throughout 2022 and helping more businesses to flourish and benefit from becoming greener online. If you haven't yet tested your site, why not give it a go? Working towards becoming a more sustainable business is something worthwhile sharing with your audience!
Carousels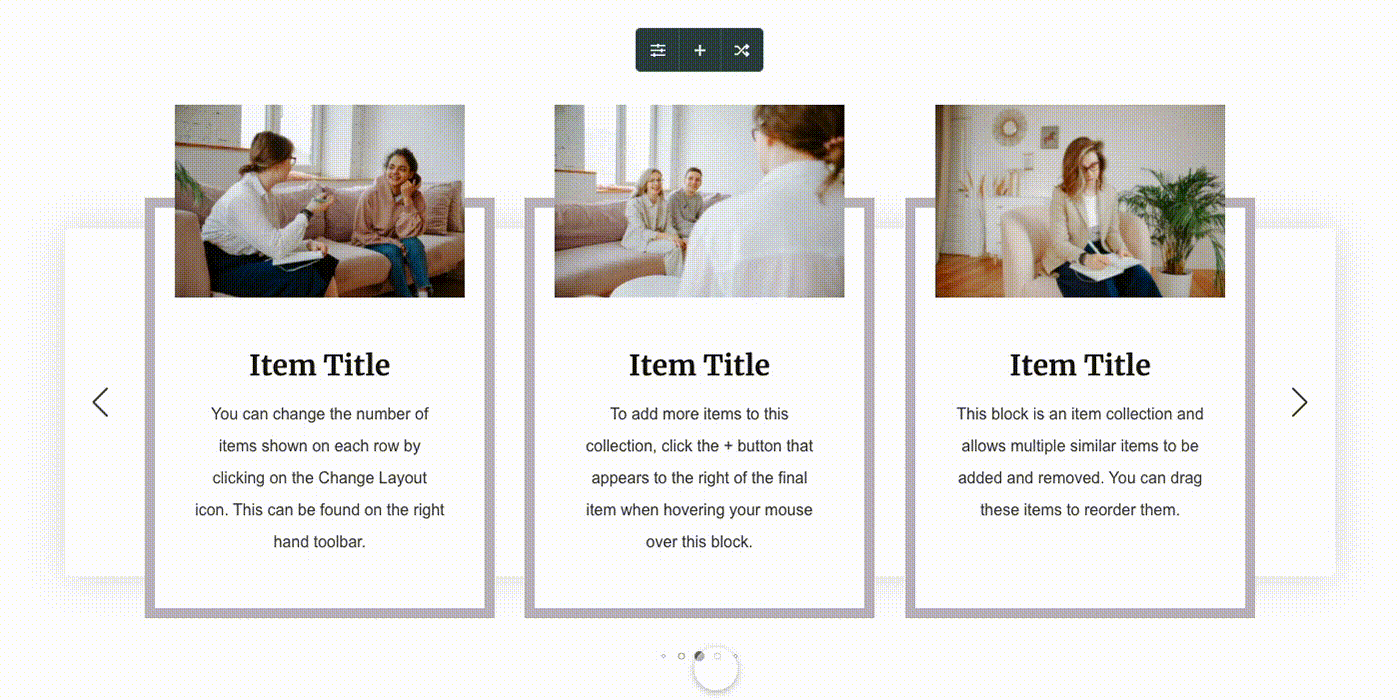 Carousels were a largely requested feature in 2021. Not only because they're visually appealing and are great for catching your audience's attention with movement, but also because they can help a great deal with condensing down the information on a page into a horizontal, scrolling format.
For any Collection Blocks you have on your page, you can now hover over the Block and to open up the Collection Settings. Here, you can customise how your carousel is displayed and works on the page. Using the Block Layout Tool, you can also customise how many items are shown at any one time.
Find out more about Carousels >>
Resizing Options

Another widely requested feature to give you more freedom over how items appear on your page is the new Resizing Options. In 2020, we created the first resizing option that allowed you to change the size of the titles on your page.
Over the past year, however, we've also added in options that allow you to customise the size of the text on your pages, your images and even your logo. The elements on your page are now in your control and you can decide whether you want a Content Block to stand apart from the rest of your page with large text and images, or if you want to make sure a Block doesn't detract from your key points by reducing it in size.
Find out more about Resizing Options >>
Website Design Service
2021 also gave rise to a number of in-house services that we offer at Create. Sometimes you may not have the time to build or edit your site, or you may just require some more 'hands on' help. Our Design Service allows you to work with a dedicated Designer to discuss either building a new website or make changes to the one you have already.
We encourage you to send over as much of your own content as possible to allow us to design a site that's truly tailored to you and your business. For new websites, your Designer will become your Account Manager, so once the website is finished and handed over, they will be on hand to help with any questions and assist you in managing your site moving forward.
In 2022 we'll be looking to expand this service even more with bespoke design packages and support with setting up areas like your Shop, Meta Information and integrations.
Find out more about our Design Services >>
The Million Tree Pledge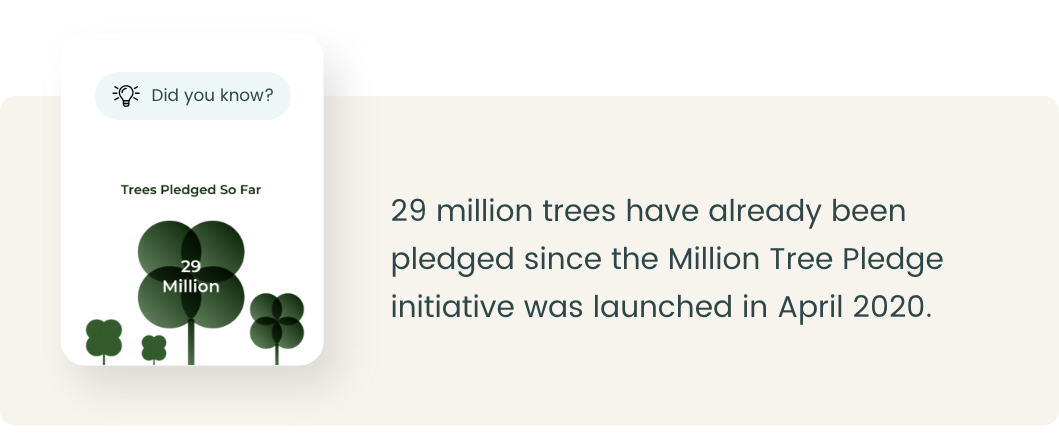 Alongside the sustainability developments on our platform and building the Website Eco-Checker, we worked as part of a group of like-minded individuals and small businesses to launch the Million Tree Pledge. We're proud to be part of this group and our own commitment to plant over 1 million trees in response to the Climate Emergency.
The objective is simple but challenging to accomplish. Each member of the pledge is committed to planting 1 million trees and recruiting two new members to the Million Tree Pledge to help the movement grow beyond ourselves.
So far, we're over a quarter of the way there with almost 290,000 trees planted in our forest. We're excited about how far we've come but realise we've still got a long way to go and we're determined to push further towards the goal in 2022. It's our hope you'll join us however you can.
Find out more about the Million Tree Pledge >>

Help us by gifting trees to our forest >>
New Content Blocks
Content Blocks are the foundations that your website is built upon. They organise your content into a structured page that's both informative and aesthetically pleasing. This is why we're continually looking for opportunities to bring you more Blocks that allow you to do more with your website. Here are some of the Blocks we brought you in 2021
Image and Card Blocks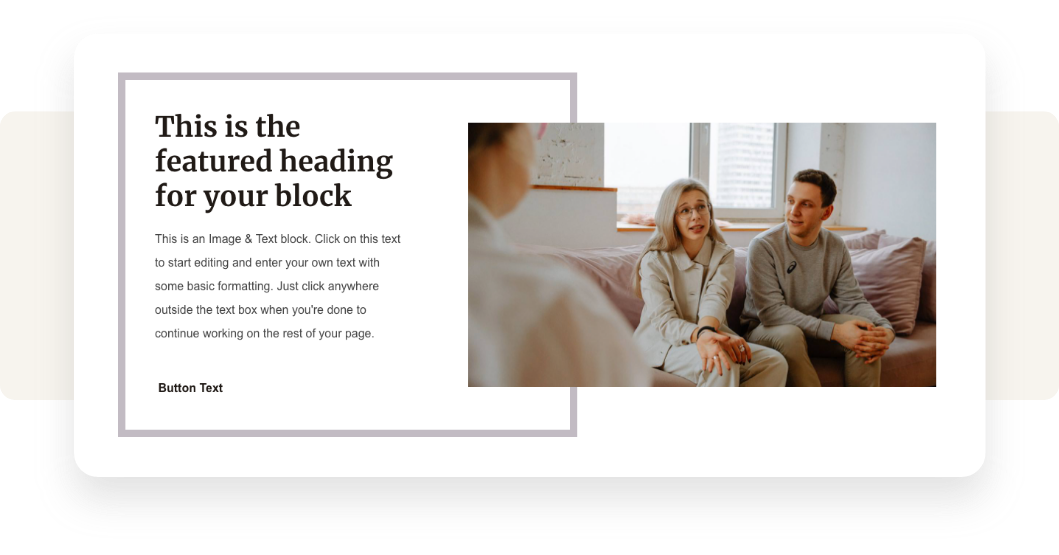 These Blocks allow you to build out bold sections of content that catch the eye. We've brought out a number of styling options to give you more freedom in how you present the information on your page. Tying these in with the Card Style options, you can create a style around your content that fits with your aesthetic and commands attention.
Featured Items Blocks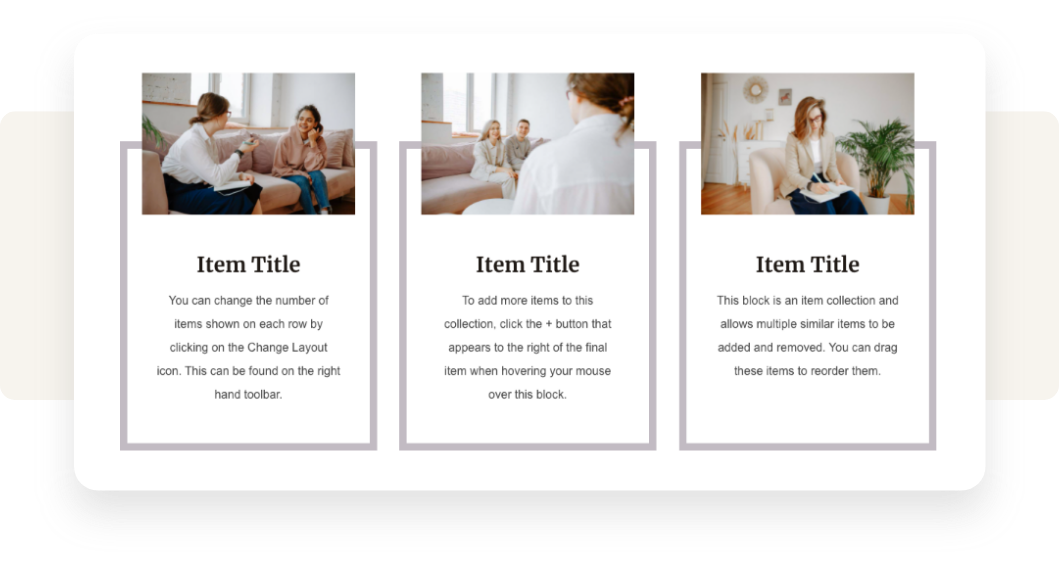 Featured Items Blocks are perfect for showcasing several snippets of information next to each other in a collection. Again, these Blocks utilise Card Styles that allow you to create a style that fits your website. Additionally, you can merge the sections of your Featured Items Blocks into a carousel as mentioned above to add a whole new dynamic to your page.
Logo Collection

If you're teaming up with partners to deliver a product or service, adding their logos to your page can add a lot of credibility and weight to your content. The Logo Collection is perfect for this and allows you to beautifully incorporate their brands into your page.
Events Blocks

Are there important dates coming up in the calendar that you want to share with your customers or clients? The Events Blocks provide you with the framework to beautifully layout a calendar of events with dates and details, along with links to where your website users can book or find out more information.
Quote Blocks

Few words carry more weight than the experiences of your product or service shared by your customers or clients. With the new Quote Blocks, you can give these words the space on the page they deserve and encourage your potential customers to take action.
Changes to the Accounts Area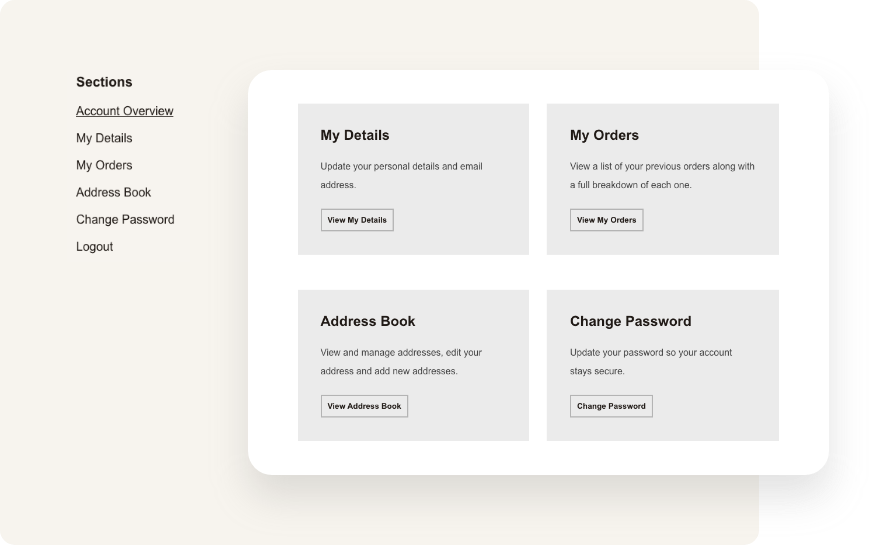 The Accounts Area offers your customers a space to manage their information or check the status of their orders. It can also be used to allow access to exclusive pages that you keep hidden from anyone who doesn't have permission. It's a place your most loyal customers should call home on your site, which is why we've given it a sparkling new refresh.
The result is an Accounts area that feels much more in line with the rest of your website, as it takes on your design preferences and integrates them into this area of your site. It's divided into four clear sections that allow your customers to take action and manage their information. You'll also find an updated order history section that clearly details every aspect of their latest purchases so they can feel rest assured in every detail while they wait for their parcel to arrive.
Find out more about the updates to Customer Accounts >>
Two-Factor Authentication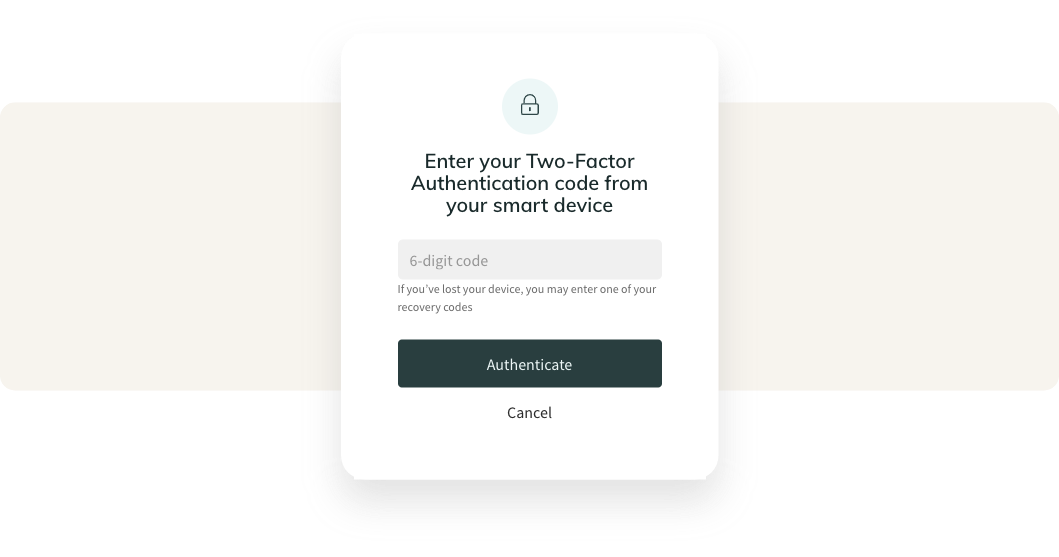 Cybercriminals are only becoming more cunning and advanced in their methods to try to gain access to your data. Unfortunately, the days of being secure behind a solid password alone are gone and Two-Factor Authentication (2FA) is becoming a necessity.
You can set up 2FA in your Create account in just a few simple steps that will go a long way to securing both your own data, and that of your customers. It's an unpleasant truth that a cyber attack can happen to anyone, but the tools are available on Create to stay ahead of the cybercriminals and maintain your online security.
Wrapping Up
With the new year comes new ideas and opportunities. We hope that some of the tools we've brought to you inspire you to take the next steps in your online journey.
We'd like to take this opportunity to thank those of you who have been with us and supported us on our journey by being a part of our community, as well as those of you who have recently joined us. It's through your ideas and encouragement that we're able to bring all these new features to fruition and continue to support you in your endeavours online.
Happy New Year!