About the service
Our Premium Account Service offers an enhanced level of support for businesses using the Shop Builder Advanced package.
When you subscribe to our Shop Builder Advanced package you'll get immediate access to our Premium Account Service team. The team is on-hand during our normal working hours to help you get the most from your website.


What The Premium Account Service Does
The Premium Account Service will provide:
Access to the Premium Account Service team who have in-depth knowledge about the valuable features of Shop Builder Advanced. Ensuring you are maximising the tools and have all the technical know-how to optimise your online business for success.

Priority answers from the team by email and the opportunity to book a callback when you'd prefer to speak with them directly
How do I Schedule a Callback?
To request a callback, just follow the steps below:
Click on 'Support' from the Top Menu

Scroll down and complete all the fields on the contact form to detail your enquiry. Please give us as much information as possible to ensure we are as prepared as possible to help you during the call and can thoroughly investigate beforehand.

Select the 'Request Callback' option, entering your phone number and your preferred time slot using the drop-down menu available. Each time slot is subject to availability and we will do our best to meet your selected time.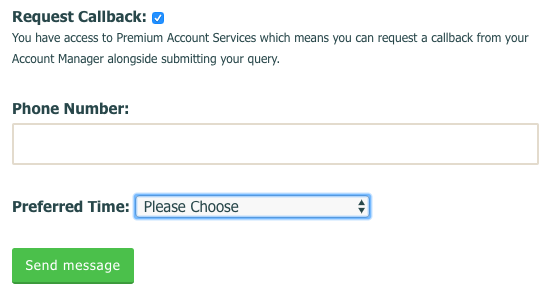 After completing the above, click 'Send Message' and this will inform our team that you would like a callback.
We will then email you to confirm the call time, as well as requesting any extra details required before scheduling the call. If you don't require a callback, just submit your message as normal and we will get back to you as soon as possible.
Please note that the Callback service is available for UK customers only.