Blog > Support Small Businesses for Green Friday
Posted By Create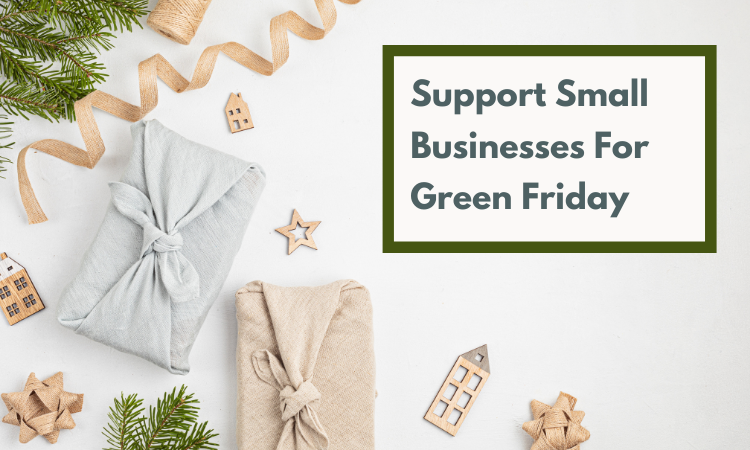 It's Black Friday this week and with all the extra demand comes a toll on the environment as delivery companies overextend themselves and unsustainable companies continue their damaging practices. Not to mention the impact this has on small businesses who are following their passions and supporting our communities.
You can vote with your spending this season for a future you'd like to see. Many of the small businesses who choose to build their websites with us are working for the betterment of our planet and their communities. Every day we see small business owners who are supporting charities close to their hearts, putting the environment first in the things that they do and innovating new ideas that bring people together, work to create social change and make a difference.
For Black Friday this year we've put together a list of brilliant independent businesses who design, source and stock a range of unique and beautiful items that will help you get those special gifts for loved ones while also supporting inspiring visions, conscious practices and ethical endeavours.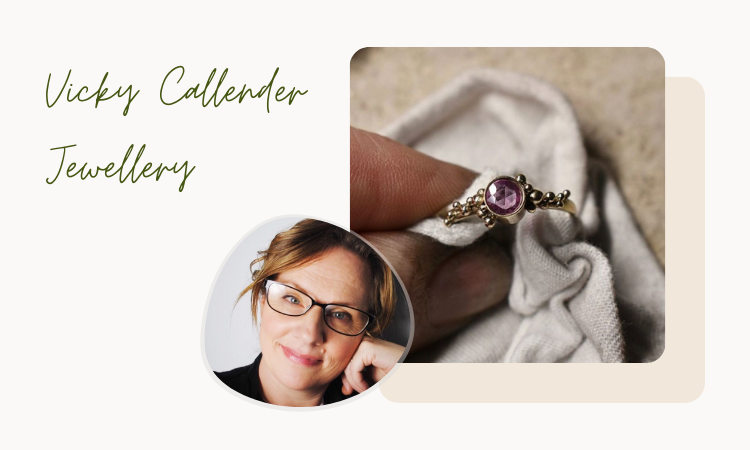 Vicky creates beautiful fine jewellery inspired by nature. Precious gemstones and other materials can take a big toll on the environment through unsustainable mining and shipping practices. Vicky goes above and beyond to make sure she's working with responsible suppliers who trace the journey of materials and she meticulously builds sustainability into each step of the production of her items. Vicky is a registered goldsmith with the Fairtrade Foundation. This allows her to work with Fairtrade Gold, which she currently does upon request.
This journey of sustainability even extends beyond the point of sale as for every purchase made with Vicky Callender Jewellery, five trees are planted. If you're looking for an inspired piece of jewellery for the person who loves nature and sparkle in your life, you're guaranteed to find something gorgeous for them at Vicky Callender Jewellery.
"There is an ethical issue within the jewellery industry when it comes to the gathering and mining of gemstones, diamonds, (even lab diamonds) and precious metals, (particularly gold) as they can all pass through many sources several times in their journey from earth to supplier and full independent auditing is not yet being carried out fully within the industry.
The suppliers I use work hard to ensure that there is traceability and working standards are met. From an environmental stance, we must not forget that gemstones and precious metals form part of our living environment. Gemstones and metals are mined from under our earth's crust, from miles under our oceans, glaciers, ice caps and reefs. Working with recycled silver or recycled gold sadly does not prevent the need for continued mining. Working with Fairtrade gold, however, ensures traceability, a working towards fairer working environments, helping to build better communities and safer managing of the environment leading to a more ethical and more sustainable jewellery industry.
I continue in my search for greener ways of living and working. I make every effort to handcraft silver and gold jewellery in a way that keeps my carbon footprint as small as possible. I believe in slow fashion and in creating pieces that are of fine design and made to last. I hope that one day all precious metal and gemstone mining will be fully audited and traceable to the source as it is with Fairtrade Gold. This will mean better safety and living standards for miners and their communities as well as better news for our living planet.
Finally, for every jewellery purchase you place with Vicky Callender Jewellery, five trees are planted and I also off set my carbon emissions at the same time. Not only will you be wearing a unique piece of handcrafted jewellery, but you will be helping to build forests and improve communities as well."
-Vicky Callender
www.vickycallenderjewellery.com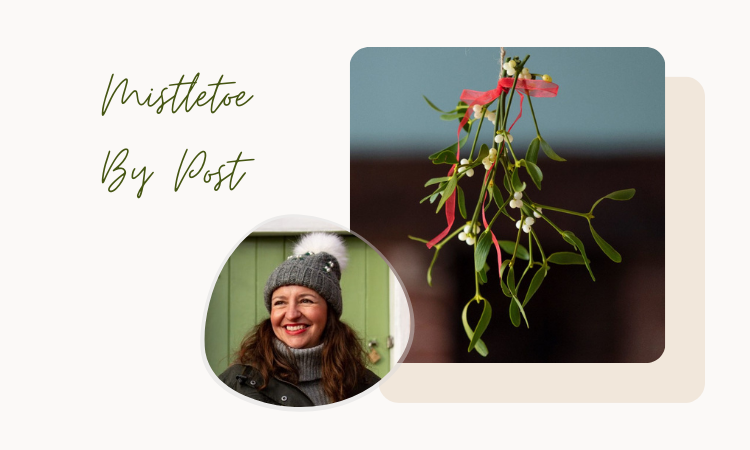 No home should be without Mistletoe this Christmas! What you might be surprised to know is that Mistletoe is a byproduct of cider apple farming and can actually be harmful to a farm's yield. With this being the case, many farms will cut it out from their crop and burn it, meaning thousands of sprigs each year will go to waste.

Sarah at Mistletoe By Post is making sure this isn't the case by harvesting her mistletoe and repurposing it to be displayed beautifully in people's homes. If you'd like some fresh sprigs from Worcestershire (the home of English Mistletoe) to decorate your house this season, Mistletoe By Post is the place to shop.
"Creating a beautiful but sustainable product for Christmas is a dream, by harvesting the mistletoe we preserve the ancient trees in our apple orchards and their ability to produce delicious cider!"
- Sarah Starkey
www.mistletoebypost.com


When starting to shop sustainably, it can feel overwhelming knowing where to begin or where to shop. This is a problem that the team at Ethicul set out to solve. Their mission is to empower society to make ethical decisions using rewards and convenience of choice, whilst also supporting their partners to grow through improved visibility and customer reach.

Ethicul helps you to find brilliant independent businesses who share your vision for a more ethical and sustainable future so you can support them. Each time you do, you'll earn tokens that you can redeem for some of their fantastic rewards.
"It's clear in today's society large corporations have too much power & influence, often these brands don't act sustainably & ethically. There are many independent brands who have built their businesses based on ethics and sustainability, at Ethicul it is our mission to support them.
We have the power to support brands that align with their own ethics & sustainable values, when we choose to support a brand that is ethical there are wide benefits to the planet & people. Independents can struggle to get their brand out there due to large marketing expenditures of global brands, that's why we are building a community of ethically minded individuals to showcase brands that place integral value in both the planet & people when making decisions for their business.
Being 'ethical' or being 'an ethical business' can be hard to define. Every person you ask would give you a different answer. The truth is that being an ethical business is very much a personal decision & viewpoint, for some it is about being vegan or for others it is being a living wage employer.

At Ethicul we identify what businesses do under three areas: creating a sustainable planet, enhancing social wellbeing & supporting communities. We then allow you to easily find out exactly what individual independents are doing in these areas & choose to shop with those that align with your own values. It's incredibly difficult to be perfectly sustainable or ethical, individually or as a business, but if we all make small changes collectively it will go a long way to a more positive future."
- Ryan Hudson
www.ethicul.co.uk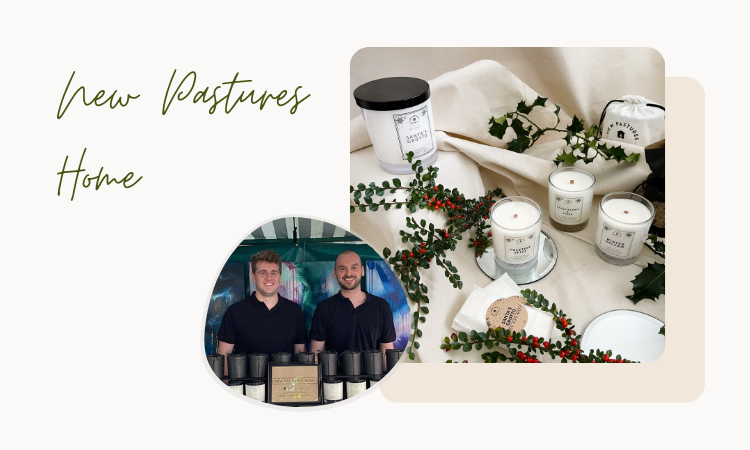 Having always been lovers of candles and scents, Hywel & Dean created New Pastures Home. They've created a range of scent blends inspired by their time in the Middle East and they're also passionate about avoiding harmful chemicals and steer towards natural alternatives.

Everything on their website is handmade right here in the UK and is vegan-friendly. What's more is that they have a hyperfocus on sustainability, meaning everything is recyclable and they are completely plastic-free. If you're looking to add some warm ambience and delightful aromas to your home, New Pastures Home provide everything you need while also being as kind as possible to the environment.
'Our aim is to provide premium quality products to our loyal customers, whilst playing our part in reducing, reusing and recycling. Not only have we eradicated plastic from our packaging, but we're committed to using recycled, recyclable and reusable packaging. An example of this is our fair-trade cotton bags which can be reused as peg bags or fragrance bags by adding dried flower petals. Furthermore, we only source from certified sustainable suppliers who can prove they are vegan and eco-friendly.
We believe that large businesses/corporations have the ability to bring about big change, but in reality, it is us small businesses who truly make the greatest difference. The truth is, if we didn't care so much about this, our costs would be much lower, but as a small business, we value the importance of caring for the planet, other small businesses locally and internationally, and our customers (who share our passion), all whilst providing quality products and services.

We don't simply use these buzzwords in hope that it drives more sales; we embody them.'
- Dean & Hywel
www.newpastureshome.co.uk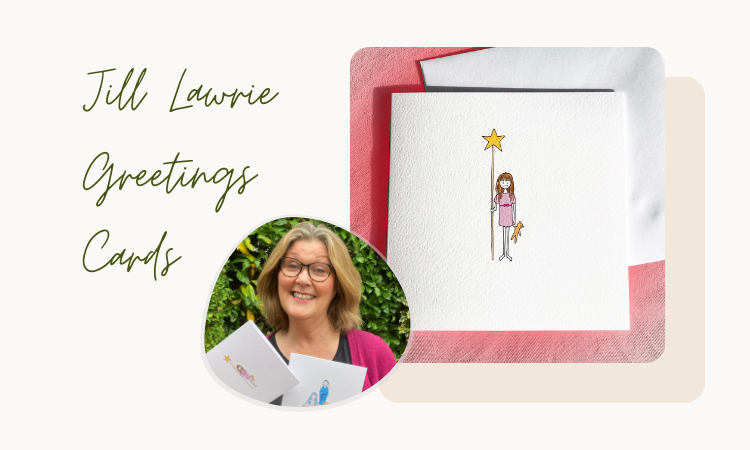 On Jill's website, one of the first statements is "Life has to be fun, it should be interesting, a little bit silly, and at the right times sensible and organised, but never boring." and we absolutely agree. What you'll find on Jill's site is a whole lot of fun and quirky cards that are sure to put a smile on the faces of those you love.

They're all printed here in the UK and they don't come in plastic sleeves. Pick up a few cards to send kind sentiments to the special people in your life from a kind and responsible independent website like jilllawrie.
"I trained and work full time as a Graphic designer but have always wanted to design and make cards. Lock-down brought so much time (and horrid things) that I needed a good distraction to put my energy into - and at the same time I really didn't want have a negative impact on our beautiful world.

So it felt very natural and important to use responsibly sourced paper for my cards and obviously no plastic sleeves, I try not to use any plastic, so when the cards are dispatched they are wrapped in tissue paper and sent in cardboard envelopes, so all can be recycled.
I love the idea that after my cards have done their job they can be kept for shopping lists, bookmarks or anything else - or just put in the recycle bin to make something new. I also want to support other small independent companies, and support Britain at the same time - and on a different note: I object to eating veg that has flown further than me!"
- Jill Wells
www.jilllawrie.co.uk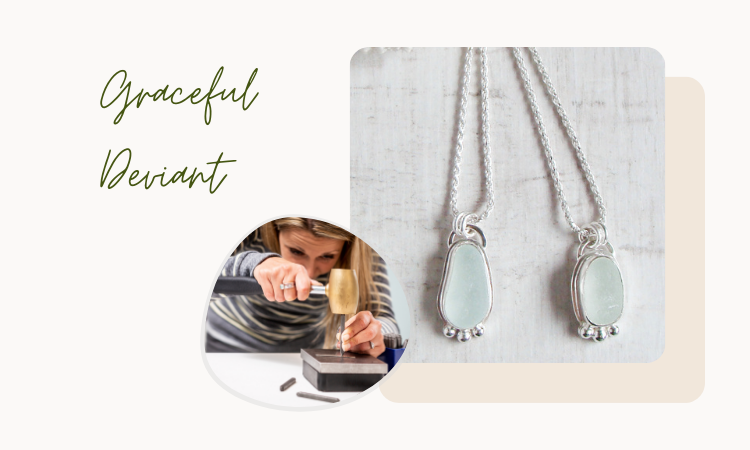 Beautiful jewellery can make a special gift for your loved ones that lasts forever, but how it's made matters. Ellen understands this which is why she makes eco silver jewellery using traditional silversmithing techniques. On the Graceful Deviant website, you'll find a great range of different items for everyone's tastes.

Whether you're looking or a charm necklace to symbolise something special about a relationship or a stunning seaglass ring that's tumbled in the waves for decades. You can find it here without the impact of new silver production and all the while supporting Ellen and her passion for her work.
"So many of us are becoming more aware of where our goods are coming from and how they are made. I've kept almost all of my production in house and hand made but shifted my focus this year onto seeing if I could improve my supply chain. This led to me switching my standard sterling silver bullion purchases to eco-silver which is 100% recycled sterling silver.

I've also started to explore more ethical and recycled materials to work with rather than gemstones. This includes decades-old, tumbled sea glass and most recently 'stones' made from polishing waste resin from the surfboard making industry."
- Ellen Adair
www.gracefuldeviant.com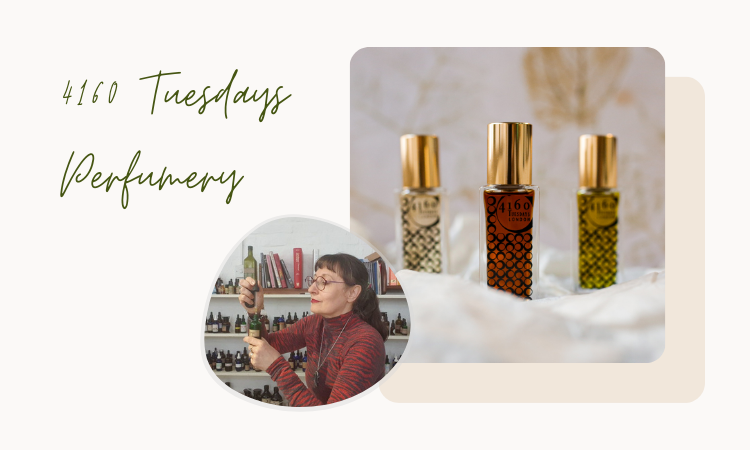 4160 Tuesdays is an indie, artisan perfumery based in West London. Since 2011, they have been making adventurous and inspired scents that evoke a time and place, and tell a scented story. Everything is created and bottled in their L-shaped studio and they even run workshops for those who'd like to get a taste for perfume making.

They are completely transparent with how they source their materials and focus on being as sustainable as they can be. You'll find all their packaging to be reusable and recyclable as well as being beautiful like the scent they contain. Give the gift of a perfume making workshop, or an exciting unique scent this Christmas and support 4160 Tuesday's conscious indie business.
"We blend small batches of perfume for people who enjoy wearing unusual aromas. We bottle them to order, so there's no waste. Growth is overrated, and unsustainable. We're content with doing what we do best and delighting the people who appreciate it."
-Sarah McCartney
www.4160tuesdays.com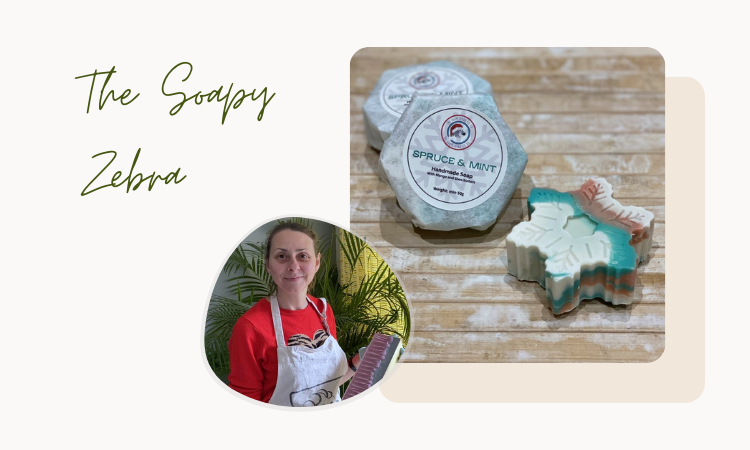 Kerry hand makes artisan soaps from scratch, so she knows exactly what has gone into each and more importantly why! She also makes bath soaks and crochets bath accessories, to perfectly compliment her range of soaps.

At the Soapy Zebra, you'll only find cruelty-free, vegetarian products that are also palm oil free and wrapped in eco-friendly packaging. They'll also plant a tree for every order they sell in partnership with Tree Nation. You can see all their trees and their progress in their virtual forest.
Everyone loves bath time treats to rest and relax with. When shopping with the Soapy Zebra, you can buy these treats and feel rest assured that you're being kinder to the environment too.
"The Soapy Zebra is starting as it means to go on! We are a small business but we have BIG, green, passionate ideas about how we want to do things. It matters to us that we source our raw ingredients as responsibly as we can, and that we choose to make a difference at every opportunity. We believe that small changes can, and do, make a big difference…"
- Kerry Hartigan
www.thesoapyzebra.co.uk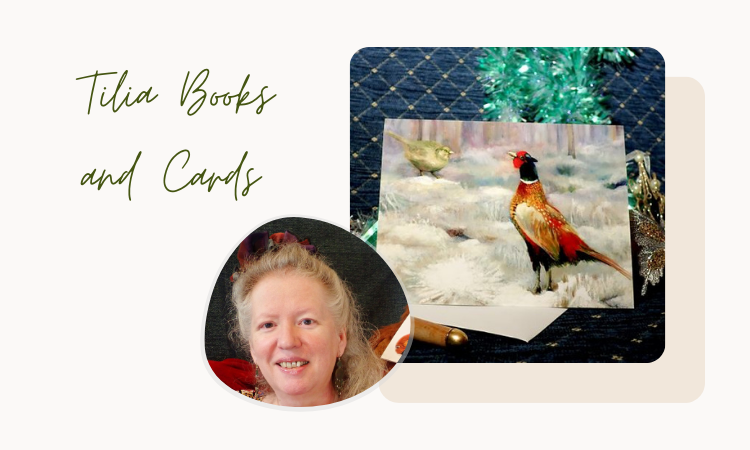 What you'll find on the Tilia Publishing UK site is an appreciation for the natural world and our environment, through photography, ecology, landscape and history. You'll find unique greeting cards with evocative images for you to share memories, humour or thoughts with the people on your mind.
You'll also find entertaining non-fiction books that have storytelling as their core, written and illustrated by Simon and Amanda Davey on topics celebrating the natural world, travel and history. Everything is printed right here in the UK and the team at Tilia Publishing UK also work to support great causes such as the Institution of Civil Engineers Benevolent Fund.

If you share a love for nature and our gorgeous landscapes, as well as an intrigue for ecology and history, you'll find yourself right at home at Tilia Publishing UK.
"Both of us have worked all our lives in ecology and the environment, without being too precious about it. We have a deep love for it and have realised that the chances we had to learn and grow have not been possible for others in the same way, with changes in how the world works.

Our aim is to share this love and some of the knowledge in a way that engages and inspires, to allow people to achieve that love and sense of exploration for themselves. We do this through our photographs and images on the greeting cards and through the books that we write and illustrate."
-Amanda Davey
www.tiliapublishinguk.co.uk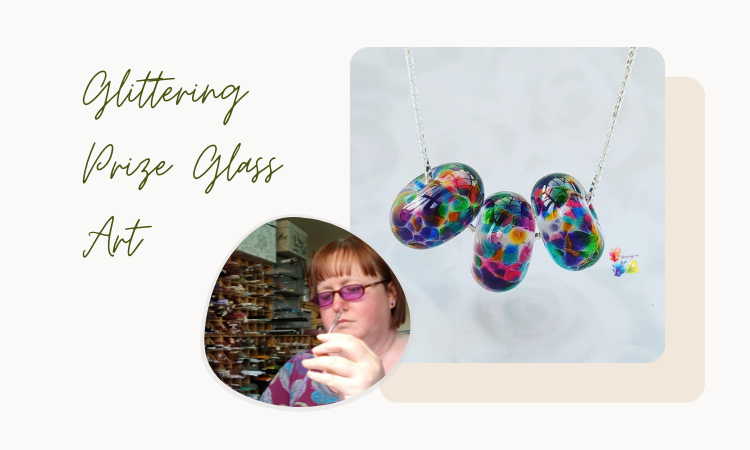 Trudi's passion is making dazzling lampwork glass beads and jewellery. The difference between Trudi's work and the mass produced beads and jewellery you'll find in large chain stores is clear to tell by the quality. Each is made through traditional lampwork methods lovingly by hand.
Supporting Trudi through her website Glittering Prize also helps her to continue creating beads for the charity Beads of Courage. Children with serious illnesses like cancer often have many treatments, and the programme gives children certain colour beads for each treatment.

When they have a major treatment or operation, they are given a special handmade bead called an act of courage bead. These beads help children tell the story of their treatment in a very visual way. Visit Glittering Prize for a charming gift for your loved ones to cherish and help support the great work that Trudi is doing for Beads of Courage.
"I was introduced to Beads of Courage via the lampwork community, a natural place to learn about it as the majority Act of Courage beads are made from glass. Beads of Courage touched my heart, seeing pictures of young children with hundreds of beads strung around their necks, yet still smiling. Knowing that they must have gone through so much, who wouldn't want to help, and it's certainly no hardship for me as I love to make beads.

Knowing that they will form a part of a child's journey is an honour, and so these beads do need to be special. For me being successful isn't just about achievements we make, but also about the impact and the legacy we leave behind us."
- Trudi Doherty
www.glitteringprize.co.uk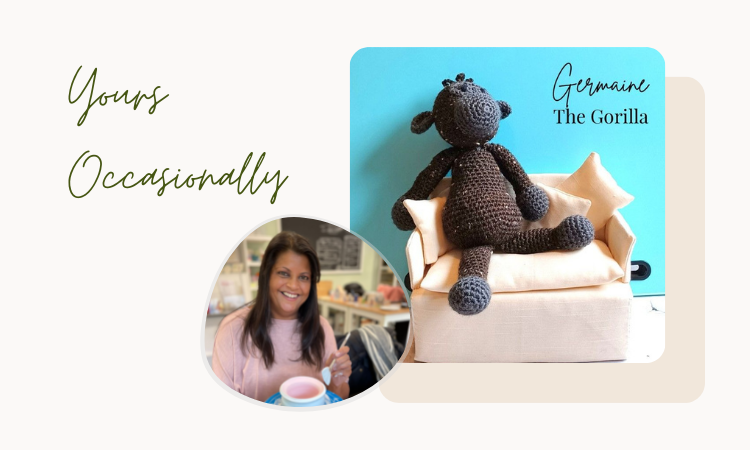 Fred makes beautiful bespoke stationery and adorable crochet items. Her work, attention to detail and passion for everything that she produces has been recognised by many awards so you can feel rest assured that you'll receive a top quality product ordering from Yours Occasionally. Fred is also currently supporting the Indonesia Indah Foundation.

The IIF's mission is to inspire and educate environmentally responsible citizens in how to reverse the impacts of climate change. By supporting Yours Occasionally by purchasing one of their gorgeous cards or crochet items, you'll also be supporting the IIF's important work against climate change across a range of different projects.
"As more and more businesses are looking for a more ethical approach to working, it felt only right to align my business the same way. Although I'm a sole trader, I can still work sustainably and ethically. I'm very conscious of our planet and the effect humans are having on our environment and I believe that everyone should be playing their part in sustainable and ethical working.
I run my business from home, and that immediately cuts down my carbon footprint where travelling by public transport or car are concerned. I try and keep all of my communication to my clients online, as I don't believe sending out reams of paper with information on it is necessary.

Although I'm a stationer and well aware that I use paper and card on a regular basis, I make sure that I order recycled materials and only ever order what I need. I don't hold a vast stock of supplies, and if I have materials left over, they invariably go towards another order. At the end of the year I pull together any leftover stock I may have, this is normally offcuts of card and paper, along with any embellishments that didn't get used and I donate them to the local school to use in their craft projects.
I also support the Indah Indonesia Foundation because I feel I should be giving back to our planet. I also spend a long time sourcing materials from other small businesses that practice sustainability and work ethically. I like to know where my products were made and if the manufacturer practices ethical working, for example paying their workers a living wage, or making sure they have breaks, food, the basics that everyone should have access to."
-Fred Foster
www.yoursoccasionally.co.uk



Everyone runs into the problem now and then of the gift for someone, who seemingly has everything, or is really difficult to buy for. Or maybe there are some people that you want to send a small gesture to this Christmas? One fantastic idea for this could be to plant some trees in their name.

At Create, we're passionate about regenerating the planet and have formed the Million Tree Pledge to inspire others to take similar action. Our tree planting endeavours are through Ecologi and they choose the projects that meet conservation requirements, ensuring that the right trees are planted, cared for and protected as they mature. Whilst we're unlikely to visit our trees being planted, we love watching the trees growing virtually in our digital forest over time.

If you have an eco-conscious recipient on your list, planting some trees in their name is a wonderful gesture. You can both enjoy digitally watching a small copse of 25 trees or a forest of 1000 grow over the years and know that it's a gift with a big impact. Our forest is for everyone and always open so if it makes it easy we'd love you to plant your gifts there. You can also order specific gift vouchers or start your own forest through Ecologi too.
Wrapping Up
We hope you've found some items you absolutely love and know your friends and family will too. If you've made a purchase, you can feel rest assured you've put a smile on the face of an independent business owner putting the work in to follow their passion and vision for the future.
Want to show your support in other ways? These quick tips can help spread the word about these and other brilliant independents this season:


Follow, like and comment on their social profiles. This can help to amplify their message and get them found by more people online.

Leave a review if you've bought from them. A glowing review can help other customers feel comfortable making a purchase.

Recommend them or tag them in posts or discussions you come across where there product fits a need and gives them a time to shine.


Want to shout out a business you know is doing great work and deserves some recognition? Join our celebration on social by sharing your favourite small businesses in our threads below. You can also use the hashtags #WeBuySmall and #GreenFridayHeroes