Google Analytics is a statistics (or stats) program that tracks visitors on your website.
It will provide you with information on how visitors found your website, what they looked at, when they were there, for how long and so much more! This information can be a fantastic tool for knowing how you can tweak your website to help improve your traffic and conversion.
In this guide we will cover how you can set up Google Analytics with your Create account and some ways in which you can use it to track your results.
How to set up Google Analytics on your Create account
Google Analytics is a free service and is easy to integrate with your Create account.
You will first need to create a Google Analytics account. Please click here to visit their website and set up your own Google Analytics account.
Once you have signed up you will easily be able to link your Create account to your Google Analytics account.
To do this, please follow my steps below:
Click "Content" from the Top menu .
Click on "Edit Site Information" from the left-hand menu .
Click on the tab at the top of the page titled "Google Analytics".
Under "Google Authentication", click "Connect to Google".
You will then be prompted to log in to your Google account. Enter your Google username and password and click "Login".
Click "Accept" to allow Create to link to your Google Analytics account.
Now, back on your Google Analytics page, you will be able to confirm which Google Analytics profile you wish to connect with your account. If you have more than one profile on your account, you can choose it from the drop-down menu box.
Click "Save Changes" to confirm
You will then need to re-publish your website and your Google account will be connected to your Create account.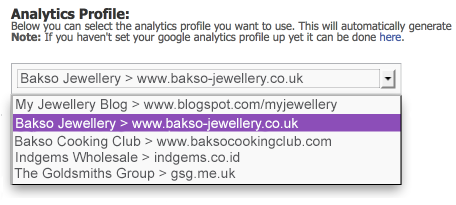 An example of choosing your Google Analytics profile
Please note that It can take up to 48 hours for Google to start receiving your results in your Google Analytics account.
Using Google Analytics
Some features of Google Analytics you can use to help you track your SEO success.
Below is listed just a few of Google Analytics' features. For more information on your Analytics account, visit Google Analytics' Help pages.
Page views, visits and visitors
Google can tell you your unique visitors on a daily basis.
If you are getting a very large amount of visitors and page views, but not many sales or enquiries, you may need to reassess your keywords to make sure you are hitting the correct market. Furthermoreyou may wish to ask friends and family for feedback on your website and find out where you can improve. We have a "Website Review" area on our community forum where you can post your website for constructive feedback from other Create members. You can find this area by clicking here.
This is also a useful way of measuring success in your SEO efforts. You should see your visits going up due to an increased position on Google.
This information can be found in your Google Analytics account by following the steps below:
Log in to your Google Analytics account.
Click the central blue link that has your domain name on.
Click "Standard Reporting" from the top (orange) menu.
Click "Audience" then "Overview" from the left-hand menu.
Average Visit Duration
This will help determine which of your pages or products are doing well. If a certain page has a very low amount of time spent on it, it may indicate that this is a page you wish to improve.
This is found in your Google Analytics account under "Standard Reporting" > "Audience" > "Behavior" > "New Vs Returning" .
Keywords
This will tell you which keywords are bringing in traffic for you.
If you are ranking well on keywords that are not relevant to your site, you may wish to tweak content to discourage this as the wrong keywords will deliver the wrong market to your website.
This is found in your Google Analytics account under "Standard Reporting" > "Traffic Sources" > "Search" > "Organic" .
Explore
Google Analytics is highly powerful and you can find out all kinds of really useful information which is not only good for your search engine optimisation, but useful for marketing too. We recommend that you spend some time exploring and familiarising yourself with the program so that you can make the most of it.
Some final thoughts
Unfortunately, there are no shortcuts with SEO. We have given you some great advice across our SEO guides to help get you started, but getting and obtaining a good rank can take time and is an ongoing process, especially for new websites.
Remember that when you make changes to your website or work on your SEO the search engines will need to 're-crawl' your website, so it can take some time to start seeing updated results.

Search engines are a law unto themselves, so to maintain a good rank with them you will need to follow their guidelines.
Don't forget, that you are not alone. Your Account Manager is always available if you have any questions or queries about anything SEO-related.