By default, the text used across your website is set to a uniform size which will scale depending on the size of the screen the website is being viewed on.
There might be occasions where you would prefer to have control over the text size and choose to make it larger or smaller. Create will allow you to increase the text size on a per-block basis, but also a global setting that dictates the text size on a site-wide basis.
How To Adjust The Text Size In a Block


Whilst editing a Content page, you have the option to adjust the size of the text within a specific block, to be larger or smaller. This feature can be used for any block which contains a text element.
To adjust the text size, please follow the steps below:
1. Click the text in the block which you want to adjust
2. A menu will appear, click on the Text Size icon

3. A drop-down size menu will display. The default size is 3

4. Click the + icon to increase the font size. The maximum setting is 6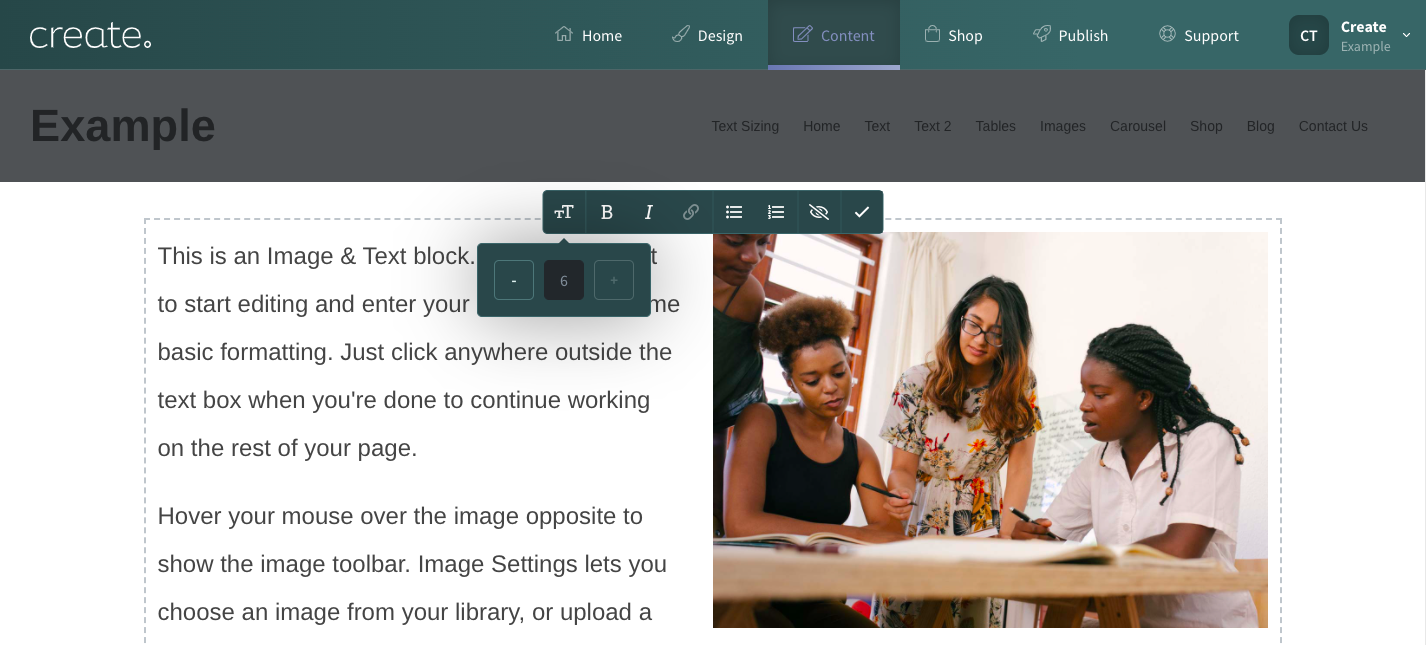 5. Click the - icon to decrease the font size. The minimum setting is 1.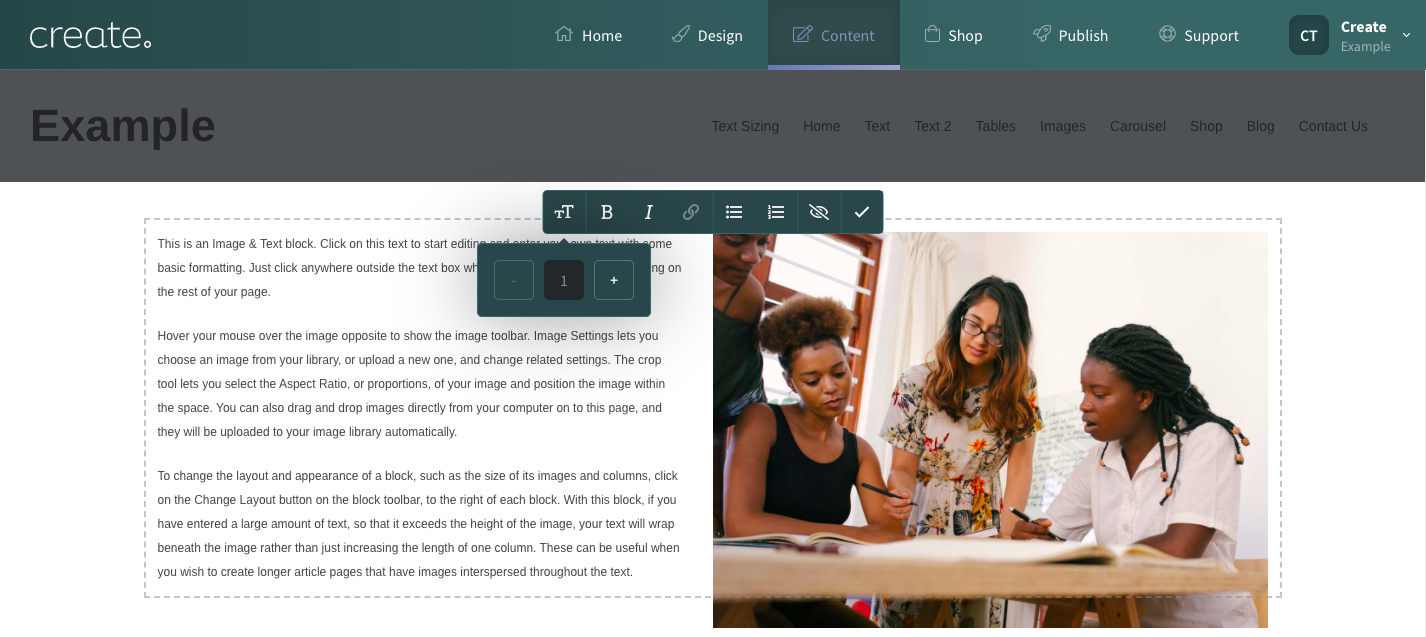 6. When you are happy with the size, click the tick icon to confirm the change.
How To Adjust The Text Size Across The Whole Website
If you would like to make the text size larger or smaller across the whole of your website, then you can choose to do this via the Design area of your Create account.
Please note, that by doing this, you will be adjusting the size of all text on your website, including any blocks you may have already set a different text size for on a per-block basis.
To alter the global setting of your website text size, please follow these steps:
1. Click Design from the Top Menu
2. Scroll down in the left-hand menu to Text Size and click on the current setting
3. Small, Medium and Large options will display. By default, Medium is selected. Selecting Small will reduce the text size. Selecting Large will increase the text size.
As a reminder, this is adjusting the text size across your whole website and shop.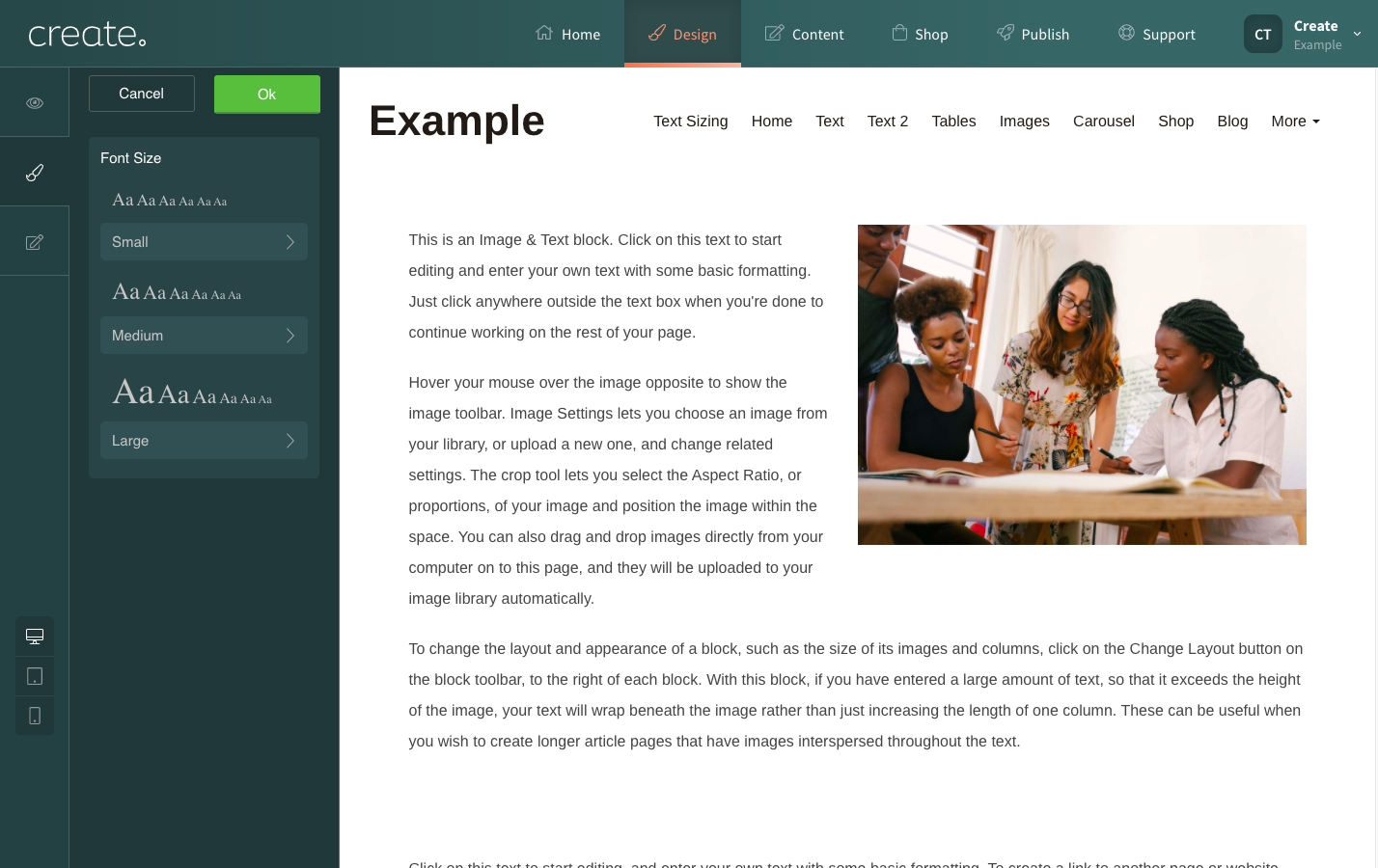 4. Click OK and then Save to confirm your change.
5. You will need to re-publish your website to apply the changes to your live website.