Using the Create platform allows you to easily alter the content included within your website header and footer.




A website header is the very top section of your website and is home to your company name or logo, menu buttons, and icons. An example website header is shown below:

A website footer is the very bottom section of your website and is usually the location where your social media icons are located, along with your Sitename copyright details. An example website footer is shown below:

With our header and footer functionality, you have control over the content that is included within them, along with the contents positioning.
Editing Header Content
You can find the header and footer options by using the steps below:
1. Click "Design" on the top menu
2. Click the "Design" icon in the left-hand menu
3. You should see the "Edit Header" and "Edit Footer" options underneath the option to change template.
Clicking on Edit Header will open a new menu with various options for you to select from.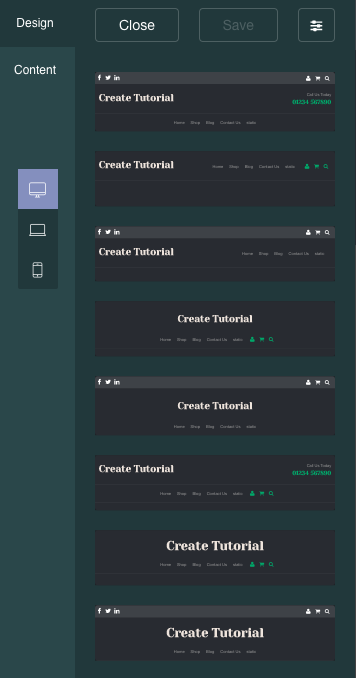 A number of different headers are available, each with a different layout and content positioning. We have options that feature a telephone number along with a few that have social icons. This is ideal if you would prefer to have your social icons here, rather than the footer.
An example of one header is shown below, featuring a repositioned site name, social icons, and a company telephone number.

Once you have selected a Header style, you can optimise what elements are displayed within it. This is accessed by clicking on the settings icon in the Design menu, above the header selections which opens the Block Settings modal shown below.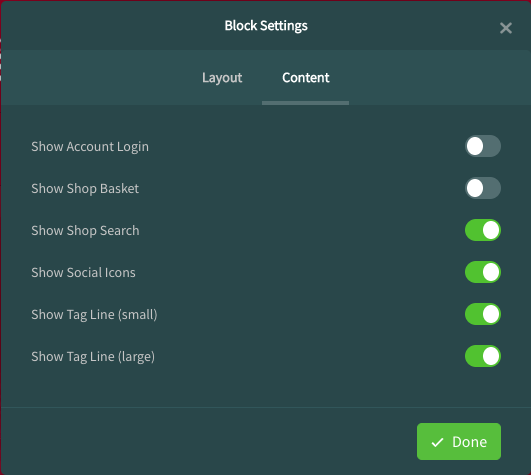 In this menu, you can enable/disable various elements displayed in the header of your website. These include Customer Account icon, Shop Basket, Shop search and social icons. Simply click on the toggle switch to enable/disable the element and click on "Done" will save any changes you have made.
Editing Footer Content
To begin editing your website footer, click on the "Edit Footer" option found in the Design section of your account, as shown below: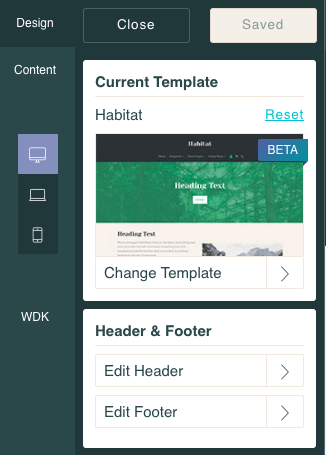 Clicking on this option will open up a new screen that will display the various footer variations and layouts as shown below.
After selecting one of the layouts, it will update the footer of your website right away with your chosen footer. You can easily switch between them all to see which you prefer.
If you select one of the footers that features a title and text, you can click directly on the text to edit what is displayed.

As with the header, you can control the elements included in the footer of your website by clicking on the settings icon found above the footer selections.

In this modal, you can toggle the various elements and icons that are displayed in your website footer, including social icons and accepted payment methods.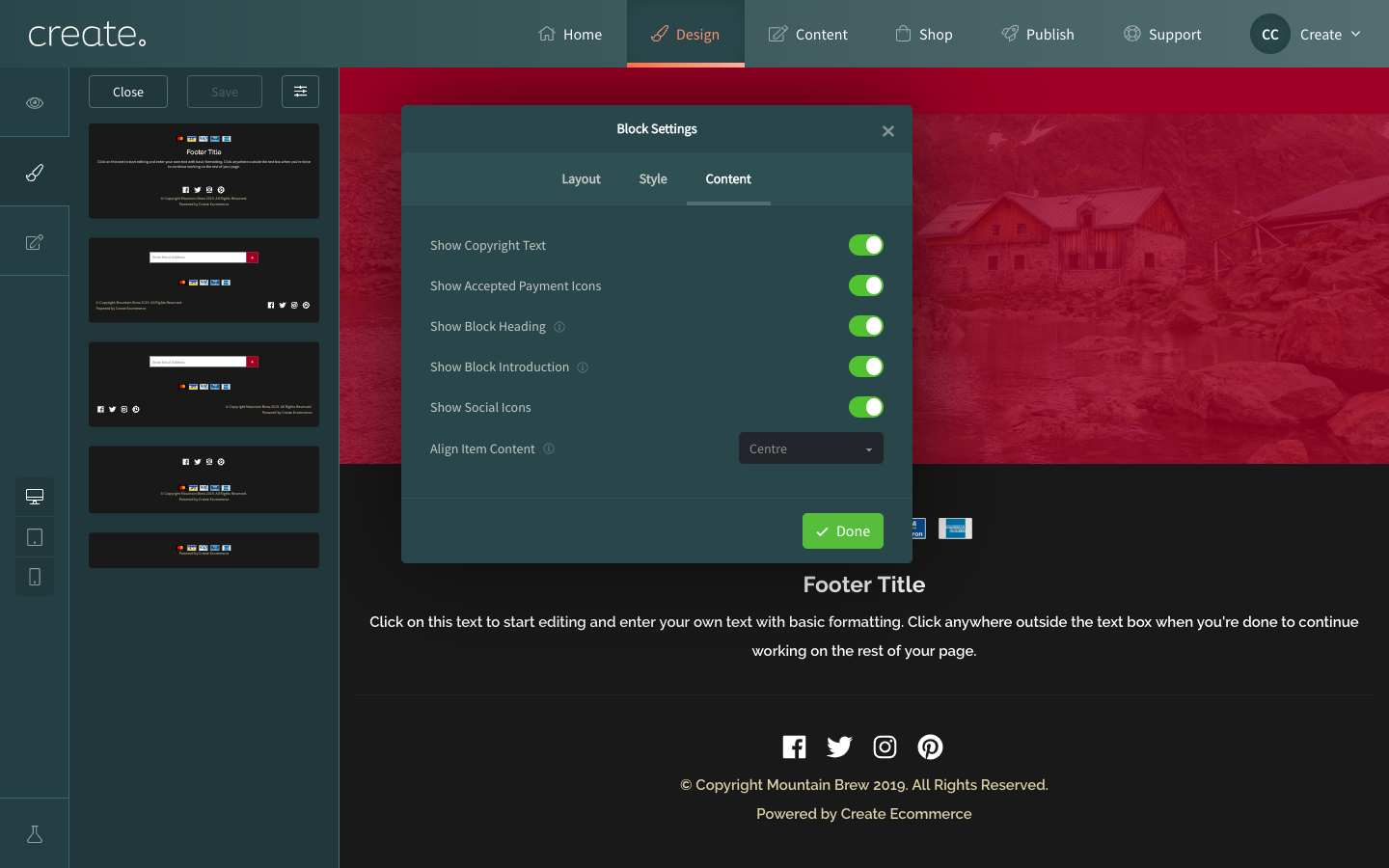 Website Name and Logo
Changing the name of your website or adding a logo is now easier than ever with Create. Our toolset allows for a large range of image sizes to be used as your company logo, along with control over it's positioning.
For this example, I'm going to be using a logo that was created, for free, using one of the many logo creator tools you can find online. The logo I'm using for this example is seen below.
To edit your website name or add a logo to this content, whilst in the "Edit Header" section of Design, if you place your mouse cursor over the website name you will see a toolbar appear with the options to "Edit logo" or "Switch to image", as shown below:

Selecting "Edit logo" allows you to alter the text name of your website (this is not your website domain).
Selecting the "Switch to image" icon allows you to upload your own custom logo/image to be displayed on your website. Once this option is selected, a placeholder logo banner will appear. If you click on the "Image Settings" button within the toolbar, it will allow you to upload a logo from your computer, as shown in the images below: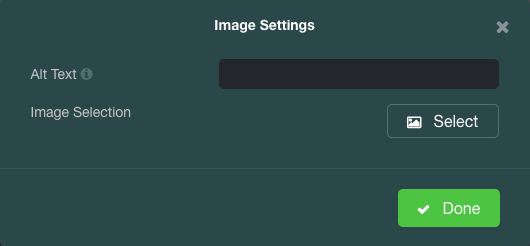 After selecting the file on your computer and clicking "Done", the image will be uploaded and replace the template logo. A few examples can be seen below:



With the logo editor, Create can accept images with a wide range of dimensions, they do not need to be a specific size. We would recommend that for a banner style logo (larger logo, the width of your website), an image size of around 1000 x 200 pixels is recommended as a baseline.