Cookie Consent by Osano is a free, customisable Cookie Consent pop-up that you can build yourself in only a few minutes.
In this Help Guide, we will be looking at how to add their Cookie Consent Code to your website.
Getting the Cookie Consent Code
1. Go to https://www.osano.com/cookieconsent and click Download Open Source. If you then scroll down and click Start Coding this will bring up the pop-up editor.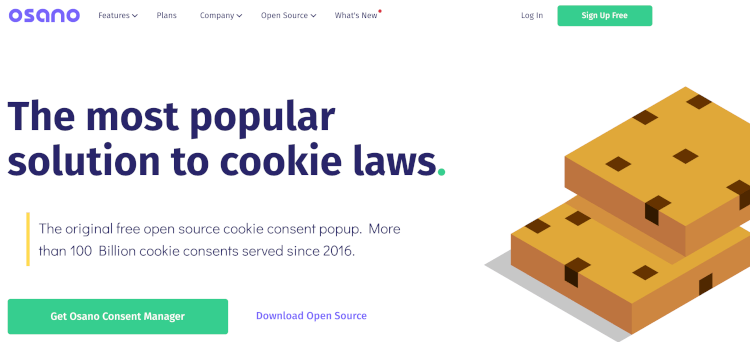 2. You are now able to customise your Cookie Consent message - at the bottom of the screen, you are able to see a preview of your work.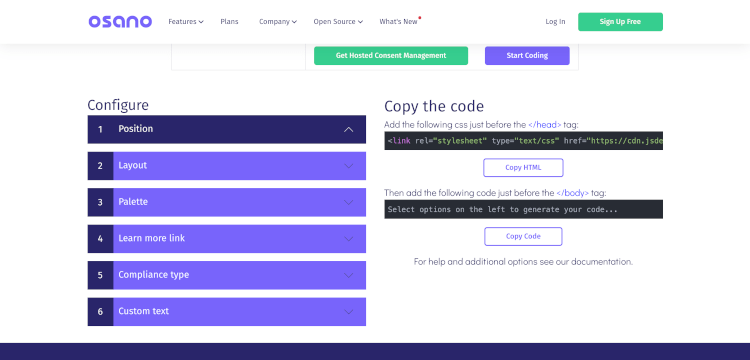 3. The first step is to choose the position of the Cookie Consent. As you choose between the options, you will see the banner change to reflect this.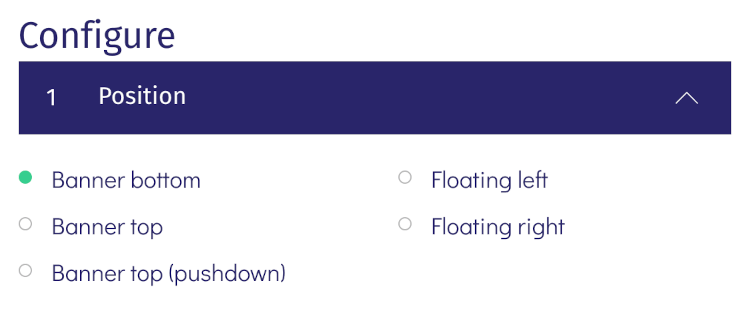 4. You can then customise and preview the layout of your Cookie Consent.



5. The next option gives you the opportunity to choose the colour scheme of your Cookie Consent. You can either choose from one of their pre-set templates or choose your own colours by adding the Hex Code for your required colour.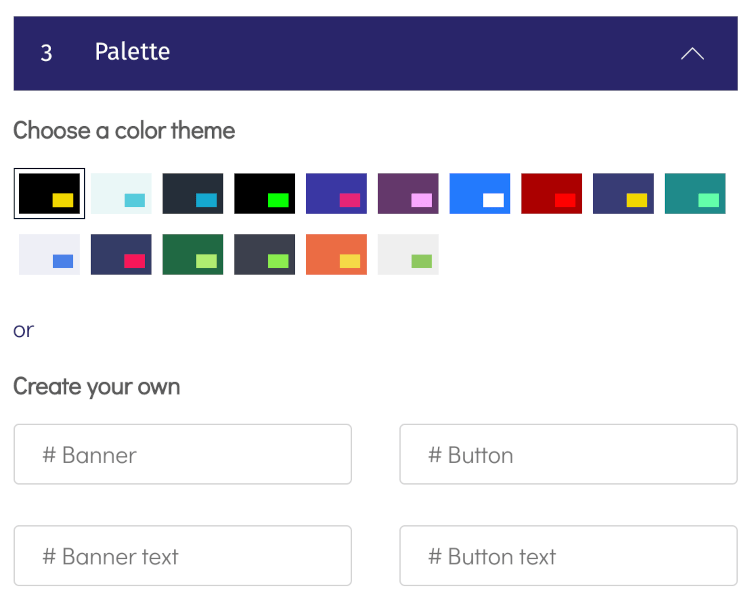 6. The next option gives you the opportunity to change the Learn More link to a URL of your own. We recommend that you choose the Link to your own policy option and then copy in a URL from your website that links to your Privacy Policy or Terms & Conditions.

7. When choosing the Compliance type we recommend that you use their Just tell users that we use cookies option. The advanced options are currently unavailable with our platform but If you do want to add opt-out or opt-in functionality to your site, please contact your Account Manager.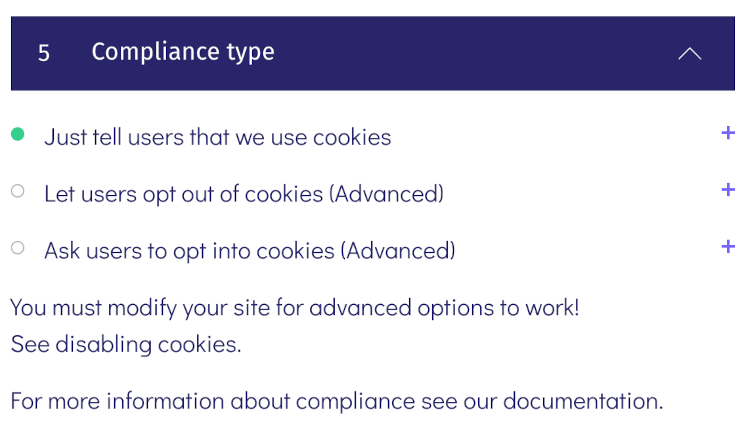 8. With the final option, you can change the text of the Cookie Consent. Clicking into the box will allow you to automatically overwrite the content already in place.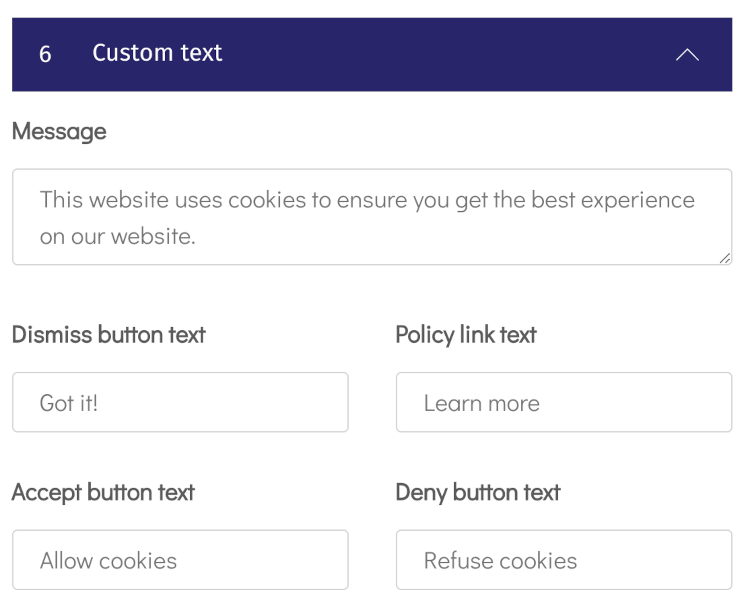 9. You're all ready to go! You can now copy the code directly from the Cookie Consent website. You'll need to make sure that you copy both sections of code, as seen in the example below. If you fail to copy and add the single line of code, the banner will not display or function correctly on your website.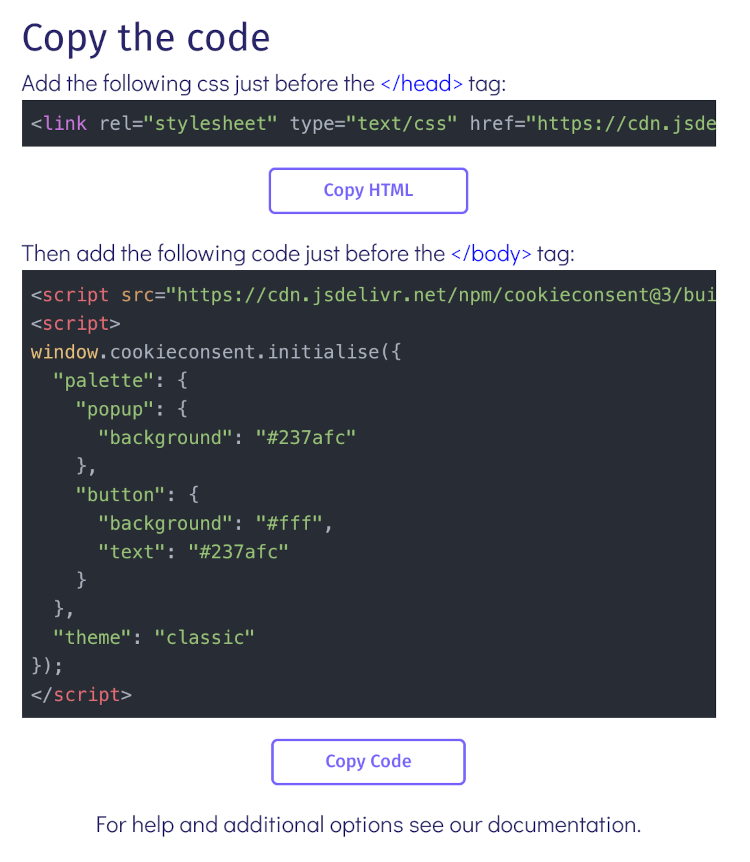 Adding the Code to Your Website
With websites built through Create, you can add your customised cookie consent to your website following the simple steps below. If your website isn't built with Create, you will need to find out how to integrate the embed code into your website through your hosting provider.
Here's how to embed your cookie consent on your Create website:
1. Login to your Create Account
2. Click Content in the Top Menu
3. Click HTML Fragments in the left-hand menu
4. Click the green Add HTML Fragment button
5. Name the HTML Fragment Cookie Consent under Description and paste the code into the HTML Code box
6. Click Save Changes

Although the Cookie Consent by Insites website mentions the </head> tag, you will now need to add the code to the Footer of your website.

1. Click Content in the Top Menu
2. Click Site Footer in the left-hand menu
3. Click into the Custom Footer Content box and then click on the small HTML icon in the toolbar
4. Select your Cookie Consent fragment from the drop-down list that appears and click Update
5. Click Save Changes
6. In order for the code to go live on your website, you will need to re-publish