What is SSL?
SSL stands for Secure Socket Layer and it works as an added layer of security when sending information online.
SSL will encrypt information to make sure it is protected as it is passed between the server (where your website data is stored) and the browser (your website visitor's device). This makes it less likely for a third party to intercept sensitive information as it is being transmitted.
At Create, we believe that it's in the best interests of all internet users to move to a secure web, and we encourage all website owners to ensure SSL Encryption is enabled on their websites.
When SSL is enabled across your site, you will see a padlock and HTTPS:// (rather than HTTP://) showing in your domain URL.


The padlock indicates to your customers that the site is secure and it is safe for them to browse and use your site.
Having a secure website will improve your company's reputation and will put confidence and trust in your customers. As a result, SSL encryption can improve conversions or sales from your site as potential customers are reassured that your whole site is secure and can safely enter their information online.
What happens if I don't have SSL on my website?
From July 2018, Google and other browsers started to flag websites without SSL Encryption and are displaying them as 'Not Secure' in the URL bar.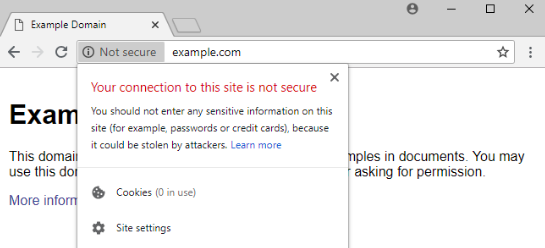 As well as this, pages that ask for personal details will be targeted and browsers will show a "not secure" message to deter website visitors from using and entering details on non-SSL pages.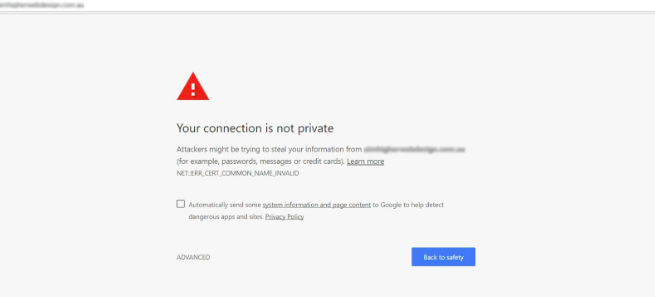 Google also announced that they would adjust their indexing system so that https:// pages were crawled by default, meaning that these https:// pages will receive an SEO boost. With search engines now prioritising secure sites and content, having SSL encryption on your site has become even more imperative.
How can you enable SSL on your website?
If you're using Create, you already have full SSL encryption included as standard and it's straightforward to ensure it is switched on in your account. There's no need to purchase an SSL Certificate and link it to your site.
To enable SSL, please see our guide on How to add SSL Encryption To Your Website.
Please note: If you have purchased an SSL certificate for your website externally from Create you will not be able to add it to your Create website. Our system does not support externally purchased SSL Certificates.
What to check before turning on SSL
Before you turn on SSL, there will be a few things that need to be checked. They are listed below:


Domain Pointing Correctly
If you have added a domain name to your Create account which is registered elsewhere, you will need to ensure that it is pointing correctly at your Create website. You will be able to check the records that need setting up in your Manage Domain Names and Email area of your Create account.


Domains are set to redirect
For SSL to work correctly, you will also need to ensure that your domain names are redirecting correctly. You can do this by following these instructions:


1. Log into your Create account
2. Click Account icon in the top menu
3. Click Site
4. Click Manage Domains & Email
5. Ensure that the drop-down menu next to your primary domain is set to Redirect other domains


Disable expired domain names
If you have multiple domain names linked with your Create account but some of them are no longer in use and have expired, you will need to either renew the domain and ensure it is pointing correctly, or if the domain name is not in use disable the domain name in your account.
To disable the domain you will need to click the 'Disable' icon (looks like a no entry sign) next to your domain name.