Reaching paying customers is a priority for any business operation. Marketing to the right people who are interested in what you have to offer is not only vital to the success of any growing business - but also extremely satisfying when you get it right!
If you have a website online, you have already set yourself up to be able to capitalise on digital marketing opportunities.


So what's the next step?
Ranking in the search engines for keywords is a positive step towards reaching thousands of new customers. However, this is a long-term objective as you will be competing with thousands of other people in your industry for the same key terms.
If you have a local business, there is a way to narrow down the competition and reach your most relevant potential customers for much less effort and in much less time.
That is by setting up a Google My Business profile.
What is Google My Business?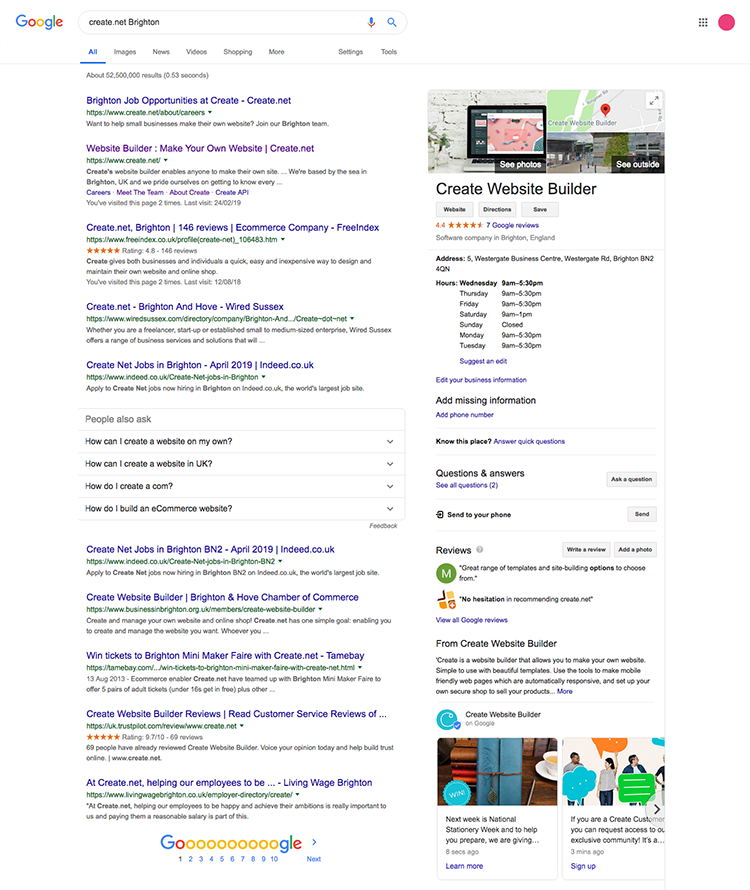 Google My Business is an entirely free service provided by Google that allows you to manage how your business appears on Google Search and Google Maps.
This means that you can share more information about your business when someone carries out a branded search for you. It also means that your business can occupy a lot more space on page 1 of this branded search.
In the above example, you can see that Create is displayed on the entire right-hand side of the search for "Create.net Brighton". This panel is known as the "Knowledge Graph" and it is completely controlled by your Google My Business Dashboard.
Your dashboard allows you to list the physical location of your business, operating hours, services, products, events, offers and updates. As well as giving you access to manage online reviews received through Google.
Create also has information listed on Google Maps, so that anyone searching by location can find out more about us.
Depending on your type of business, you may also be able to acquire "Local Packs" in search results as shown below. Local Packs are shown at the top of search results and act as recommendations by Google for the most popular options in your local area.


The Benefits Of A Local Google My Business Profile


There are on average, 3.5 billion searches worldwide every day

Around one-third of these searches are local queries.

Approximately half of those consumers who performed a local search visited the store within 24 hours.
That equates to around 580 million people who are using Google to find out more information about local stores to then go and visit the store within a day. How many of these searchers are local to you each day?
Building out your presence on Google will help you to get in front of your potential customers when they have a relevant search query. By obtaining the Knowledge Graph mentioned above, you have already monopolised a huge portion of a search results page for your business.
Further to that and depending on your type of business, with a well optimised Google My Business profile, you can break into the Local Pack results as explained above. This can play a huge role in increasing your visibility to local searchers who, again, are looking to make a purchase within the same day.
The Benefits Of Google My Business For Ecommerce
The benefits also go beyond local search. Even if you don't have a brick and mortar store, claiming your business listing can help you to occupy more of the first page in a search related to your business.
92% of searchers choose a business that is on the first page of Google. By setting up a Google My Business profile and obtaining the Knowledge Graph, you can occupy around half the page of any branded search relating to you.
By occupying this search result real estate, not only are you increasing your visibility, but you are also decreasing the chance of your competitors featuring on the first page of a search that's more relevant to your business.
How To Set Up Google My Business
Make sure to be signed in on the appropriate Google account. Your Google My Business profile should be on the same account you use for your Google Analytics, Google Search Console and Google Ads.

Head to www.google.co.uk/business to begin the setup.
Work through the steps as directed and complete as much as you can. Once you have finished, click 'Verify'.

To verify your listing, Google will send you a letter in the post to the address of your business. Complete the steps within this letter to verify your account and get access to your Google My Business Dashboard.




Once verified and in your Dashboard. Head to the 'Info' section found on the left-hand menu. Complete each section here as fully as you can in order to optimise your listing.

At the bottom of the Info page, there is the option to 'Add Photos' (also found in the left-hand menu). These help to draw attention to your profile in search so it's important to add the best photos you have to represent your business.

Be sure to keep all of your information up-to-date. Remember to include any changes to your business including Bank Holiday opening hours and new details.
Get More From Your Google My Business Page
Google My Business also allows you to share news, events, special offers and products in the form of posts on your profile. You can add these from your Dashboard home or from the left-hand menu. Bear in mind that any post that you add will only be active for 7 days. This allows you to showcase your most recent updates in search. There were also SEO benefits to doing this that were found in a study conducted by Moz


You can also set-up Instant Messaging so that anyone can message you directly from Google Search. This can be done through 'Messaging' on the left-hand menu, installing the app and then connecting it to your profile. Any messages will then be picked up by your phone when they are received.

Consistency is key. Google determines the relevance of a business through accurate information so it is important to make sure your content maintains the same format across your website and your Google My Business profile. For example, when adding your address, it would be inconsistent to refer to your road as 19 Somewhere Street on your website and 19 Somewhere St. on your Google My Business profile. This will help to avoid any contradictions from Google's perspective.

From your dashboard, you also have analytics relating specifically to your Google My Business listing. This will tell you how customers are searching for your business, some of the terms that they use to find you, what actions they take and also how you compare to some of your competitors. This can help you to set a benchmark as to how much work you need to do to compete in search and provide an insight into where you need to focus your efforts as well.
Conclusion
Taking the time to properly set-up a Google My Business listing can provide you with an effective new way to reach your customers and can be a quick win in terms of your SEO. Whether you run a brick and mortar store or operate entirely online.
If you make sure to monitor and update your listing each week, over time you will find that it will become an efficient channel for driving traffic to your website and reaching local customers.
If you are already using Google My Business, how is it working for you? Are there any tools you find particularly useful for your listing? Share your thoughts in the comments below!